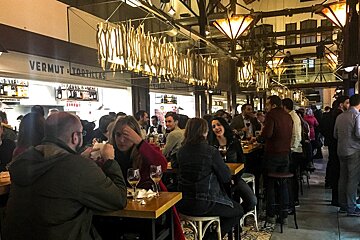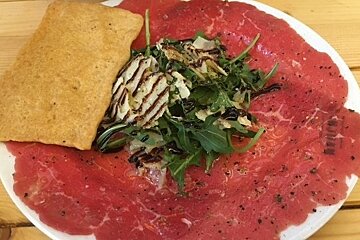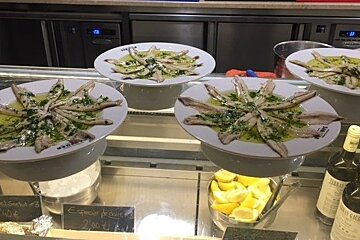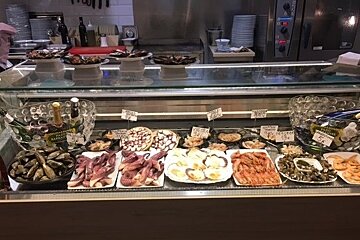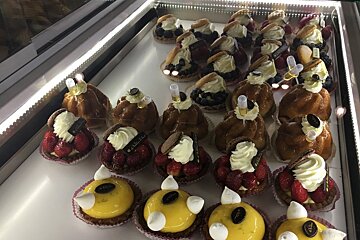 San Juan Gastronomic Market Review
Palma's latest foodie hot spot has something for everyone
Palma's San Juan Gastronomic Market (locally known as Mercado Gastronómico San Juan) is one of Mallorca's many hidden treasures and definitely worth a trip for anyone and everyone who loves food. This place is located in Carrer de L'Emperadriu, in the north of Palma, within walkable distance or a short taxi-ride away from the hustle and bustle of the city centre.
There is an element of mystery when you arrive at what looks like an old deserted marketplace as the market was a former slaughterhouse built in 1905, but follow your nose and you will soon find a large outdoor terrace leading you to the indoor 'Plaza Central'. As soon as you step inside, you will be instantly impressed by your surroundings.
The tone is set through the stylish vintage décor, contemporary Spanish encaustic floor tiles and oversized traditional lamp posts climbing up the vast ceilings. These iconic structures are expertly juxtaposed with carefully selected 21st-century features to create a stunning space.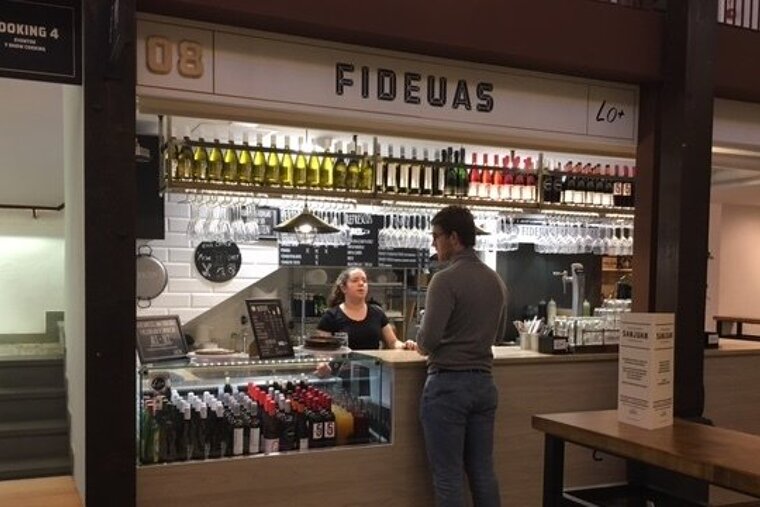 You are greeted with 17 modern market stalls of mouth-watering food from around the world that surround lots of high stools and bistro-style wooden tables where people gather to sample the delights that surround them. From Spanish paella, Serrano ham, traditional cheeses and pintxos, to Mexican, Thai, Japanese, Italian, mini hamburgers and seafood, you really are spoilt for choice! For those who struggle to make decisions, have no fear, the best part of this experience is that you can try a little bit of everything.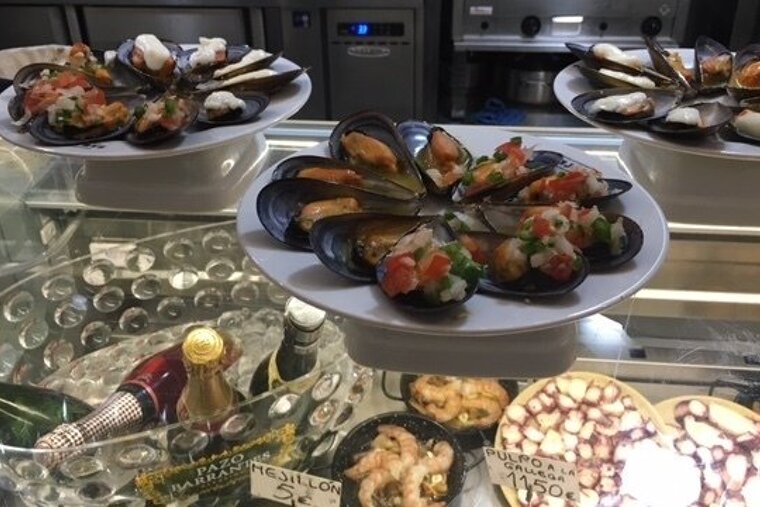 Whilst the setting and presentation of food suggests this place is going to be on the pricey side, you will be pleasantly surprised at the very reasonable prices. A few favourites to mention are the large plate of Serrano ham & cheese to share for €10, carpaccio for €7, small sushi platters from €4 and a Pad Thai for €8, all absolutely delicious! But this really is just scratching the surface. There's nachos, tortillas, and even a range of yummy mini desserts starting at €2 available from the patisserie, so make sure you leave enough room for a little sugar encounter.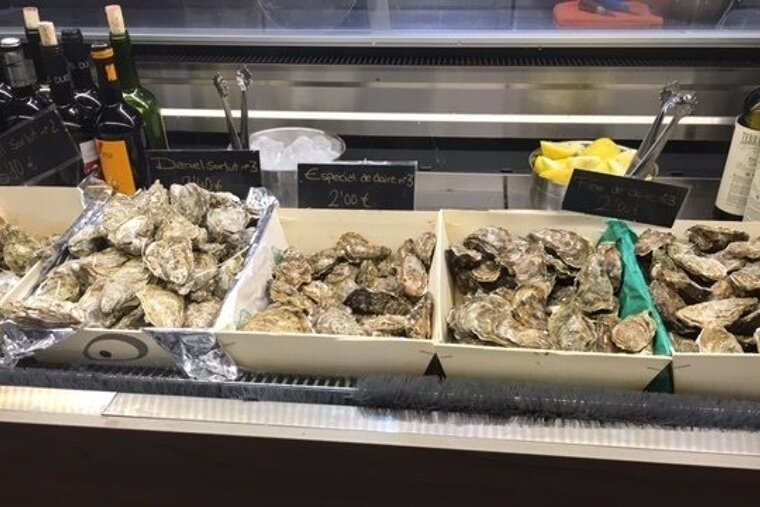 In terms of drinks, there is something for everyone. Plenty of beer and a variety of wines (including local wines from Mallorca) or, if you prefer champagne with your oysters, this is available too. After dinner, many indulge in some scrumptious cocktails at the cocktail bar 'San Juan Cóctel Club' occupying a separate wing of the building and open until 02:00.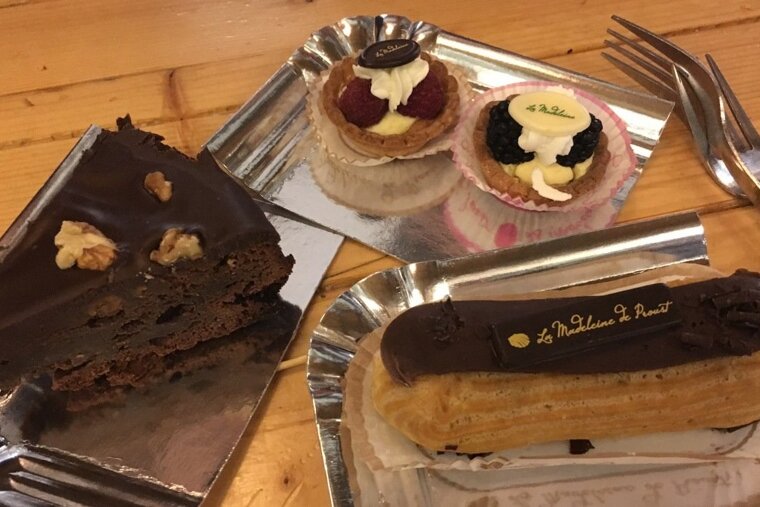 Patisserie 'La Madeleine de Proust' open from 10:30 is the place you can enjoy coffee, cakes and desserts throughout the day and into the evening.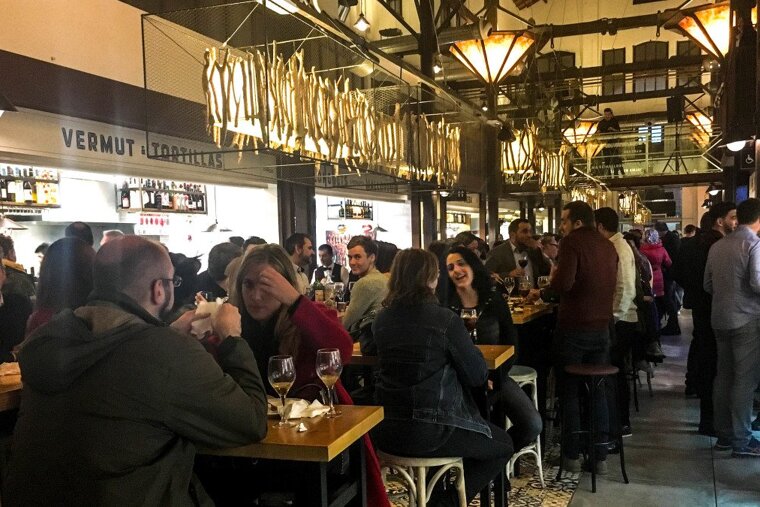 This relatively new hot spot certainly has a sociable ambience and is popular among residents and tourists alike! It is enjoyed by people of all ages with plenty of couples, families and friends gathering throughout the day and especially in the evenings. In the summer time in Mallorca, most people prefer alfresco dining so thankfully there are plenty of tables and chairs outside on the terrace. Inside it does get rather busy on Friday and Saturday evenings, so I would suggest getting there early (around 20:00) to avoid having to hover by tables, waiting for other people to leave. There is additional seating upstairs if you prefer to enjoy your food in a quieter place, but you definitely don't get to soak up the sociable atmosphere experienced downstairs.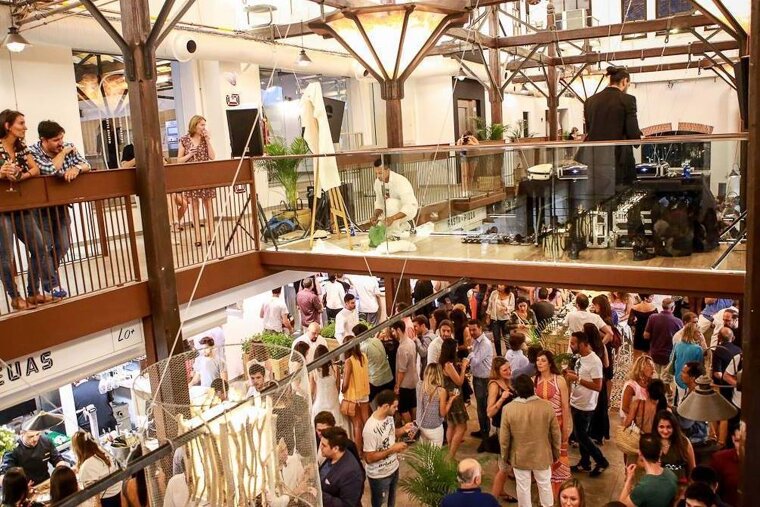 Upstairs, the market hosts regular food events and cooking classes from famous chefs, these can be found on the website. For film lovers, there is also a cinema that shows English films just a stone throw away. Open every day of the week, 365 days of the year… there is no excuse not to visit!
More inspiration...
Palma is a Mediterranean foodie-favourite destination. Many interesting restaurants are popping up all around town, take a look at some of our top picks.
Location