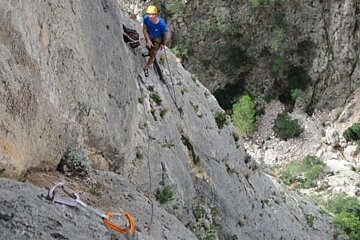 Rock Climbing Improvement Course, Mallorca Island
3 day course to improve rope skills and climbing techniques
This 3 day course is designed for anybody who would like to take their personal climbing and rope skills to the next level, at some wonderful Mallorcan venues with experienced and friendly instructors.
These climbing courses have been designed in response to the many people who have been introduced to one form of climbing, perhaps at a climbing wall and are now keen to further their general skill and knowledge level. These courses are suitable for climbers who would like to learn more skills either sports or traditional climbing.
Their group sizes are kept small so that they can cater to individual's requests and organise their instructional days accordingly.
Possible course content:
Multi pitch climbing skills
Belay and rope skills for multi pitch climbing
Leading skills
Bouldering techniques
Movement coaching
Placing gear
Belay set ups
Pushing your grade
Abseil set ups
When things don't go the plan! Rescue techniques (How to rescue an injured partner)
They will help you progress both in your climbing ability and your rope work skills, so that you can safely enjoy climbing at venues around the world
What's included
3 days instruction
All equipment
Transport during the course
Instructors & teachers
The instructors are highly experienced instructors and climbers and know Mallorca's climbing venues well. These things combined means they are truly flexible when it comes to planning the courses. They pride themselves on helping you take your climbing to the next level, whatever that may be!
Accommodation arrangements
Accommodation is not included in the price of the course, although they will be happy to advise you on accommodation in the area from 30 Euro per person.
Location