January in Mallorca: What's On & Weather
Three kings, local fiestas and cycling
Do you suffer from the post Christmas blues? If you are visiting Mallorca in January, you will have to turn that frown upside down, as some of the island's biggest fiestas take place this month and are sure to make January the season to be jolly.
Mallorca has all the ingredients for a great escape from those infamous 'January blues', think sunshine, a late Christmas celebration and a month of parties.
Spain's main Christmas festivities i.e the legendary 'Three Kings Parade' kicks off the month of celebrations, followed by some of the biggest local fiestas of the year including Festes de Sant Sebastiá (Saint Sebastian) and Sant Antoni (Saint Anthony).
Sporting enthusiasts, namely - hikers and road bikers flock to the mountains as the month of January provides some good conditions for outdoor pursuits. Speaking of which, The Playa de Palma Mallorca Cycling Challenge (Challenge Ciclista Mallorca) is an internationally renowned race for cyclists looking to warm up for the season.
Palma city, the ports and the mountains all offer wonderful gastronomic experiences for die-hard foodies, and of course, the Mediterranean sunshine allows for al fresco dining during the day, so you can continue to top up on that vitamin-d.
So without further ado, let's talk about January in Mallorca in more detail.
What's the weather like in Mallorca in January?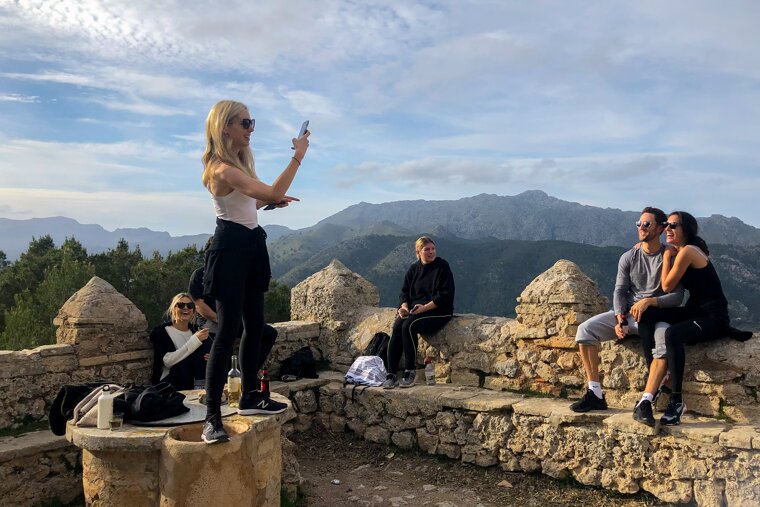 Many people come to the island for some winter sun throughout January as it hits an average of 7 hours of sunshine per day. The average temperature is 10°C, but highs of 16°C certainly make it feel warm enough to dine al fresco style at lunchtime, in just a jumper or light jacket. Do note the evenings see temperatures drop to 5°C so bring some warm clothing too! Sunrise can be enjoyed at about 08.00 and sunset between 17.30 and 18.00 throughout the month.
What's on in Mallorca in January?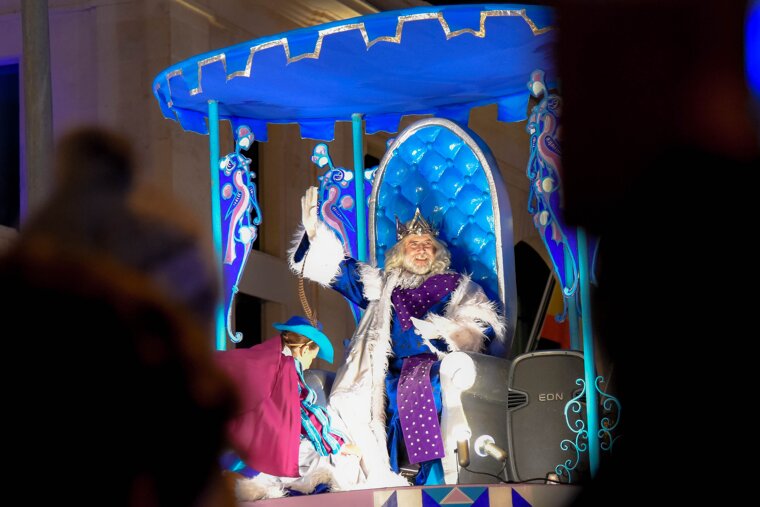 Christmas festivities
While much of Europe will be winding down after Christmas, Spain's festivities are still in full swing. If you haven't had the chance to visit a Christmas market this year, there's still time. Many Christmas markets will be open until January 6th in Mallorca. Palma, Sóller, Andratx, Manacor, Puerto Portals and Port Adriano's Christmas fairs are just a few to choose from. What better way is there to prolong the festive spirit than indulging in one more glass of mulled wine surrounded by Christmas stalls and music?
The Three Kings parade
To end the twelve days of Christmas, on the eve of the Epiphany on January 6th, Palma and various towns and villages across Mallorca like the rest of Spain host the annual 'Three Kings Parade' as a tribute to the three wise men who brought gold, frankincense and myrrh to the baby Jesus. The capital, Palma, hosts the biggest and best celebrations, which means people travel from far and wide to catch a glimpse of the three kings and their magnificent floats travelling through the streets of the city. Many other towns and villages put on their own rendition of the spectacle so, wherever you are, you are likely to come across one on January 5th. If you get close enough, you will manage to catch one of the millions of sweets being thrown into the crowds throughout the parade.
Local fiesta's
January is a great month to immerse yourself in some more local celebrations, as the Festes de Sant Sebastiá (Saint Sebastian) brings Palma back to life after a few days of rest. The city certainly knows how to start the new year in style, as it puts on a multitude of cultural activities, sporting events, live music and children's entertainment in honour of the patron saint of Palma. The biggest night is on the 19th, when the city's squares are filled with people enjoying live music concerts amidst the glow of the massive bonfires built to keep party-goers warm. The evening of the 26th is when the legendary Correfoc 'devil fire run' takes place.
On January 16th and 17th the festival of Sant Antoni (Saint Anthony) held in honour of the patron saint of animals is widely celebrated across the island and is particularly popular for children. In many villages, domestic animals are blessed in the local churches, but you can also expect parades, bonfires and the dance of the devils that historically tempted Sant Antoni. The biggest celebrations take place in the northern town of Sa Pobla where this fiesta can be traced back to the Middle Ages. In the present day, the festival is also celebrated in many of Mallorca's villages including Manacor, Artà, Pollença, Santanyi, Son Servera and Muro.
Sporting events
The Playa de Palma Challenge Cycle Race is the first big cycle race of the year in Mallorca. This four-day cycling challenge attracts many high profile road bikers, who use it to to kick off their season and, with diverse terrain from city streets to coastal and mountain roads, the course tests rider's different abilities.
Golf in January
Tee-off in Mallorca
Due to the wonderful climate in January, this month is a great time to hit Mallorca's golf courses. There are more than 20 courses for tourists and non-members to choose from, with easier shorter courses to more challenging, award winning courses that have held some prestigious international competitions. So take your pick! Some of the larger ones come complete with luxury hotels and resorts attached to them, and, with reduced green fees and easy access, these make for creating the ultimate golfing holiday.
City Breaks in January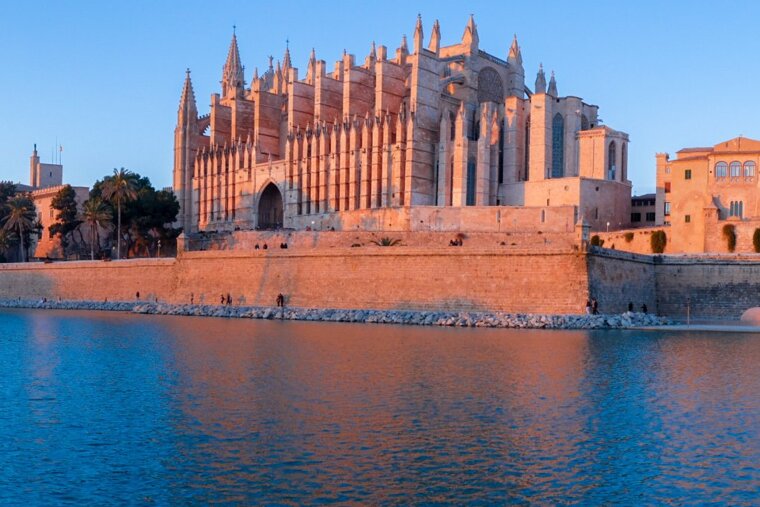 Palma de Mallorca
The capital city of Palma is becoming increasingly popular as a city break all year round, and due to all the January fiesta's this is an exceptionally fun month to visit. Not to mention the shops have their January sales, where you can pick up some New Year bargains! There are too many amazing boutique hotels to choose from in the city centre but we are particularly fond of those around Palma old town which retain a lot of authentic character whilst boasting all the state-of-the-art mods and cons.
Hearty Mallorcan Cuisine in January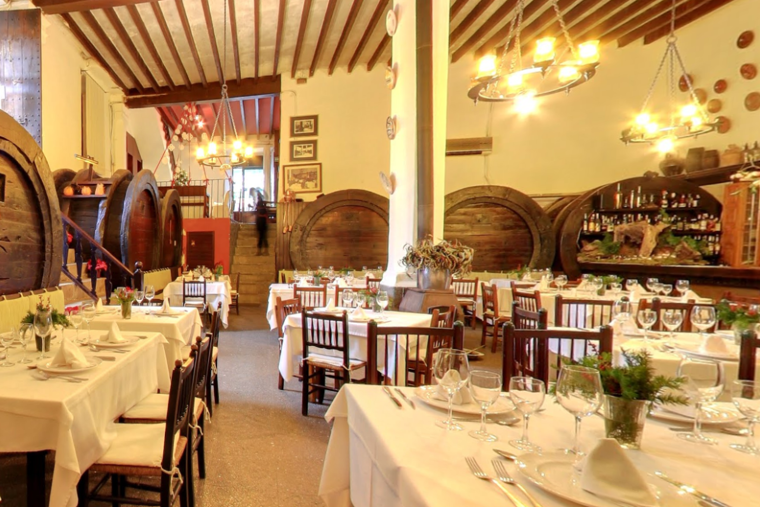 Eat like a local
Mallorca's cuisine offers some hearty dishes, to warm you up on those chilly winter evenings. We highly recommend trying some Arrós Brut, Mallorcan suckling pig and some of the delicious lamb on offer around the island. If you want dine in true local style, then try one of the traditional celler restaurants, the best ones can be found in Palma, Inca and even small rural villages like Algaida.
Head to the Mountains in January
Hiking, cycling or relaxing in the Sierra de Tramuntana
Mallorca's Sierra de Tramuntana attract the sporting kind in these cooler months, especially road bikers and hikers! However if you are more interested in sipping on a coffee whilst reading a book, or exploring some pretty mountain villages, then the picture-postcard mountain towns and villages of Valldemossa, Deià, Sóller and Fornalutx should be on your to-do list.
More inspiration...
This is only a small selection of the events taking place in Mallorca during the first month of the year. Take a look at our events calendar for a full rundown and do check out some of the amazing options for accommodation around the island.
Location
Mallorca Island, Mallorca