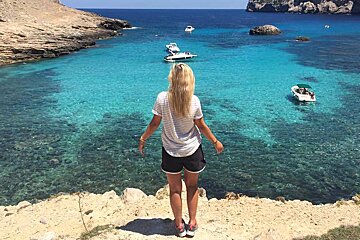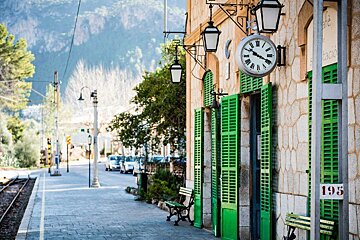 © Ilona Antina Photography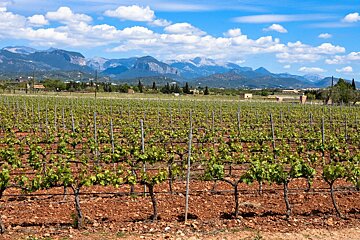 Attractions in Mallorca
Discover the top reasons to visit Mallorca
One of the top tourist destinations in Europe, and probably the world, Mallorca attracts all kinds of visitors. From those looking for a sun, sand and sea type of holiday to culture vultures, foodies, hardcore sportspeople or nature lovers – the island is the perfect destination.
This is thanks not only to its glorious weather and natural beauty but also to its wide range of facilities and services that make a holiday in Mallorca effortless, whether it's a luxury break or a cost-effective trip you're after. Below are a few of the things that make the island a favourite among tourists from all around the world.
Top 10 Sights & Attractions in Mallorca

1
Palma de Mallorca
Gothic cathedral, museums, marina, urban beach, restaurants, shops, nightlife
2
History & Culture
Churches & cathedrals, castles & ruins, caves, museums & art galleries
3
Events
Traditional fiestas, live music, sports
4
Food & Drink
Restaurants, vineyards
5
Mountains & Sports
Natural parks, hiking & walking, cycling, rock climbing, scenic trains
6
Sea, Sailing & Beaches
Beaches, boat trips, watersports
7
Shopping
Shops & boutiques, markets
8
Villa Holidays
Villas
9
Charming Villages
Towns & villages
10
Family Fun
Theme parks, waterparks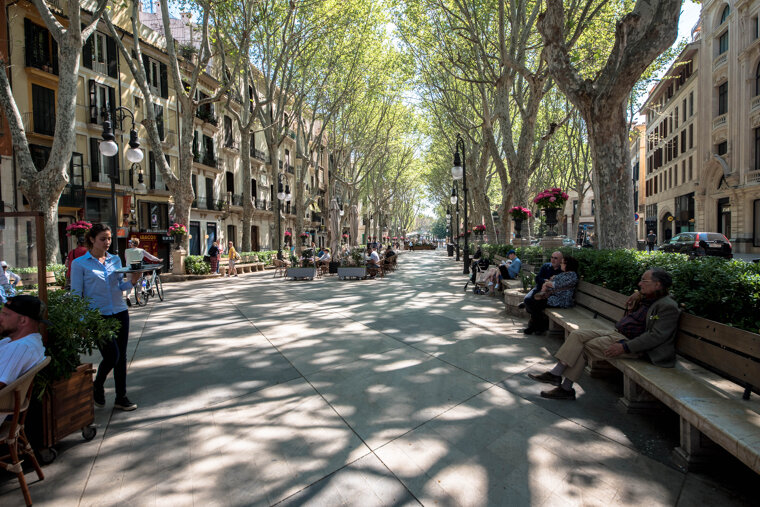 Palma de Mallorca
Palma comes as a surprise to many people. It is beautiful, stylish, sophisticated and intimate yet bursting with life. Half of Mallorca's population live here, enjoying the island's best restaurants, shops and nightlife as well as a thriving arts scene and a lively cafe society. Palma's masterpiece is its Gothic cathedral, rising out of the city walls which once marked the edge of the sea. The historic landmark resides within the historic city centre which is made up of a maze of cobbled streets. These picturesque narrow lanes play host to endless museums, palaces and exquisite courtyards all waiting to be explored. The marina takes pride of place on the seafront and a stroll along the promenade is an absolute must on a visit to the capital. To the east of the city centre is where you will find Palma's urban beach with a couple of beach clubs and restaurants.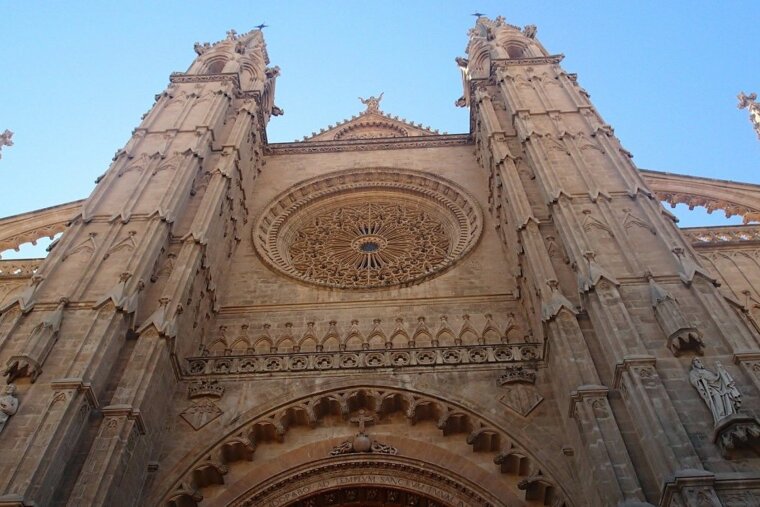 History & Culture
Mallorca is overflowing with history which is evident from the high number of ancient sites, historical buildings and wonderful art all around the island.
Churches & cathedrals
Almost every village, town and city in Mallorca has a beautiful church right at its centre, some more famous or distinctive than others. Most of them have roots in the Middle Ages and boast unique art pieces inside combined with majestic façades designed to stun visitors outside. If you can see only one, Palma's Gothic cathedral, the most famous historical landmark on the island, should definitely be on your list.
If you are keen on getting away from the more touristy hot spots, try driving (or hiking) to a hilltop sanctuary to experience 'the other Mallorca' providing peace and quiet far away from the crowds. There are several chapels, hermitages, sanctuaries and monasteries dotted throughout the island, mainly dating back to medieval times. Originally inhabited by monks, they were places of pilgrimage. Nowadays, they provide excellent starting points for hikes, and you can spend the night in some of them in fairly basic but cheap accommodation.
Castles
The island's castles are imposingly beautiful and, whilst some have been transformed into hotels, others remain some of the island's most prominent historical monuments. Bellver and Capdepera castles are two of the most prevalent, preserved in their original state. The Royal Palace of La Almudaina proudly sits beside Palma's iconic cathedral, is officially a royal residence even today but its gardens are open to visitors most of the year.
Archaeological sites
There are also a number of ancient ruins on the island. The most famous are those of the Roman city of Pollentia which has been preserved for almost 2000 years. Stone buildings, courtyards and cobbled paths are all identifiable. Bronze Age settlements like the impressive Ses Paisses can also be visited.
Caves
Whilst the island boasts around 200 cave systems, two of them are renowned for being some of the most impressive in Europe. To see magnificent stalactite and stalagmite formations, head to the east coast of Mallorca to embark on one of the guided tours of either Cuevas del Drach or Cuevas de Artà. Unique rock formations are a common sight in Mallorca so it is likely you will come across some on your stay especially if you venture towards the smaller bays.
Art
There is a superb range of art galleries, both private and public, as well as museums in Mallorca, You can see works by Joan Miró, Salvador Dalí and many other top-tier artists here, as well as exhibitions specialising in different interests from the history of Mallorca through to the tradition of Mallorcan pottery or antique toys.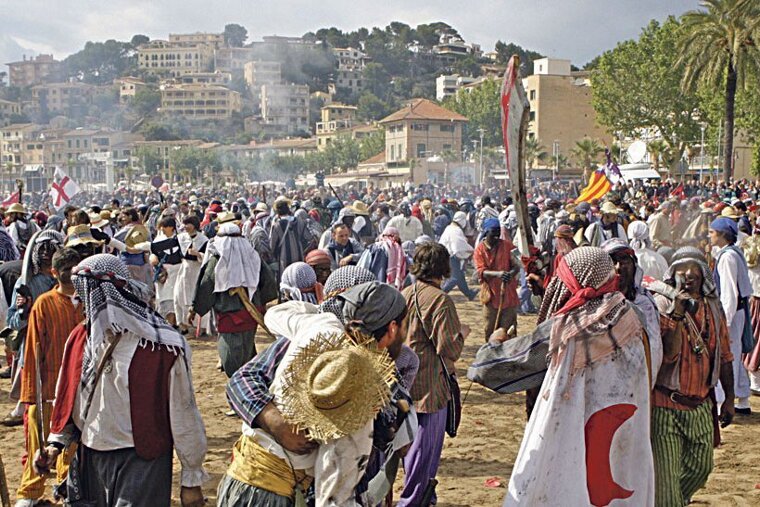 Events
Every year, Mallorca jam packs its calendar of events appealing to a whole range of people with different interests. From classical music festivals to top international DJ sets, wine fairs, sailing regattas, market days and, of course, a never ending list of traditional festivals.
Traditional fiestas
Join in one of the local fiestas in Mallorca and you will be completely enchanted by the island and its people. Many of these festivals are religious or agricultural in origin and a few date back to the time of the Christian conquest. Every town and village has its saint's day, whose eve ('revetlla') is marked by a street party ('verbena') with music, dancing, fireworks, fancy dress and, of course, a Spanish feast. Battles are acted out between devils and heroes or Christians and Moors and a good time is had by all. Public transport is good and well linked, especially in the holiday resorts, if you don't have access to your own wheels.
Live music
Over the years, Mallorca has developed a music scene worth writing home about. Whether you want to see your favourite pop artist, an international DJ or a live rock, jazz or blues gig, we guarantee you will find something to suit your individual music tastes and needs whilst visiting the island.
Sports
From cycling races to trail running competitions, sailing regattas, La Liga football matches and urban marathons – the island offers plenty of opportunities to challenge you in your most beloved sport.
Food & Drink
Top-quality dining
Mallorca is gaining a reputation for its first class restaurants and local gastronomy. There are even several Michelin-starred eateries popping up all over the island. Many local chefs who have trained overseas and made a name for themselves have returned to the island to set up restaurants serving up traditional Mallorcan cuisine with an innovative twist. These restaurants tend to offer tasting menus, which are an excellent way of sampling local cuisine at very reasonable prices.
While Palma is the island's gastronomic haven serving up something for everyone, Mallorca's coastline also offers many opportunities to find a dining spot with spectacular sea views. The ports and marinas are where you can indulge in some of the island's swankier restaurants serving international food whilst enjoying a spot of people watching. Wherever you decide to go, it's worth calling up the restaurant in advance to avoid disappointment.
Wine & vineyards
Mallorca is quietly building a reputation for fine wines. Since the 1990s, local winemakers have turned the industry around and are now producing award-winning stunning wines. Native grapes include Callet, Manto Negro and Moll, and these are generally blended with imported grape varieties to produce full bodied reds, fresh rosés and thirst quenching whites. Plenty of vineyards are open for tours and tastings. Even if you don't have time to visit, we'd recommend you try a bottle at one of the local restaurants as not many Mallorcan wines make it off the island.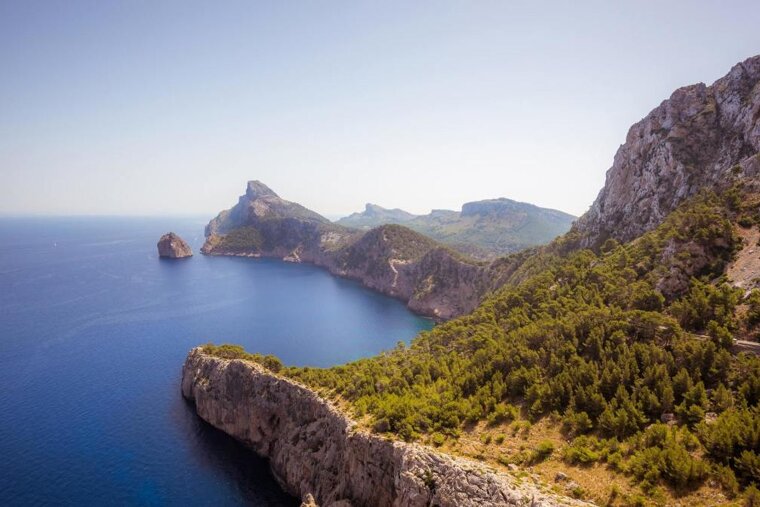 Mountains & Sports
Natural parks
There are several natural parks in Mallorca. The main one is the Serra de Tramuntana mountain range that runs up the west coast. The highest peak here is the Puig Major, at 1445 metres, and the whole area has World Heritage Status from UNESCO. There are great walking trails to be explored, and the small hilly roads are very popular with cyclists and car road trippers. The other main natural park is the Llevant Peninsula Nature Reserve in the north east, where the rugged hilly landscape overlooks the coast. Mallorca's wetlands are also famous, with more than 400 different species of flora found in the large area of S'Albufera Nature Reserve. These wetlands are prime spots for bird watching; the main local bird species include Black Vulture, Eleonora's Falcon, Audouin's Gull, Moustached Warbler, Balearic Shearwater and Balearic (Marmora's) Warbler.
Hiking & walking
The dramatic Serra de Tramuntana mountain range in west Mallorca and the more modest Serra de Llevant mountains in the east see more walkers each year, so grab those hiking boots from the cupboard and given a quick dust-off before packing your bags to visit the island. The best time for hiking is probably autumn, spring or late summer when the temperatures are slightly cooler and the crowds have disappeared. Spring is also a wonderful time to walk through the countryside when flowers and greenery fill the landscapes.
Cycling
In recent years, Mallorca has become increasingly popular with cyclists thanks to its mild winters and varied terrain. There are the Serra de Tramuntana mountains to explore for the brave, and charming lanes and coastal cycle paths to those looking for something more leisurely. The north west of Mallorca is the most popular, be sure to check out the scenic towns of Valldemossa, Deià and Sóller whilst you are at it. Alcúdia and Pollença are also desirable spots for keen cyclists, so much so Bradley Wiggins has a base there. It is possible to hire a bike in almost every town on the island and there is a range of bikes available so that even the most amateur cyclist can explore the island's beautiful countryside by bike.
Rock climbing
Mallorca is without a doubt one of Europe's most beautiful and varied sports climbing venues. An abundance of top quality limestone means that the island has an unparalleled variety of routes of all grades with single and multi-pitch routes to explore. Mallorca has also recently become world famous as a deep water soloing venue, with world class climbers like Chris Sharma visiting during the summer and autumn months.
Scenic trains
The Palma to Sóller vintage train ride is one the most popular day trips in Mallorca. The immaculately kept antique wooden carriages run along a 27 km narrow gauge railway through valleys full of olive, orange and almond groves to the beautiful town of Sóller, deep within the Tramuntana mountains. A connecting tram ride takes you on a short 5 km trip to Port de Sóller which has one of the west coast's only sandy beaches.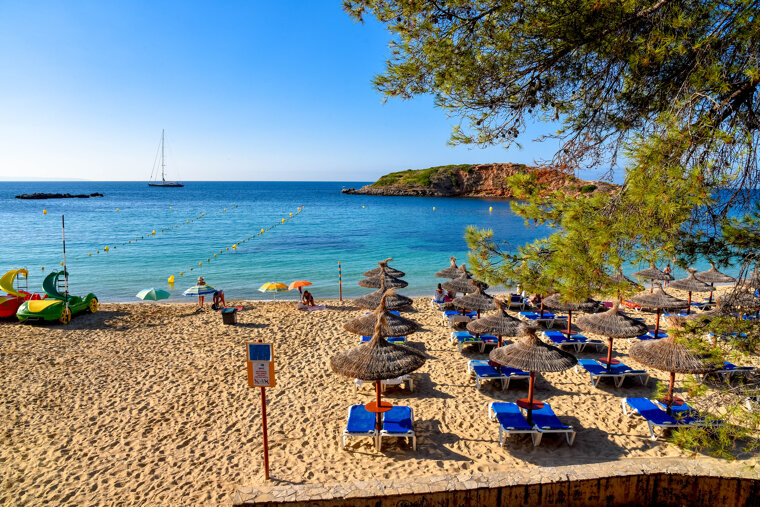 Sea, Sailing & Beaches
Beaches
Beaches in Mallorca range from long white sandy stretches to isolated rocky coves. Whilst people flock to these idyllic settings throughout the year, it is still possible to find a more peaceful spot if you are prepared to veer away from the beaten track. Long sandy beaches can be found on all the coasts except for the west, which is dominated by cliffs and rocky coves. For pretty sandy coves with sparkling seas, head to the east coast. The south west and northern parts of the island host the main tourist hot spots and claim some of the most stylish beach clubs. Some of the nicest beaches tend to have resorts attached to them offering a wide range of facilities, great for families and children. Playa de Palma, Port de Pollença, Port d'Alcudia, Magaluf and Cala Millor are some of the most well-known.
Boat trips
Join a boat trip for a day or half day at sea with one of the many companies based in Mallorca's main beach resorts and ports. There is a wide range of boat trips on offer: small and large, catamarans or motor boats, each with a different package available... the choice is endless. Day trips are the most popular and usually include lunch and a stop-off at one of the more remote beaches where you can try some swimming, snorkelling, stand up paddle boarding or kayaking. Or take a sunset cruise in the evening and enjoy the views with a glass of bubbly. If you are looking for an adrenaline rush, perhaps a speed boat too will get the heart racing.
Alternatively, explore Mallorca's stunning coastline at your own pace on a luxury yacht charter. You can charter a yacht from one of the many companies on the island which can usually be found in ports and marinas.
Watersports
Mallorca is the perfect holiday destination for watersports thanks to its warm summers, island breezes and scenic coastline. There are plenty of watersports centres offering equipment hire and lessons in activities like sailing, scuba diving, wakeboarding and kite surfing all around the island. Alternatively, thrill seekers can enjoy rides in speedboats, jet skis or banana boats.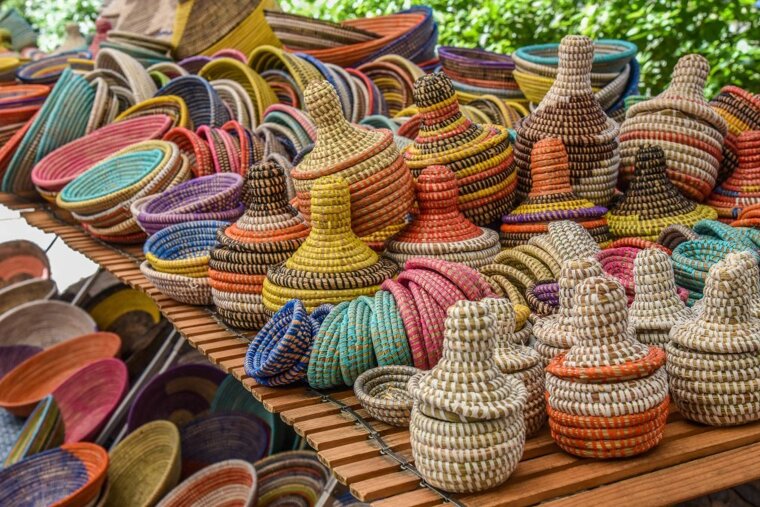 Shopping
Shops & boutiques
Palma is Mallorca's main shopping hub, with the old city centre offering plenty of independent boutiques in addition to Spanish high street chains and designer labels. There are two big shopping centre close by, at Porto Pi and FAN. If designer shopping is your thing, then a trip to one of the island's prestigious ports is a must. Puerto Portals and Port Adriano are two of the main hot spots where designer fashionistas like to shop.
Markets & local crafts
Otherwise, most towns offer a weekly market where you can find fruit & veg, crafts and touristy trinkets. Finally, bear in mind that Mallorca is known for its production of artificial pearls and leather goods, so why not visit one of the factories dotted around the island?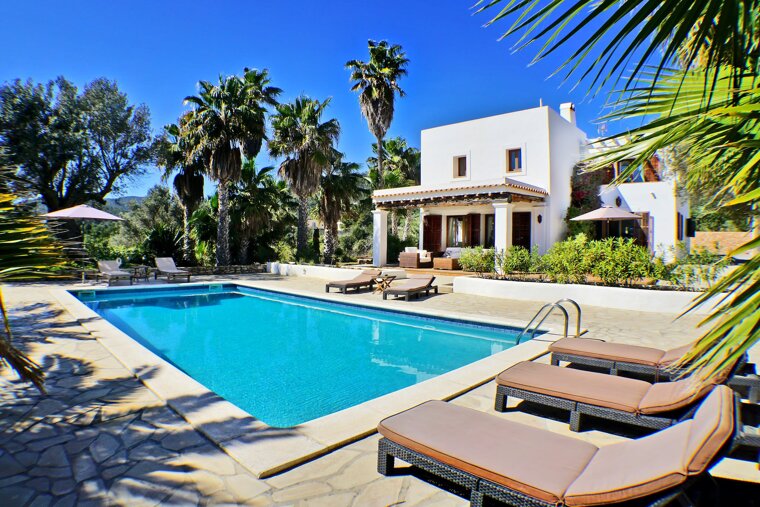 Villa Holidays
Villa holidays have been popular in Mallorca for decades. There is quite a collection of villas on the island, with an array of sizes, prices and styles available, with or without swimming pools! It is a particularly popular choice of accommodation for families and groups of friends looking for flexibility and privacy.
Villas can often spark interest amongst groups seeking the best value for money accommodation. Nonetheless, there's a villa for everyone and for every budget, from cheap and cheerful, through to traditional farmhouse finca, and topping out with some serious luxury. Properties are scattered throughout the island but with a concentration of property rentals on the north and west coast.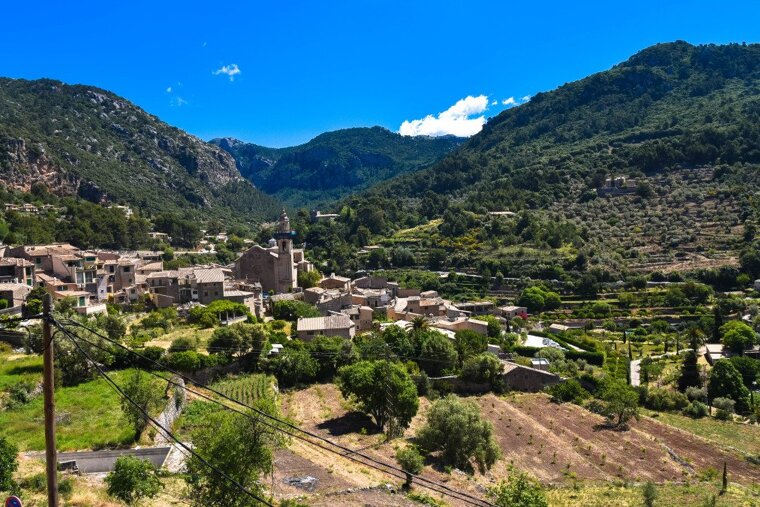 Charming Villages
There are some beautiful unspoilt villages to visit in Mallorca. They all have their very own, distinctive character, from the stunning towns of Valldemossa and Deia to the sleepy village of Arta and Sineu, this is where the island's traditional spirit resides.
Villages in West Mallorca
Try the legendary towns of Deià and Valldemossa, hidden in the hills of the Tramuntana mountain range which have attracted some of the most affluent visitors to the island for decades. Sóller has amazing architectural gems and a rich history, although it is mostly famous for its orange and lemon groves.
Villages in North Mallorca
Pollença, in the north, is another beauty filled with little lanes, pretty squares and attractive historical buildings.
Villages in Central Mallorca
On the agricultural plain right in the middle of Mallorca, the quiet village of Sineu boasts the most wonderful traditional Spanish market on Wednesday mornings.
Villages in East Mallorca
Arta, in the north east, and Santanyi, in the south east, are arty little towns with pretty medieval centres and historical buildings.
Family Fun
Mallorca is a perfect choice for a family holiday for many reasons. It has big, child-friendly beaches with white sand and calm crystal blue waters, as well as loads of fun things to do and beautiful countryside. The island is compact, safe, clean, and there is a massive range of accommodation, in terms of both style and affordability.
Family-friendly accommodation
From self-catered villas to family-friendly hotels in beach resorts, the island has a wide array of child-friendly accommodation. Many even boast kid's clubs and lots of facilities to keep the little ones entertained.
Family-friendly fun
There are also plenty of things to do with children on the island. Among the most popular family activities are theme parks and waterparks. Mallorca's theme parks cater for most age ranges. Activities like crazy golf, tree top adventure, paint balling and go-karting are some of the most popular. Mallorca's waterparks are the perfect place for families and groups to enjoy the hot summer days. With a good selection of slides and slippery rides, they are located in Alcúdia, in the north west, in Playa de Palma and near Magaluf, in the south west.