Choosing where to stay on Mallorca will likely depend on the type of holiday you'd like to have: hotel or villa, beach or city, party or tranquillity, sporty or culture vulture - a holiday in Mallorca can offer all of these things. The impressive assortment of landscapes, from its white sandy beaches with tropical overtones and crystal clear sea to green fertile plains with orchards and vineyards, the magnificent mountain ranges and, of course, Palma, its sophisticated and historic capital city. Mallorca is an island full of surprises.
The choice of holiday accommodation is equally varied with quality options for a wide range of budgets. There are luxury boutique hotels in and around the well-known historic villages, towns and cities such as Palma, Deià, Sóller or Valldemossa, whilst exclusive golf and spa resort hotels are found close to some of the best spots on the island, like Puerto Portals and Palma. For families, the purpose-built Spanish holiday resorts in places like Palma Nova, Santa Ponsa, Port d'Alcúdia, Cala d'Or and Port Pollenca offer lots of entertainments and good value accommodation. Alternatively, villas, fincas and apartments are plentiful throughout the island and can offer more flexibility and better value for groups and families.
Wherever you stay, accommodation can be reasonably priced especially when compared to many other Mediterranean destinations. If you are able to avoid school holidays or can stay inland away from the coast, you can find some wonderful hotels and fincas for a fraction of the price of sea view accommodation.
Palma de Mallorca accommodation
Palma is the capital city of Mallorca, a superb choice for those looking for something more than just a beach holiday. With beautiful historic architecture, golden sandy beaches, an enormous harbour, fabulous museums and art galleries, good shopping, excellent restaurants and very cool nightlife, as a city break destination it more than rivals other European cities. There are regular low-cost flights with various airlines to its airport, so there is no excuse not to visit Palma for a weekend or longer.
Palma city centre - Designer boutique hotels & apartments
Palma's pedestrianised historical centre, made up of cobbled winding streets strewn with quaint shops and cafes, is the place for stunning stylish boutique hotels. Located in ancient renovated palaces, they are a good option for easy access to the endless list of shops, bars and restaurants within central Palma.
Santa Catalina is Palma's trendiest district. Formerly a fishing village, it has in recent years become a hub of international restaurants and bars. Rental apartments, whilst available throughout the city, are a particularly popular year-round choice of accommodation in Santa Catalina thanks to its attractive location and economical prices
Within close proximity to the historic city centre lies Portixol, an enchanting fishing village with an idyllic beachside promenade. The area possesses traditional chalet houses and a couple of small hotels along with a more bohemian feel and slower pace of life.
Palma outskirts - Large hotels
Larger hotels can be found within the city centre but more commonly on the outskirts. This type of accommodation caters well for conferences and have more in terms of facilities, including swimming pools and spas. These hotels are well connected with the centre with convenient taxi services and bus routes.
Son Vida, located a few minutes drive to the north of Palma, tends to attract a host of wealthy visitors. The area is largely known for its luxury hotels around an immaculate golf course but is also laced with lavish villas built by well-known architects on the island.
Cala Major & Illetes - Beachside hotels
To the west of Palma, you will find Cala Major (where the Spanish royal family have their summer palace of Marivent) and Illetes, which are famous for their beaches and offer a healthy combination of beachside hotels and apartment rentals. This stretch of coastline is becoming more and more sought after amongst all age groups, which is demonstrated in the number of restaurants and tourist-oriented shops opening each year.
Playa de Palma - Holiday beach resorts
A common mistake is confusing staying in Palma with staying in Playa de Palma. The latter, otherwise known as S'Arenal, is a lively purpose-built resort around 10 kilometres to the east of the capital. Full of holiday hotels catering for the tourists, this stretch of beach draws in many different types of age groups, from families to groups of youngsters thanks to its budget-friendly prices. In recent years, it has become very popular with Germans.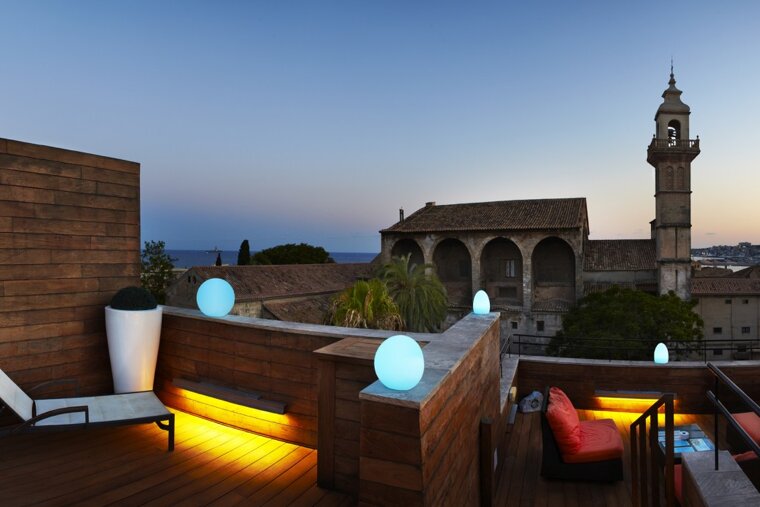 North Mallorca accommodation
The north of Mallorca is well-known for its long stretches of sandy beaches, historical towns and lazy pace of life in its coastal villages and ports. With jagged mountains that slip into the sea and treasured ancient streets within historic towns bursting with Mallorcan culture and heritage, there is so much to see here. It's no surprise that this part of the island receives some of the most loyal visitors returning year after year.
In the summer months, the coastline's ports and beaches become some of the island's leading tourist destinations. The north of the island also has its fair share of hikers and cyclists visiting in the autumn and spring time. Villa holidays are particularly sought-after in this part of the island but there's a choice of coastal and inland accommodation available with a variety of hotels, apartment rentals and rural fincas.
Pollença - Countryside villas
The Mallorcan town of Pollença embraces its rustic architecture and tradition. Highlights for the holidaymaker include its traditional market square, a 13th-century church and a whole host of restaurants, cafes and bakeries dotted around the town. The old town of Pollença has a selection boutique hotels on offer but it's the stunning villas sprinkled around the neighbouring countryside and coastline that steal the show here. Most boast complete privacy, large terraces and swimming pools, and normally come fully equipped to cater for an assortment of guests, from groups of friends to families with young children
Port de Pollença - Holiday resorts & apartments
Pollença's port, found just a couple of miles away from the old town, has been a family favourite for a number of years. Port de Pollença exhibits traces of its traditional fishing port roots and enjoys sensational coastal and mountainous scenery along its wide-stretching sandy bay lined with purpose-built constructions. This coastal town never feels crowded thanks to its cleverly positioned restaurants and cafes, particularly along the pedestrianised pine walk on the north side of the port. There's an assortment of accommodation available here from boutique hotels, through to larger hotels and the odd modern apartment block. Just around the corner on the bay, resides the imposing area of Formentor which is not only popular for yachts to anchor but also hosts one of the most exclusive hotels on the island.
Alcúdia - Historical boutique hotels
Not far away sits the ancient town of Alcúdia which oozes history with its medieval walls, ancient architecture, churches and convents. This place is fast becoming a jewel in the north of the island thanks to recent investment. Highlights include its boutique hotels, handsome shops and outdoor dining in ancient streets.
Port d'Alcúdia - Package holidays
Just a few kilometres down the road sits one of the prime locations for a family holiday. Port d'Alcúdia is an old fishing village which still retains its traditional charm within its town centre. Over the years, restaurants, purpose-built apartment blocks and package holiday hotels have popped up along the beachfront thanks to the allure of its turquoise shallow waters and idyllic white sandy beaches that sweep around the bay next to the port.
North-east Mallorca - Rural fincas & beach resorts
The north-east of Mallorca, being slightly quieter than other northern destinations, has the scope to create the perfect get-away-from-it-all holiday. Home to the Llevant Natural Park with its wild hills and birdlife, the north-east boasts beautiful tranquil countryside as well as pretty beaches and coves. There are also some really charming towns in the area like the hilltop villages of Artá and Capdepera, both boasting an impressive fortress or castle and tiny winding alleyways that conceal boutiques and quaint art galleries. Accommodation choices in the area range from hotels and apartments in the traditional resorts of Colonia de Sant Pere, Cala Ratjada and Canyamel, to some really fantastic fincas and small luxury hotels perfect for families and large groups of friends who prefer to stay in more rural areas. The north-east is primarily popular amongst Germans.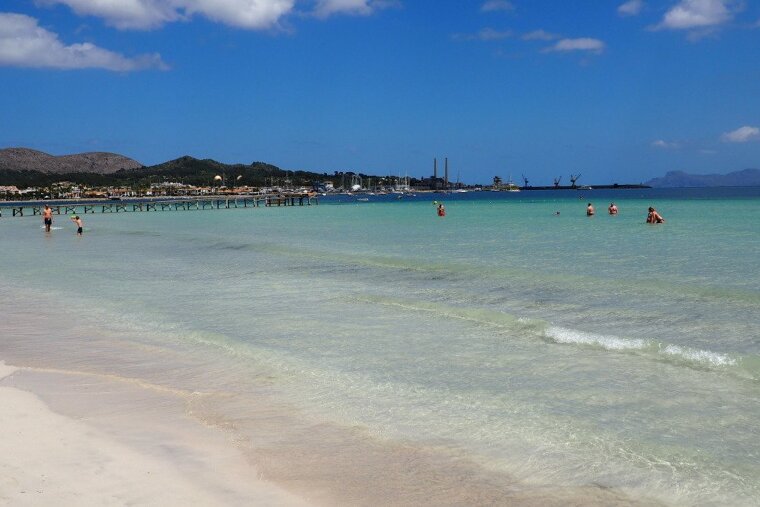 East Mallorca accommodation
The east coast of Mallorca consists mainly of beach resorts which tend to attract families due to a large quantity of reasonably priced child-friendly hotels, self-catering apartments and villas. This area has the most varied coastline and hosts a number of unique splendid beaches, coves and caves to visit, along with a wide range of activities to get involved in. The area principally attracts English holidaymakers but there have been a few more Swedish and German visitors choosing the area in recent years.
Moving away from the coast and into the foothills of the Llevant mountain range, there are some fabulous fincas and villa rentals available which are a favourite for a quiet break away. Here resides Mallorca's second largest wine growing region, which is situated around Felanitx - many of the vineyards are open to the public for tastings and tours.
Cala Millor - Tourist residences & hotels
Cala Millor marks the beginning of a host of purpose-built resorts that are dotted along the eastern coastline of the island between its glorious beaches and caves. The area consists of long stretches of golden white sand that meet crystal clear seas lined by beachside apartment blocks and touristy hotels. There's everything you would expect in a typical Spanish holiday resort with a lengthy list of restaurants to choose from and a variety of entertainment in the evenings including karaoke bars and live music.
Porto Colom & Porto Cristo - Traditional holiday resorts
Porto Colom and Porto Cristo are two small fishing villages that have been developed into holiday resorts but still very much keep their Spanish appeal. The famous cave systems of the Cuevas del Drach and Cuevas dels Hams are found near the latter. A tour of the mysterious rock formations should be on your Mallorca to-do list, there are even events where you can listen to classical music concerts in some of the larger caverns. Both areas offer a wide range of accommodation both in town and along the coastline, from cheap and cheerful hotels and self-catering apartment complexes through to more indulgent large villas with swimming pools.
Cala d'Or - Apartment blocks & family-friendly hotels
As you head to the southern part of the eastern coast towards Cala d'Or, the beaches become smaller and even prettier as they tend to be found in coves where the sea sparkles and reflects the green of the surrounding pine trees. This area attracts people of all ages returning year after year to stay in their favourite whitewashed apartment blocks and hotels. It doesn't feel as built up as some of the other resorts but boasts a warm and welcoming atmosphere in the summer months. It also has a multitude of fantastic restaurants, particularly around the Port de Cala d'Or marina.
Santanyí - Boutique Hotels
You can escape the more traditional tourist resorts and absorb Mallorcan culture by staying in the rural area surrounding the historical town of Santanyí. This region offers some of the most beautiful boutique hotels in this part of the island. There are also fabulous restaurants within Santanyí town centre and stunning white sandy beaches and hiking trails in the surrounding area and along the coastline just a few kilometres away.
South-east Mallorca - Well-priced fincas
Being less developed for tourism, there are a number of well-priced fincas and luxury rural hotels in the south-east of the island. Here the land flattens out and you notice countless old windmills in the landscape. This is where the salt flats reside, home to the gourmet flavoured salts 'Flor de Sal' and Mallorca's best known undeveloped Caribbean-like beach, Es Trenc which stretches for miles. The prettiest natural park of Mallorca, Mondragó, is also close with its aquamarine seas and luscious white sand beaches. The beautiful walks through pine-filled coastline can add an extra dimension to your day at the beach. From here, it's possible to take boat trips from Colonia de Sant Jordi to the only maritime natural park in Mallorca, the Cabrera islands.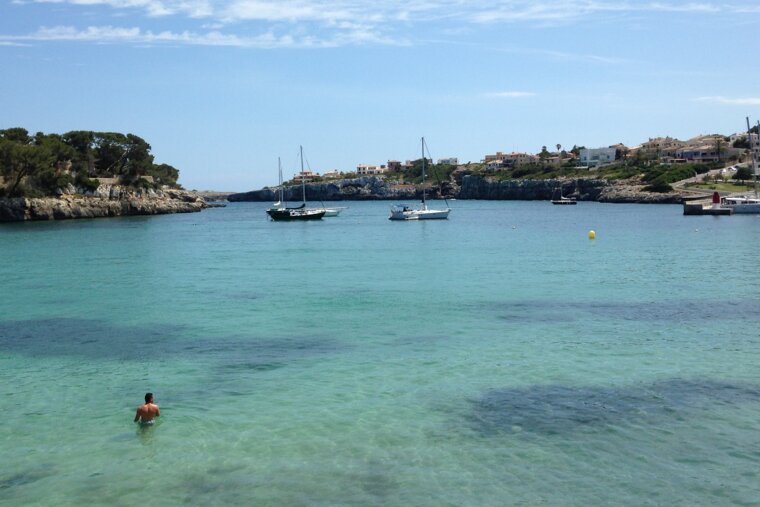 South Mallorca accommodation
As the most developed part of the island, a whole host of accommodation options await you in the south of Mallorca. It has become the trendy place to own a second home amongst English, Germans and Swedish so there is a real community spirit in the area. If you aren't a second home owner then holiday villas and apartment rentals are widely available, although it is far more common to stay in a hotel on the coast. Many of the luxury international hotel brands can be found here alongside most of Mallorca's prestigious marinas, golf clubs and exclusive beach clubs.
For a more authentic Mallorcan experience, there's the option to stay in a countryside finca. These are converted farm or manor houses made into lush B&Bs which tend to be good value for money when compared to hotels in the area.
South-west of Palma - Popular beach resorts
The area to the south-west of Palma is a timeless favourite among holidaymakers and, as such, has been significantly developed. Here you'll find the holiday resorts of Santa Ponsa, Palma Nova and Magaluf, which are very popular with the British. These towns provide the traditional package holiday accommodation of cheap 'n' cheerful hotels and budget apartments. Santa Ponsa is the more upmarket of the three, while Palma Nova is popular with families. Magaluf is currently undergoing reform to transform it from a party destination to a family holiday resort. All these places have fabulous beaches and a wealth of family attractions so they are perfect to stay with little ones.
Luxury marinas - Upmarket hotels
The prestigious marinas in the south of the island are popular spots for the beautiful, rich and famous visitors. Alongside being a good place to charter yachts, they are full of some of the island's best restaurants and great places to just sit and people watch. The resort of Portals Nous houses the glamorous marina of Puerto Portals which has become the most renowned port on the south-west coast thanks to its high-end restaurants and sophisticated nightlife. Portals Nous has a number of stylish hotels within close proximity to the port. Port Adriano (just south of Santa Ponsa) is the new luxury marina on the island. It's a popular spot in the summer months for its restaurants, bars and exceptional events including food festivals, concerts and sunset yoga. They also offer a wide range live evening entertainment, and there is a beach and a luxury hotel in the vicinity.
Andratx & Port d'Andratx - Lavish villas & hotels
A more traditional yet high-end harbour is that of Port d'Andratx, a discreet venue with Spanish style seafood restaurants aplenty. The surrounding hillsides are speckled with luxury hotels and villas that lead inland to the old town of Andratx. This little village tends to leave the touristy attractions to its port and remains fairly untouched, so it's perfect for visitors wanting a more authentic Mallorcan experience with easy access to the port.
South-west Mallorcan villages - Rural escapes
A quieter and even lovelier fishing village is that of Sant Elm in the far south-west, well-known for its impressive hiking trails amongst walking enthusiasts. There are a couple of hotels and some pretty apartments available for short-term rentals here. Moving away from the enchanting coastal village of Sant Elm, you quickly meet rolling countryside where the hills develop into the Serra de Tramuntana mountain range. There are several tiny mountain villages hidden in these hills such as S'Arraco, Galilea and Puigpunyent which offer a real retreat for a bit of downtime in their traditional rural fincas.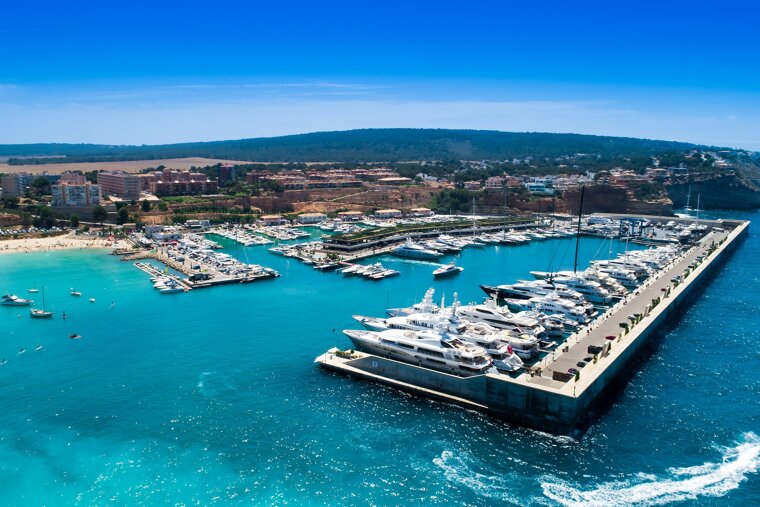 West Mallorca accommodation
The west of Mallorca is famous for its picture-postcard towns and villages. What it might lack in beaches, is more than made up for with dramatic scenery thanks to the Serra de Tramuntana mountain range. The mountainous terrain makes the western region of the island a popular spot for those who are into outdoor activities like cycling and hiking. At the same time, its stunning locations and gourmet restaurants have made it the perfect stomping ground for the more well-heeled visitors over the years. It has been an established meeting point for affluent British holidaymakers for a number of years and it retains its feeling of exclusivity and sophistication, which means quite a few celebrities are known to favour this part of Mallorca for their holiday homes.
State-of-the-art hotel accommodation can be found in the west of Mallorca. At the same time, there's something to suit all budgets, with a number of small boutique hotels and fincas springing up in the villages and hills. The infinite number of hiking and cycling routes means sports enthusiasts and explorers are also spoilt for choice when it comes to accommodation with independent specialist hotels and self-catering apartments equipped to serve every need.
Valldemossa, Deià, Sóller, Port de Sóller and Fornalutx are the most recognised towns in the area, featuring pretty cobbled lanes and immaculate architecture laced with bougainvillaea and other colourful plants.
Valldemossa - Traditional boutique hotels
Valldemossa, located inland and only 17 kilometres away from Palma, is known for its 13th-century monastery where French composer Frédéric Chopin and writer George Sand spent the winter of 1838-39. The town has managed to keep its traditional character and, inside some of the original townhouses, there are now splendid boutique hotels each offering their own unique style and customary charm.
Deià - Sumptuous boutique hotels & fincas
The beautiful town Deià is perched upon a cliff right by the sea. It has become a haunt for a whole host of celebrities, making it one of the most aspirational towns in the mountains. With its breathtaking views of the sea, stunning architecture and critically acclaimed restaurants, this is one of the most sought after property destinations for high-net-worth individuals. Whilst most people tend to choose one of the many boutique hotels on offer in the town, there are also a few delightful fincas available in the surrounding areas too while villas are particularly popular in this area in the summer months.
Sóller - First-class boutique hotels
Sóller is a traditional agricultural town in the middle of the countryside located a few kilometres from its counterpart and port side town known as Port de Sóller. Most famous for its vintage train ride, orange trees and the wonderful modern art gallery of Can Prunera, Sóller has been a top pick for families, couples and groups of friends of all ages. Here, first class boutique hotels are a favourite.
Port de Sóller - Wide range of accommodation
Port de Sóller, still reminiscent of a Spanish fishing port, is perfectly situated in a glorious horseshoe bay. The town boasts fantastic restaurants and is the place to come for boat trips, ideal for admiring the rugged western coastline. This area has a full range of accommodation on offer, from the typical Mallorcan boutique hotels to more modern options with the latest amenities.
Fornalutx - Authentic village hotels & villas
Fornalutx, a rural inland village, calls itself one of the prettiest villages in Spain. Being set in the heart of the Serra de Tramuntana mountain range, it has many amazing hiking trails on its doorstep. With just a few rural boutique hotels, apartments and villas in the vicinity, this is the perfect place for a those looking for a quieter more authentic village lifestyle.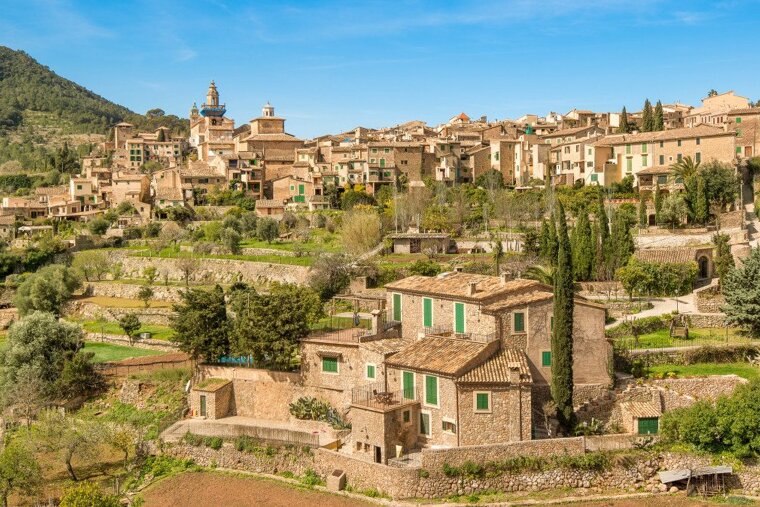 Central Mallorca accommodation
The interior of Mallorca is surprisingly green and, being relatively untouched by the island's tourism, it boasts wonderfully fertile land dotted with tiny rustic villages that have resisted the passage of time. Away from the more touristy attractions of the island, there is the opportunity to immerse yourself in the real Mallorcan culture as many of the villages host quirky festivals and fairs each year, mainly celebrating their local agricultural produce and the local patron saint.
There's a choice of fincas or small luxury hotels here, great for a get-away-from-it-all type of holiday. Inland accommodation is often better value than equivalent quality hotels located closer to the coast. Many of these rustic fincas are beautifully restored manor houses giving a glimpse into how the nobility on the island lived a couple of centuries ago. If villa rentals are more your thing, then you'll be surprised at the quality and price of what's on offer here. Renting a car will prove extremely useful when staying in central Mallorca as it will allow for frequent visits to nearby villages and beaches, which will not be more than a 30-minute drive away.
Wine enthusiasts will enjoy the areas around Binissalem and Felanitx, set amongst vineyards, orange and almond trees. Binissalem is also within close proximity to the Serra de Tramuntana mountain range, so it's a good spot for keen hikers and cyclists to base themselves. For an authentic Mallorcan experience, visit the market towns of Santa Maria del Camí, Inca and Sineu which are fantastic places to stroll the streets and soak up the local architecture along with traditional bakeries, cafes and vintage shops.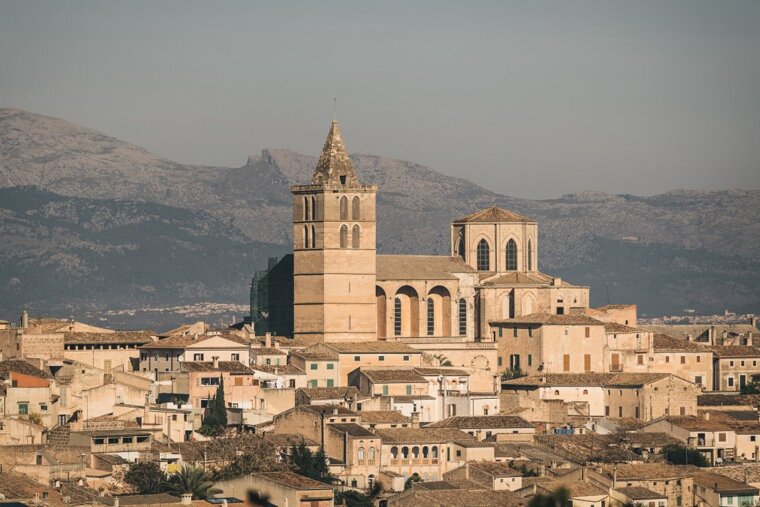 Adult getaways in Mallorca
The capital city, Palma, is becoming an increasingly popular year-round city break destination for couples and groups of friends of all age groups. It's where you'll find the best selection of great hotels and restaurants, the best nightlife and the best galleries and museums on Mallorca. The quieter inland boutique hotels are a favourite spot for couples retreats, predominantly in the west, alongside port destinations like Puerto Portals, Port d'Andratx and Port de Sóller which are also popular with large groups of friends. It's worth noting there are adult-only hotels in many of the coastline hot spots.
Family-friendly areas in Mallorca
Family-friendly accommodation can be found everywhere on Mallorca, however, families tend to gravitate towards the coastline to some of the more popular purpose-built holiday resorts.
In the south-west of the island, Palmanova, Magaluf, Playa de Palma and Portals Nous stand out for their family-friendly facilities and attractions including waterparks, theme parks, crazy golf and watersports. In the north, Port de Pollença and Port d'Alcúdia are old-time favourites thanks to their long stretches of beaches and relaxed family-friendly atmosphere. Family attractions are also plentiful here. The east coast embodies places like Porto Petro, Cala d'Or and Cala Millor which also have an assortment of features that tend to attract families.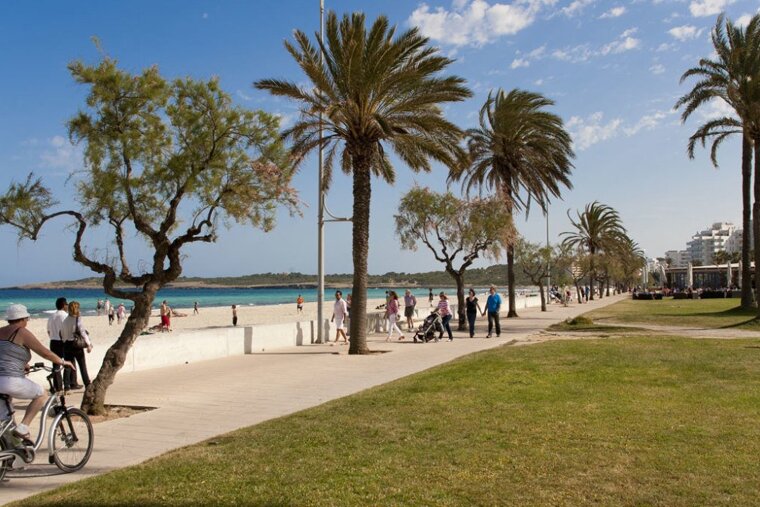 Beachfront accommodation in Mallorca
Beach holidays are the most common type of holiday on the island because of the wonderful beaches and wide selection of affordable package holidays. The north of the island (Port de Pollença, Port d'Alcúdia, Playa de Muro) is well-known for its long stretches of sandy beaches, while the south-west and east have beautiful bays. If you prefer a quieter beach holiday away from the tourist hot spots, try exploring the smaller resorts on the east coast, or hire a car to discover some of the lesser-known beaches. There are more than 250 beaches on Mallorca so you are certain to find one that suits, no matter the season.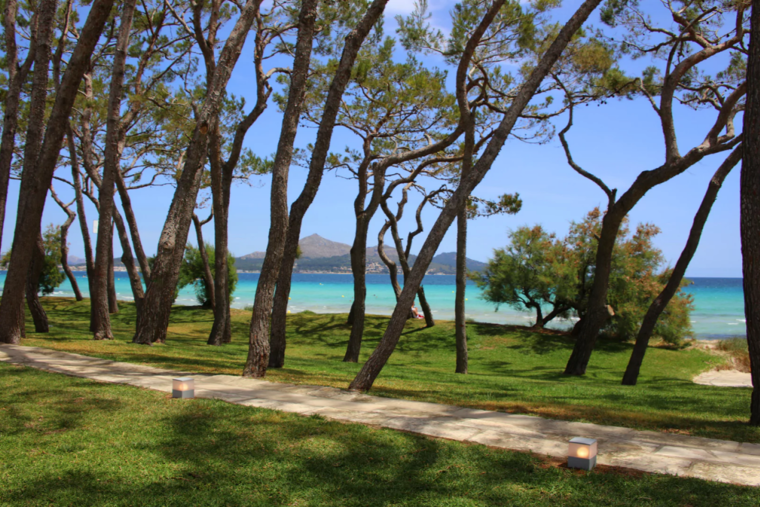 Cultural hot spots in Mallorca
Mallorca is an island drenched in history and tradition, which means visitors usually get to experience at least a piece of them. Tourists wanting to visit the island for an authentic cultural experience should stay either in the historic capital of Palma or near one of the ancient towns that can be found inland. So, veer away from the coastal resorts and head to places like Deià, Valldemossa, Sineu, Inca, Sóller, Pollença and Alcúdia which are known as some of the island's best cultural scenes, each possessing their own unique charms and traditions. Around these towns, you will find a selection of gorgeous rural hotels or fincas ideal for those who want to immerse themselves in the authentic Mallorca.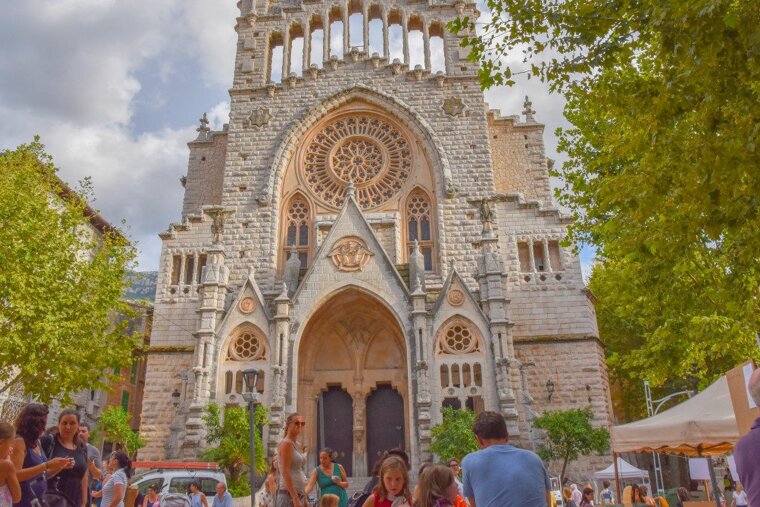 Mallorca´s Serra de Tramuntana is a hive of activity in Spring
---
West is best for Spring in Mallorca
The island showcases its almond blossom in full bloom in early Spring, making rural Mallorca look its best. It's the perfect time of year to explore the island's incredible variety of landscapes and a trip to the Serra de...