Art in Mallorca
Discover the top Mallorca art and design
Mallorca has a rich tradition of arts and handicrafts, many of which can be seen and bought at the islands local markets. Glassblowing and pottery are well established, as are leather goods. The island is also a world-famous centre for the production of artificial pearls.
Markets that feature real handicrafts made by local artisans include Arta, Pollença and Inca. There are various craft fairs held throughout the year in Mallorca, the autumnal fairs in particular showcase traditional craft stalls, check our Events Calendar for these annual events.
Glassware
Glassblowing has been a part of Mallorca's history since the Phoenicians visited the Balearic Islands back in the 2nd century BC. The tradition continued with new techniques being introduced by the Romans and the Moors. Commercial factories were set up during the 18th century, with the Gordiola factory being established in 1719.
The three major players in glass making on Mallorca are Gordiola near Algaida, Lafiore on the road from Palma to Valldemossa and Menestralia in Campanet. Each one has a factory that you can visit to watch the glass blowers in action, alongside their showrooms of brightly coloured products. Every piece is hand finished, ensuring the quality of the final products. The style tends towards the colourful and the sturdy, with plates, vases, bowls, light fittings and ornaments. You can find Mallorcan glassware on sale in Palma as well as the factories and in some of the larger markets.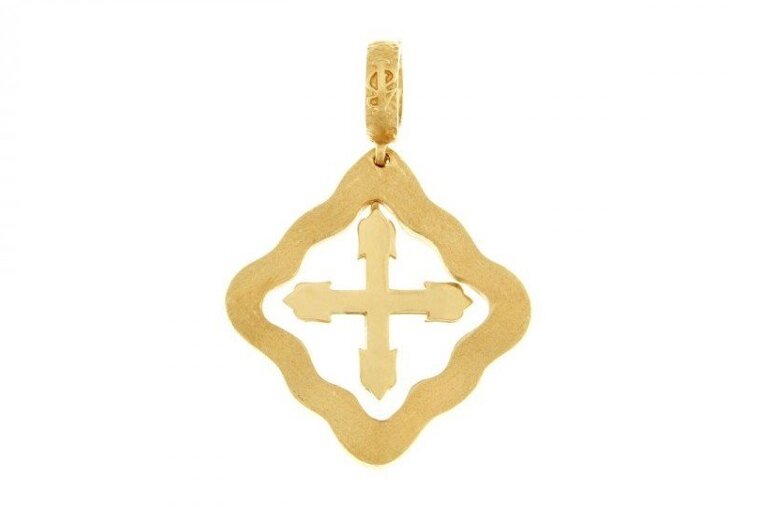 Jewellery & decorations
Mallorcan craftsmen specialise in producing traditional 18th-century style jewellery, such as gold chains that sit around a woman's waist. The Mallorcan Cross, a Greek cross set within a rhombus, is also an ancient item. More contemporary jewellery can also be found on the island where pieces often include precious stones.
Toy makers still flourish, particularly those creating wooden toys. Musical instruments such as the traditional Xeremies (bagpipes), Flabiols (Piccolos) and Tambori (small drums) continue to be made locally. Watch out for them at local fairs and fiestas.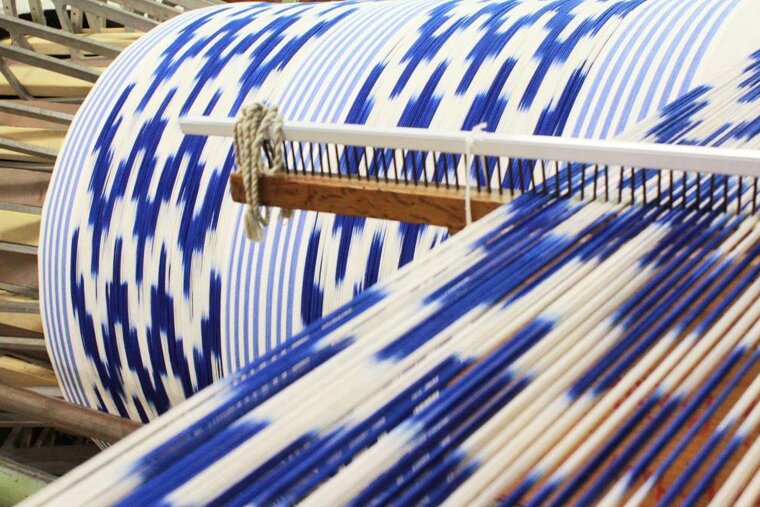 Textiles
Leather goods have been designed and manufactured in Mallorca for many centuries. The skill came from the Muslim culture over 1000 years ago. Inca is the home to world-famous shoe brand Camper, whose factories were established in 1877 and, indeed, Inca is regarded as the home of leather manufacturers on Mallorca. Products such as jackets, bags and wallets can all be bought from showrooms around the town while the Inca market, held every Thursday is an ideal opportunity to peruse the selection of leather items. If you prefer not to haggle, go directly to the factory showrooms found on the main road just outside the town centre.
Those who worked in the leather industry diversified into weaving, embroidery and other fabric related products. Hemp has been grown on Mallorca for generations and its versatility has been important through the ages, it can be soft, coarse, absorbent, insulating and strong. You'll find many fabric products such as tablecloths, towels, cushions and hats at the local markets, in addition to sandals and espadrilles.
Another traditional fabric is the Roba de Llengües (cloth of tongues). This is made from lengths of cotton (70%) and linen (30%) yarn, parts of which have been waterproofed so that, when the threads are dyed, only those pieces which have not been waterproofed soak up the colour creating distinctive faded edges. The threads are then woven in such a way that the resulting material is reversible. The fabric is used to make a variety of products, including curtains, shoes, upholstery and bedspreads.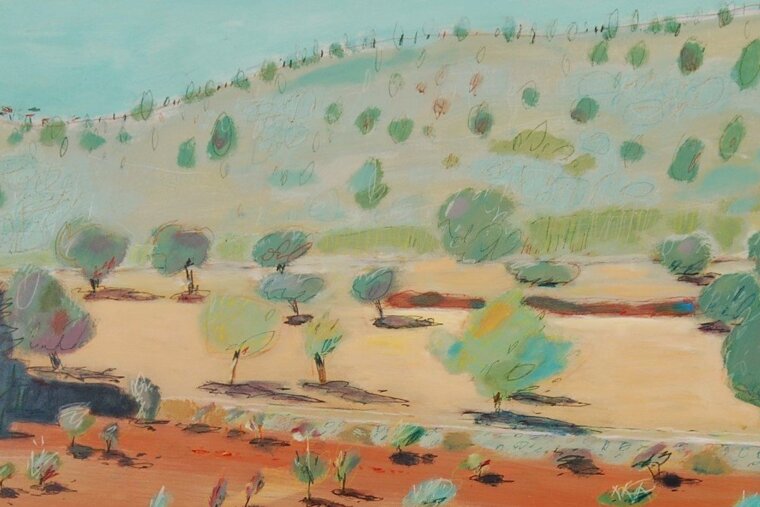 Painting & drawing
Artists have long been drawn to Mallorca so original paintings and drawings are widely available on the island. Palma has many top quality private art galleries and there are around a dozen artists who live and work here. However, yhe traditional place for artists to settle was Deia which has become too expensive for many of the newer artists.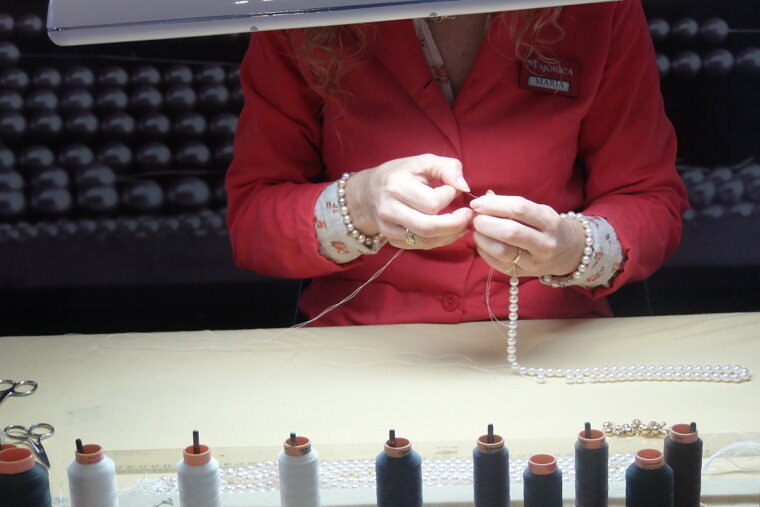 Pearls
The town of Manacor has been producing artificial pearls for around 100 years, since the locals found that they could almost replicate a natural pearl using fish scales. These are made by creating a crystal nucleus which is then bathed in a solution made from natural marine products and fish scales. As a layer of the solution wraps around the crystal, it is dried with a heated rotating wheel before another layer is added. The process is repeated until the pearl of the desired size, shape and weight is produced. The thickness of the layers relates to the quality of the finished pearl. The pearls are subjected to many quality control checks throughout the manufacturing process, which ensures any defective pearls are eliminated. Artificial pearls tend to be more resistant to damage caused by perspiration, perfume and make-up.
There are several pearl factories that you can visit to watch the manufacturing process, and each comes with large showrooms to display their products. The main companies are Orquidea, Marjorica, Madreperla, Ondina and Crisali. The factories can be found on the main road from Montuiri to Manacor, around 30km east from Palma.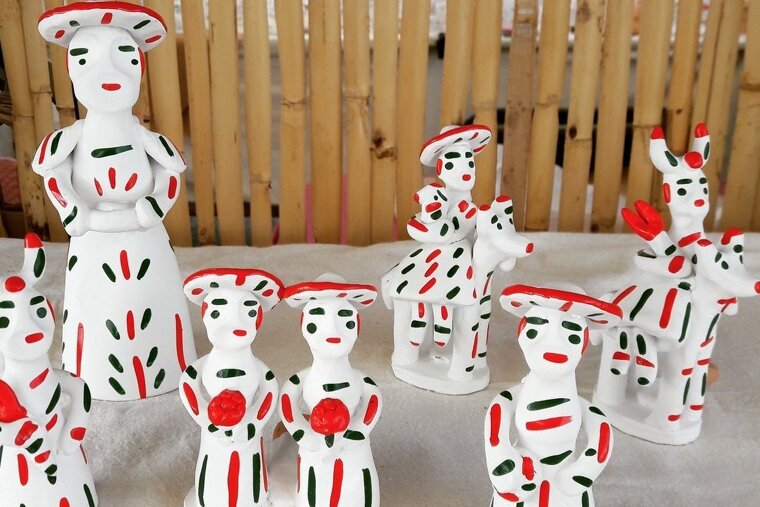 Pottery & ceramics
Pottery has been a part of Mallorca's civilizations since the Neolithic age while Roman and Moorish influences ensured the advancement of techniques. The Hispanic-Moorish pottery style became so successful that it was exported throughout Europe. Palma turned into a major hotspot for pottery in the 15th century, with the area of Sa Gerreria, in the old centre, housing many pottery workshops.
Nowadays, the most important pottery areas are the villages of Pòrtol and Sa Cabaneta of Marratxí, where there are large deposits of red clay that can be used in the workshops. The Museu des Fang (pottery museum) is located in Sa Cabaneta and there are many potteries in the area that you can visit (the Ruta del Fang). There is also a Pottery Fair (Fira del Fang) every March in Marratxi which is hugely popular and showcases a wide selection of pots, plates, tiles and jugs. All of Mallorca's leading potters are represented and prices here are much better than in the tourist shops.
The traditional Mallorcan ceramic piece is the siurell, an ancestral earthenware figures painted in bright colours that double as a whistle. They come in all shapes and sizes (the most common design is a man on horseback) and are painted white with flashes of red and green. They are cheap, children love them, and the artist Joan Miro was much influenced by their brightness and simplicity. Other traditional products include household and garden items such as flower pots, window boxes, candelabras, coffee sets and pipes. 'Gerretes' are clay jars that are decorated with clay braids and are typical of pottery from Manacor and Felantix.
You can find pottery and ceramic shops in many towns and villages, as well as the markets that are held all over Mallorca. Try Plaça Major in Palma for a good selection or take a trip to Portol and follow the 'Ruta del Fang' to visit the ceramicists' workshops and stores.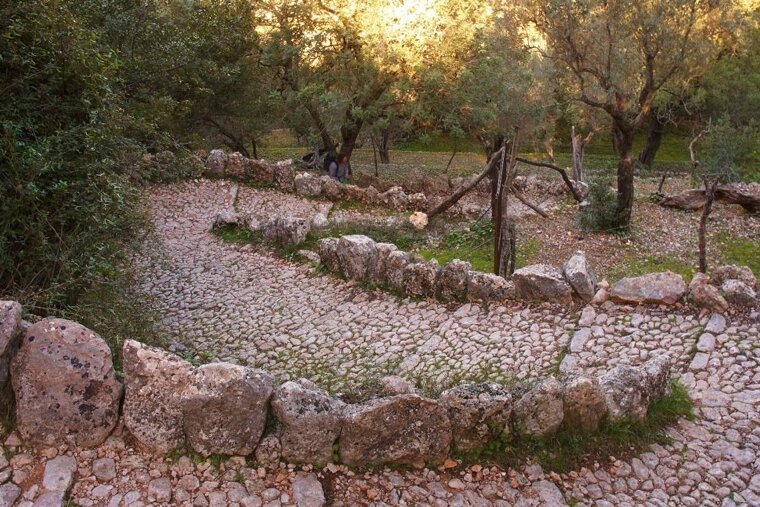 Stoneworks
Mallorca has a long history of working with stone, dating back to the Talayotic culture from 2000 BC. Stoneworkers were also vitally important to building the dry stone walls and terraces in the Tramuntana mountains so that the land could be cultivated. The dry stone ('pedra seca', 'pedra en sec' or traditional building technique is based on the expert setting of stones which are held up without the use of mortar or cement, a skill which continues to be learned in Mallorca today. The Dry Stone Route (GR221) that runs through the Tramuntana mountains allows hikers to see many of these constructions, from shepherd's huts to paths and steps.
Stone also features heavily in the construction of houses, fincas and huts, with many properties even featuring interior stone walls. Stonemasons have today turned their attention to more decorative pieces such as fireplaces, lamps, hand basins, paving and statues. Mallorcan sandstone is the most common stone to be used.
An annual stone fair is held in May in Binissalem where the tradition of stoneworking is celebrated. Check our Events Calendar for this year's dates (note, the dates are sometimes not released until very late in the day!).
Woodwork
There is a fine tradition of working in wood in Mallorca, mainly due to the need to build boats for fishing and trading. Sóller is particularly renowned for its skill in boat building, such as the traditional xabecs and llauts which were constructed from oak, Mallorcan pine and Nordic pine.
Nowadays, woodworkers create many wonderful products from tables, doors and shutters, to more decorative pieces made from olive wood such as bowls and cooking utensils. Traditionally made furniture can be found in stores in Manacor, although individual craftsmen sell their pieces throughout Mallorca. Look out at the local markets and fairs for handcrafted pieces.