Trains in Mallorca
Discover & book Mallorca train services
Travelling by train is probably the most relaxing and enjoyable way to journey through Europe. However, getting to the Spanish island of Mallorca can be a little trickier as taking the train and then a ferry or a flight can be a lengthy and time-consuming venture. However, if you are determined to do it, then where there's a will there's a way!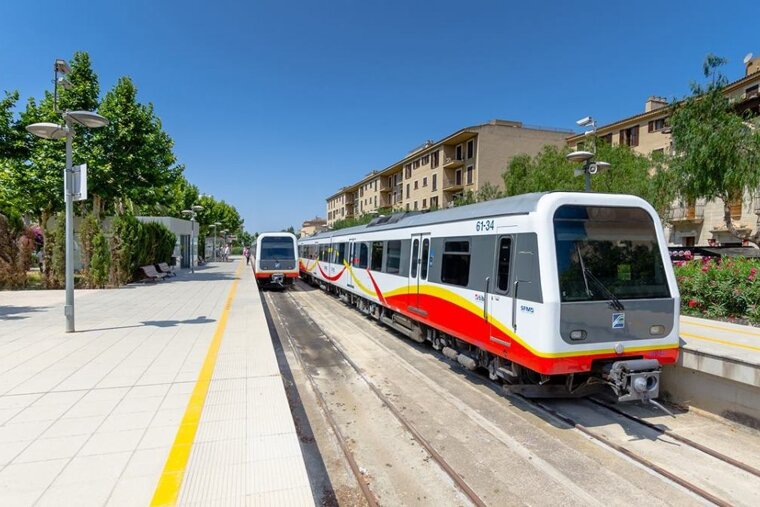 Nearest train station to Mallorca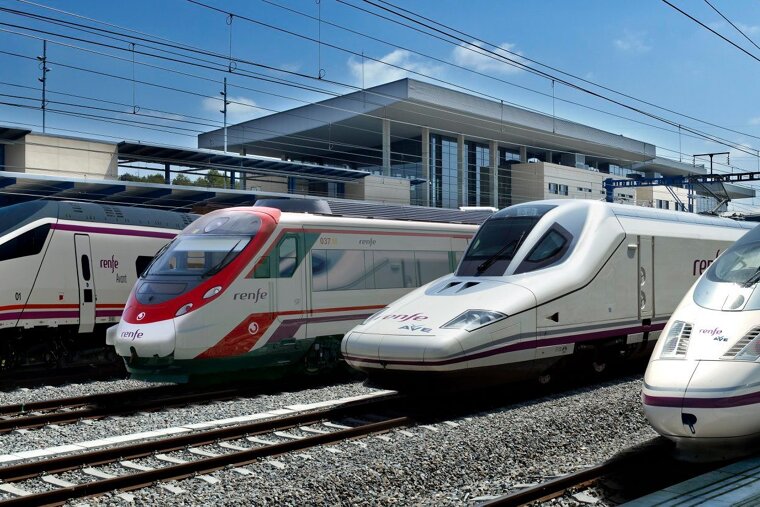 Mainland Spain to Mallorca by train
Renfe is the Spanish national railway company, operating an extensive network throughout the country. They offer four different types of routes: Cercanías (commuter trains), Media Distancia (regional trains), Larga Distancia (long-distance trains), and AVE (Alta Velocidad Española - high-speed trains).
All four of them are available in Barcelona and Valencia, including high-speed AVE trains. These connect both cities with Madrid and Seville, while there are also AVE routes between Barcelona, Málaga and Zaragoza. From Barcelona and Valencia, there are several daily ferry services and flights to Mallorca.
Bear in mind that passengers using Baleària ferries and Renfe trains get a discount of up to 50% on their train or ferry ticket when purchasing both at the same time. Click on the option to create a promotional code when booking on Baleària or Renfe websites, or ask for the discount at their ticket offices. Once you've bought the first of the two tickets, you have 24 hours to use the code when purchasing the second one. This second journey must occur within 48 hours of your first trip. Only valid for train journeys departing or arriving in Barcelona and Valencia.
From Barcelona
Barcelona Sants is the city's main train station, from which national and international trains operate. To reach the airport you can take a taxi (0h15) or buses A1 and A2 (0h30). To arrive at the ferry terminal get a taxi (0h15), or metro line 3 to the 'Drassanes' or 'Paral•lel' stops (0h55) - both within a 15-minute walk from the harbour.
From Valencia
Valencia has two main train stations. If you arrive by AVE from Madrid, Cuenca or Albacete, or on long-distance trains from Castellón, Madrid, Alicante or Barcelona, you'll probably arrive at Joaquín Sorolla station. From there, take a taxi to the airport (0h15), or metro lines 3 or 5 (0h40). To reach the ferry terminal, you can get a taxi (0h20), or the local bus and metro lines (0h50).
Estació Nord is located in the centre of Valencia. Several long-distance, regional and commuter trains operate from here, including those to the town of Port Bou on the French border. Metro lines 3 and 5 will take you to the airport (0h30), as will a taxi (0h15). To get to the ferry terminal, take a taxi (0h20) or a bus or metro (0h45).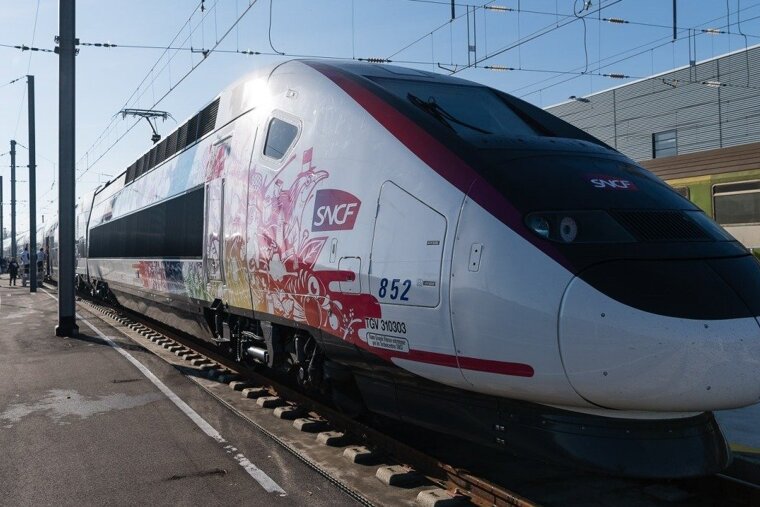 International train routes to Mallorca
Spain has good railway connections with neighbouring countries France and Portugal. There is a high-speed train network that connects Madrid, Barcelona, Marseille, Toulouse, Lyon and Paris. There are also trains from Lisbon to Madrid and to the Spanish-French border in Irún.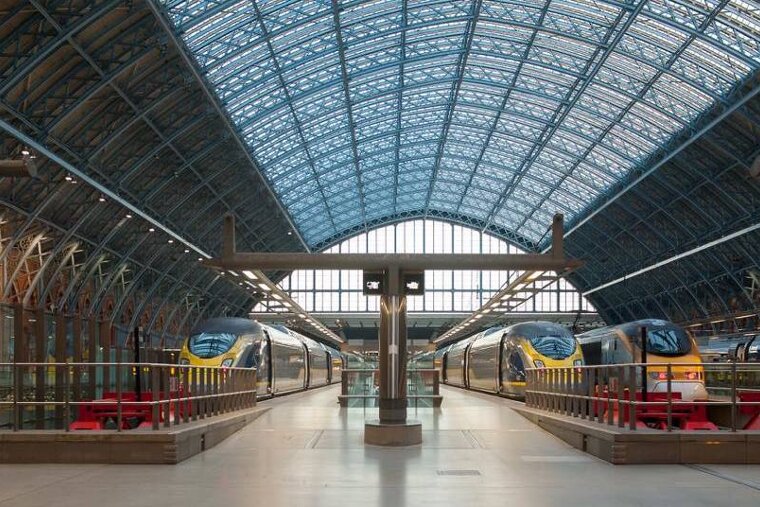 London to Mallorca by train
If you're coming from the UK, then a good choice is Eurostar, the high-speed passenger train from London to Paris and Brussels which travels via the Channel Tunnel. Not to be confused with Eurotunnel, the company which owns the Channel Tunnel whose car-carrying trains shuttle road vehicles across the Channel.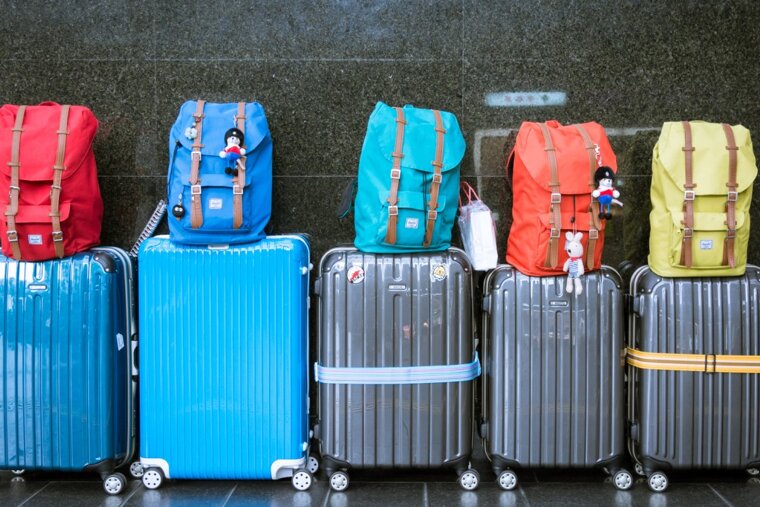 Luggage allowances on trains to Mallorca
Whether you're travelling with a single carry-on bag or several large suitcases, your luggage is a part of your journey. You can carry up to 3 pieces of luggage on board per person on Renfe trains. Their combined measure should be no larger than 290cm and their combined weight no heavier than 25kg.
Buggies, sports equipment, and musical instruments (no larger than 30 x 120 x 38cm) can also be taken aboard Renfe trains. However, if you are travelling on a long-distance route with a bicycle then it should be no larger than 120cm x 90 x 40cm. If it's larger than this then you'll need to remove the wheels and pedals and pack them in a carrying bag along with the frame.
A door-to-door luggage service is also available. Renfe will collect your luggage from you and deliver it to the address of your choice the next day, allowing you to travel luggage-free. You can book this service up to 2 days before your journey.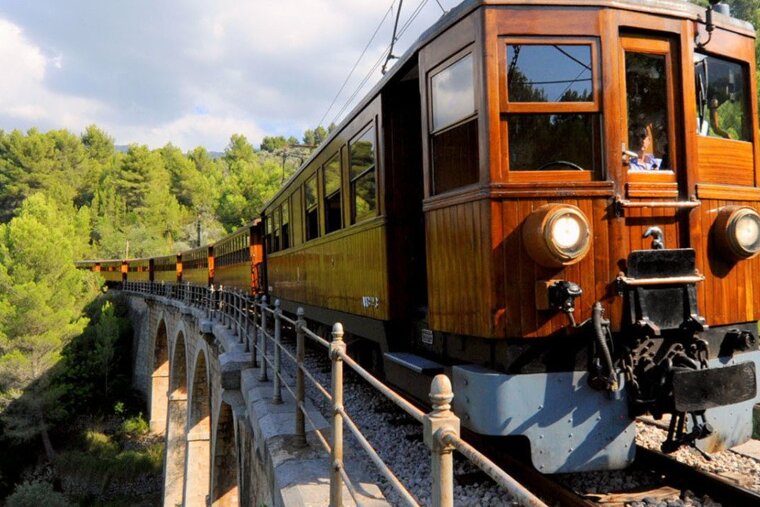 Scenic train trips in Mallorca
The opening of a railway line from Palma to Sóller from Palma to Soller in 1912 and a tram linking Sóller to its port the following year brought the north-west coast within easy reach of the capital. The vintage carriages are still in use, providing a joyride for tourists.
Several trains a day leave from Plaça d'Espanya in Palma, with its frequency increased from April to October. The train, all mahogany panels and brass fittings, leaves Palma amid a bustle of hisses, hoots and whistles before rattling down the city streets and into the suburbs. Soon you are out on the plain, passing small country stations and pigs rooting beneath the trees.
You can get off at Bunyola and visit the 'Túnel' factory where Mallorca's herb-based liqueurs are made - the label shows a train emerging from a tunnel. Stay on the train and soon you start to climb, entering a 3-km tunnel before returning to daylight for the drop, through a dizzying series of bends, to Sóller.
Tourist trains in Mallorca
Hop aboard the Mallorca Wine Express and learn more about the island's vineyards while sampling their products. This four-hour tour starts from the Macia Batle winery in Santa Maria del Camí, just a 5-minute walk from the town's train station.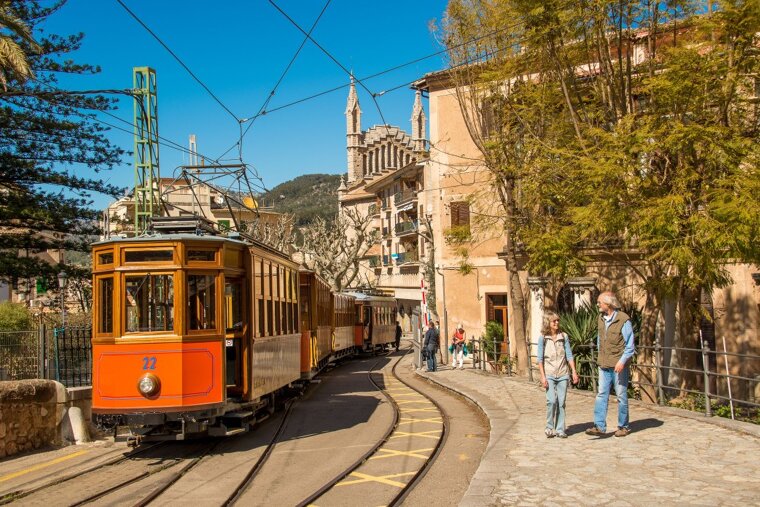 Trams in Mallorca
The 'Orange Express' tram from Sóller to Port de Sóller runs hourly, connecting with the arrival of the Sóller vintage train. Stand on the platform as it clatters through orchards and back gardens and you can imagine you are living 50 years earlier. It takes 20 minutes to complete the 5km journey to the port. If you do not want to return the same way, buses leave from the jetty for Palma via Deià and Valldemossa.
Train & metro timetables in Mallorca
Train and metro timetables vary depending on the day of the week. Fares depend on the journey as there are four different price zones, with single tickets ranging from 1.60€ to 4.10€ and return tickets from 3.20€ to 8.20€. Children under 4 years old travel for free.
You can purchase tickets from the ticket offices and automatic ticket machines at the stations of Palma, Inca and Manacor or from the train conductor. Conductors will have some change so you don't need the exact money but many won't accept a note larger than 20€.
Guide dogs are allowed on all trains. Most lines also allow bikes on board, please enquire before boarding the train.
Palma de Mallorca Metro
Palma has the shortest metro system in Spain, with just 16 kilometres and 15 stations divided into two lines. Metro services run from 'Estació Intermodal' in Plaça d'Espanya to Palma's northern outskirts. Trains run every 15 to 30 minutes between 06:30 and 22:00 from Monday to Friday.
Metro 1 runs from Estació Intermodal to Son Espanyol and the university campus (with service on Saturday mornings). Metro 2 runs from Estació Intermodal to Marratxí.
Mallorca island-wide trains
Mallorca has a small railway service that connects the capital, Palma, with several towns and villages on the island. It's divided into three routes which run between Palma and Inca, Sa Pobla, Manacor, Marratxí, Santa María, Consell, Binissalem, Lloseta, Muro, Sineu and Petra. There are also two metro lines in the city of Palma.
There are three train routes in Mallorca covering a total of 77 kilometres and 22 stops. The first train leaves Palma at around 06:00 and runs until midnight.
The main train line is T1, which runs between Palma and Inca via Marratxí, Santa María, Consell, Binissalem and Lloseta. It then branches off to the north (T2) to Sa Pobla via Llubí and Muro, or the south (T3) to Manacor via Sineu and Petra.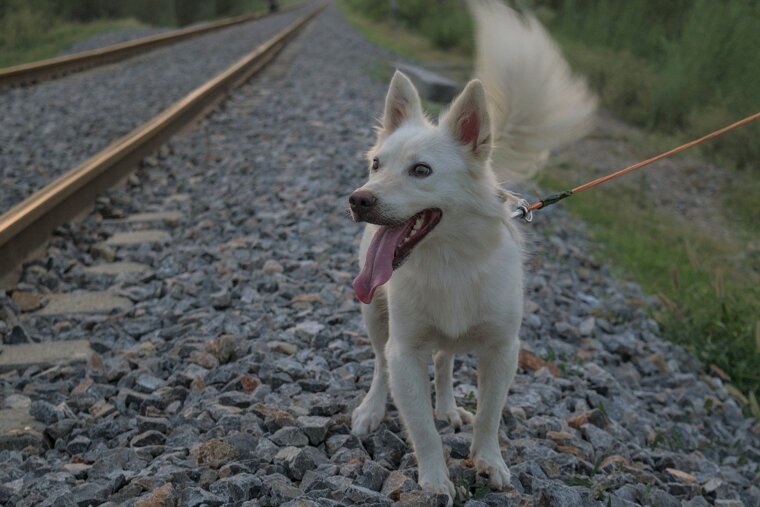 Pets & animals on trains to Mallorca
To ensure that man's best friend can join you on holiday, trains in Spain allow pets under 10kg in weight to travel with you. Their bag or basket should not exceed 60cm x 35cm x 35cm. In any case, you should check with your rail provider in advance. Guide dogs can travel for free.