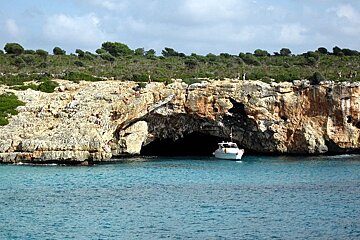 Deep Water Soloing Introductory Session, South-West Mallorca
4hr session for intermediate climbers & confident swimmers
This summer Rock and Ride will be offering introductory deep water soloing sessions every Tuesday and Saturday. These will take place at a variety of venues around the south west coast line.
Deep water soloing is basically rock climbing above the sea and falling back into the sea when you reach the top or fall off, whichever happens first. Mallorca is a world Mecca for this activity with the best climbers from around the world visiting in the summer months. In short, it is what all the cool kids are up to!
The climbing is mostly steep and strenuous (Grade 5+ and upwards). It is also only open to strong swimmers who feel comfortable jumping into the sea, initially from low heights. Your guide will offer instruction in the best climbing techniques along with important safety instruction for climbing above the sea.
The DWS area for this trip is in the south-west of the island, 20 minutes' drive from Palma. It's well protected from rough seas and has a good selection of problems from French 5a up to 7a. The height of the easier problems is 2-3 meters above the sea, with the harder problems 7-8 meters high. The climbs are accessed from the shore.
Rock climbing is a sport which is accessible to everybody. The skills you need to keep yourself safe are relatively few and once you have acquired the basics you will be able to use this new hobby as a way of exploring the world. There are stunning sports climbing venues on every continent. Rock climbing is also a sport with endless possibilities and challenges.
Who should go
This session is suitable for people with some previous climbing experiences and a good level of fitness.
Duration & timings
These introductory sessions take place every Tuesday and Saturday throughout the summer.
Instructors & teachers
Justin and Sam have over 50 years of combined experience instructing rock climbing. Their experience and passion for climbing really means that they are totally flexible. They are passionate about coaching climbing movement and technical skills (rope tricks) but above all they believe that the best climbers are the ones having the most fun.
Equipment requirements
With this course you'll need very little equipment. The company can supply rock shoes and chalk bags. You will need swim wear and they recommend baggy shorts and shirts to keep some of the sun off you. Bring lots of waterproof sun tan lotion with you as well as water and snacks.
Location