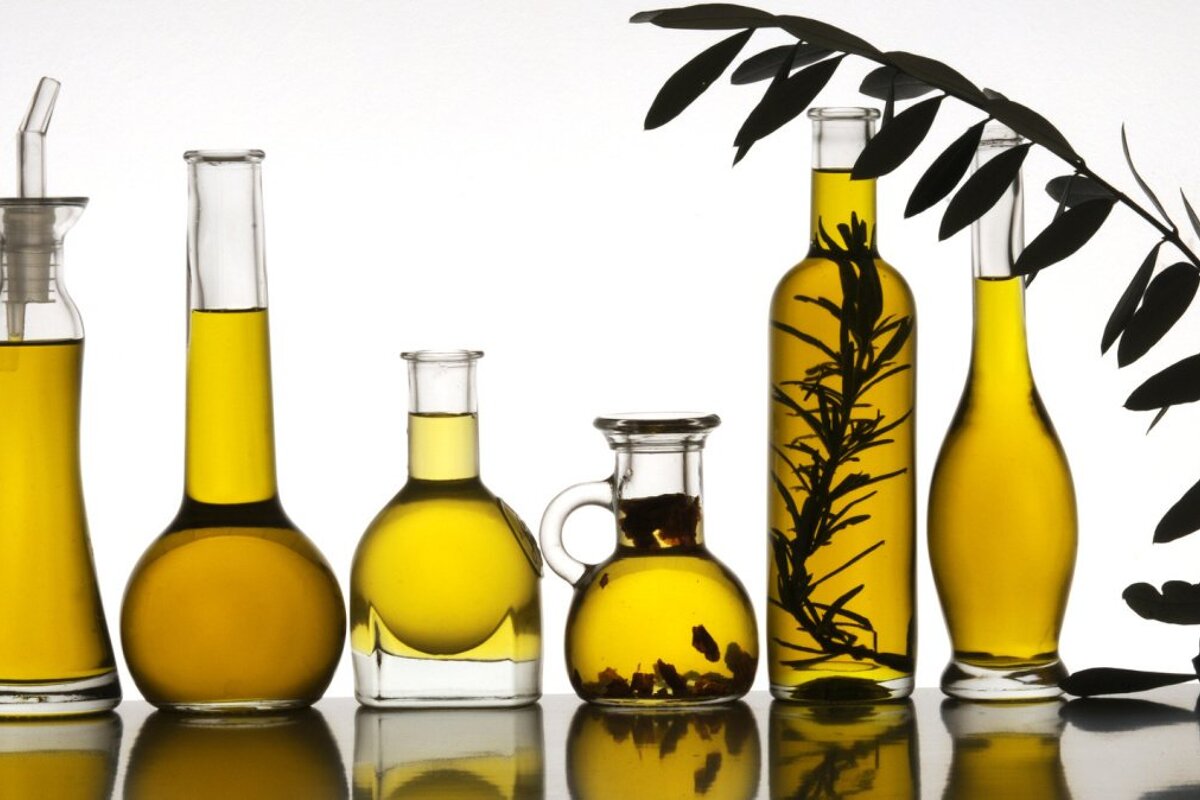 Local Produce from Mallorca
Discover the top Mallorca local produce
Agriculture is a mainstay of the Mallorcan economy, and the central part of Majorca is devoted to farming. Crops such as citrus fruits, almonds, olives and grapes have been grown for centuries.
Pork has long been a central part of the Mallorcan diet and the island's own Sobrassada sausage is a delicious with a rich spicy paste. Gourmet sea salt has grown in demand in recent years and the salt plains to the south east of Majorca are producing flavoured salts for a global market.
Mallorca's local produce is celebrated in the Autumn months with many fairs & festivals dedicated to products like olives, mushrooms, pumpkins, wine, sobrassada and honey. Have a look at our Main Events in Mallorca page for more information.
Almonds from Mallorca
If you are driving around the countryside of Mallorca and see row upon row of shapely trees too large to be olive trees, then chances are you are looking at fields of almond trees.
This crop was first grown in the 19th century after majorca's wine industry took a bashing from the phylloxera plague (phylloxera is a root louse that attacks the roots of the grape vine, killing the plant). As the grape vines were pretty much wiped out, Mallorcan farmers decided to plant almond trees in their place.
There are now more than 5 million almond trees on Majorca, making it one of the major crops of the island. When the almond trees blossom in late January and early February the island is at its prettiest. The Mediterranean climate and low water content means Mallorcan almonds have a higher fat content than almonds from other countries, reaching 60% in some cases, and have a sweet flavour. The almonds are harvested towards the end of August.
Borifarrons Sausage from Mallorca
There are two types of Botifarron which have the same basic ingredients - pork blood, pepper and a mix of other spices and herbs. This is a traditional cooked sausage from Mallorca which is often likened to black pudding.
The two types can be identified by the colour of string that they hang from. The red string denotes that the Botifarron has a spicy mix and white string means it is a milder alternative. It's usually eaten uncooked on bread or with Quely biscuits. You can also have it grilled which changes the flavour to be a much richer one.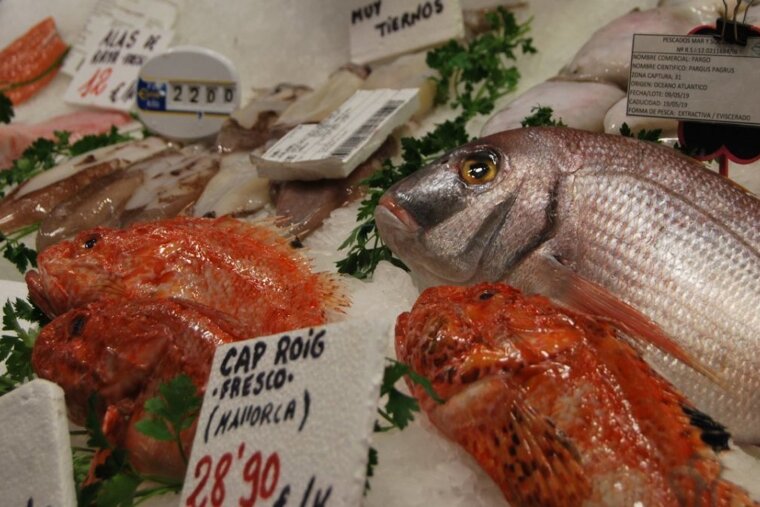 Fish from Mallorca
Whilst Mallorca's fish stocks have long been in decline and most of the fish on sale in Mallorca is imported from mainland Spain, there are still some local varieties especially appreciated by the Mallorcans.
The most famous is the 'Gamba Roja de Sóller' or Sóller Red Prawn which is fished daily around the waters Port de Sóller, where they are sold at the local fish market. You can also find them in restaurants all around the port and the price depends on the time of year and their size. These tasty prawns can be eaten raw in carpaccio or tartare, baked in salt, fried or grilled.
Some of the most sought-after varieties of fish are the 'raor' or razorfish, which is considered the most coveted – and expensive – fish in the Balearic islands and the 'llampuga', which is fished in October and November. There are also plenty of Mediterranean rockfish species such as the 'caproig' or the 'anfòs' which are commonly used in stews.
Popular local recipes found on menus around the island include lobster casserole, sea bass in rock salt, seafood rice and 'greixonera de peix', a hearty fish stew cooked in an earthenware bowl.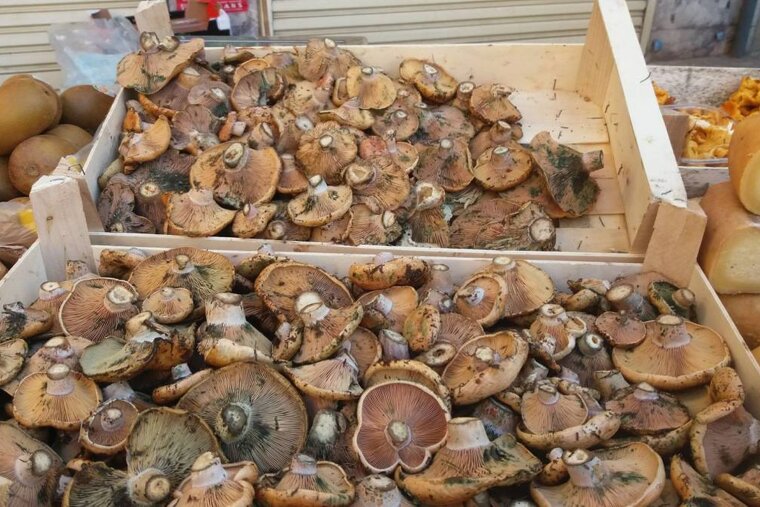 Mushrooms from Mallorca
Mallorca's hot summers, which are followed by autumnal rains, provide great conditions for mushrooms to sprout, therefore mushroom picking season in Mallorca is in the autumn, normally towards the end of October and into November (it depends on when it begins to rain). Commonly known varieties such as the ceps and chanterelles are commonly found in the Mallorcan forests. However, the most sought after mushroom is the 'esclata-sang' or saffron-milk cap (Lactarius sanguifluus) which grows in pine groves. It is commonly eaten grilled with olive oils or used as an ingredient in traditional Mallorcan dishes such as 'Llom amb esclata-sangs' (pork loin with mushroom sauce) and even has its own festival held in Mancor del Vall in November. Wild forest mushrooms are a popular autumnal side dish in Mallorca.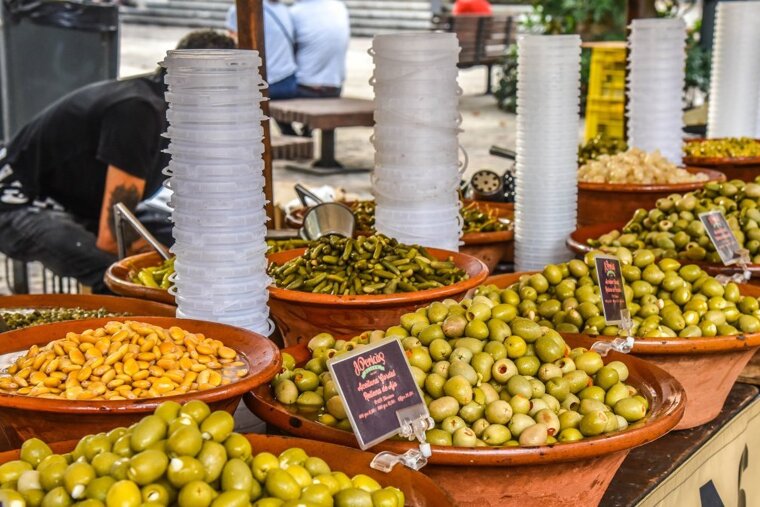 Olives from Mallorca
Olives were introduced to Mallorca by the Romans and have been a staple in the Mallorquin's diet ever since. Olives are used to make oil for cooking, and even commonly used to make soap. The wood from the trees are carved into bowls and spoons, and branches used for firewood. There are several types of olives in Mallorca. The three main ones are the 'sencera natural', an olive that's been picked before it turns black, the 'verda trencada' which is the same green olive but split and dressed with local fennel and chilli, and the 'negra natural' which is dark. Olive lovers should visit the wonderful olive festival held in Caimari each year.
Almost every meal begins with bread and olives, for which you may pay a small charge. Bread and olives are also at the heart of 'pa amb oli', the favourite Mallorcan snack – bread rubbed with tomato, drizzled with olive oil and, sometimes, topped with ham or cheese.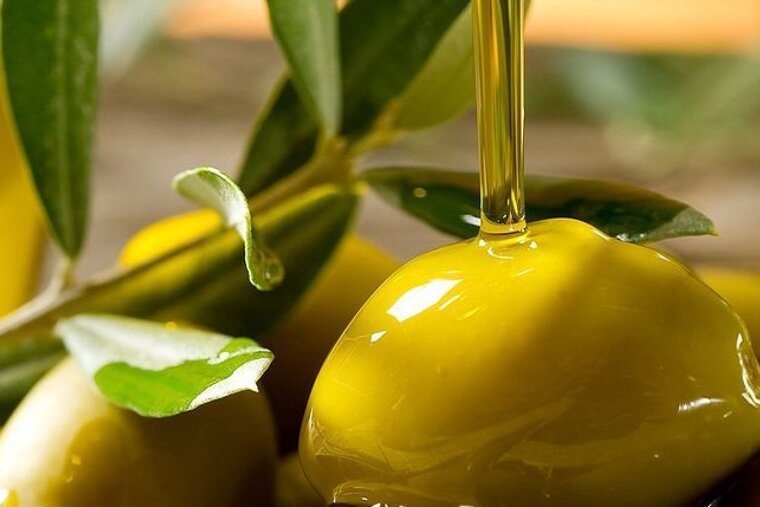 Olive Oil from Mallorca
Olive oil in Mallorca is made using olive trees grown centuries ago, with records of oil being produced as early as the 13th century. Its heyday was in the 19th century when olive oil accounted for 80% of Mallorca's exports, after which it endured a slump and locals switched to tourism to make their money.
However, the industry has now revived itself and there are now dozens of working olive presses producing over 100,000 litres of oil annually. The age of the trees in combination with the Mallorcan landscape and climate produces two types of extra virgin olive oil. A harvest of young green olives produces a fruity olive oil which has a strong, bitter flavour and is yellow-green in colour. Ripe olives produce oils that are almost sweet, with no bitter after-taste and are a pale yellow colour.
Three varieties of olive are used - Mallorcan (mild and sweet), Arbequina (a more raw flavour) and Picual (bitter). The Mallorcan variety has a high oleic acid content and a high unsaturated fatty acid content which can help strengthen bones by limiting the loss of calcium. Vitamin E is also present in olive oil and this can absorb free radicals that are notorious for their damaging effects on the human body.
You can pick up locally produced olive oils from many of the shops on Mallorca but look out for those smaller specialist producers at the markets for a true taste of something special. True local olive oil should be labelled 'Oli de Mallorca', an organisation that controls its quality.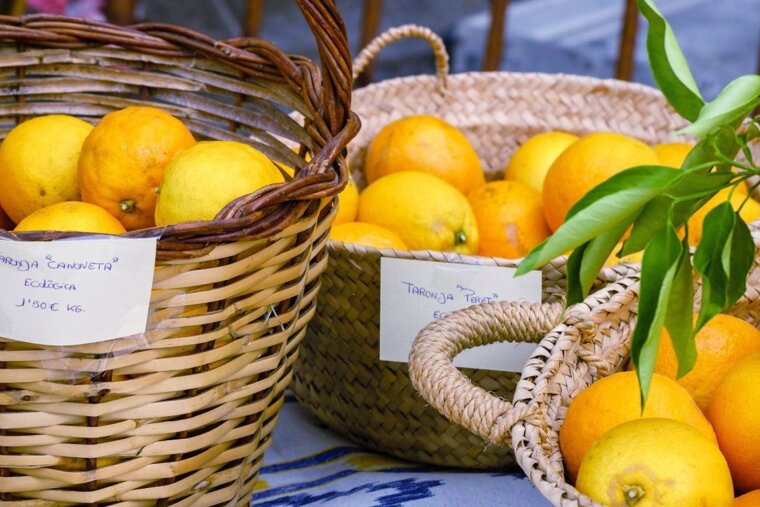 Oranges & Lemons from Mallorca
Mallorca is covered with citrus fruit groves but it is Sóller's 'Valle de los Naranjos' or Orange Valley that is best known for its oranges and is one of the most beautiful landscapes on the island.
First brought to Mallorca by the Arabs in the early Middle Ages, orange growing boomed in the 19th century around Sóller. These deliciously sweet fruits are celebrated at the 'Fira de la Taronja' every June but you can taste them throughout the year, either just as they are, juiced or in ice creams and sorbets.
The main types of orange grown here are the Navel (easy to peel and very good for eating thanks to its fine pulp and sweetness) and Canoneta (excellent for making juice). Bitter oranges, a cross between grapefruit and tangerines, are available until the end of February and are ideal for making into bitter orange marmalade. You will also spot other citrus fruits like lemons and grapefruits are also grown in Mallorca.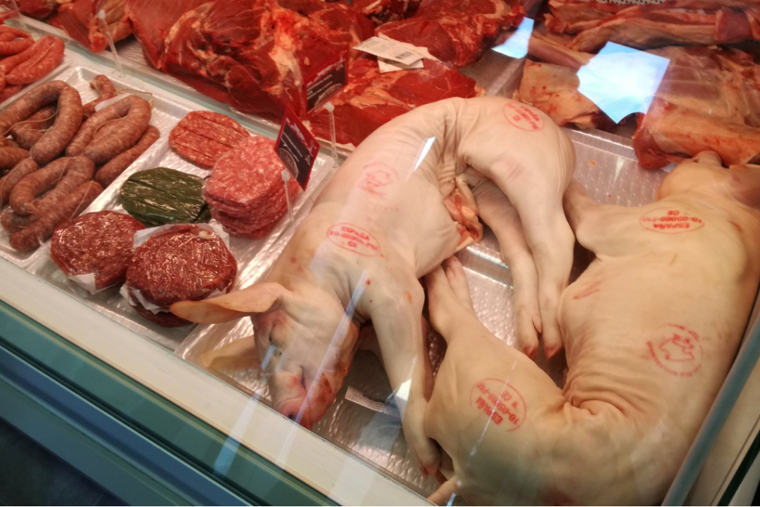 Porcella - Mallorcan Suckling Pig
Eaten mainly roasted for Christmas, Mallorca's suckling pig is distinguished by the 'porcella mallorquina' label, which indicates that the animal has been born, raised and slaughtered on the island. Regional suckling pig's deliciously tender meat is prepared mainly during Christmas, when local Mallorcans eat 'Porcella Rostida' (or Lechona Asada in Spanish), cooked with herbs and wine to create a very juicy festive dish.The 'porcella mallorquina' tag ensures that the meat is of first-rate quality.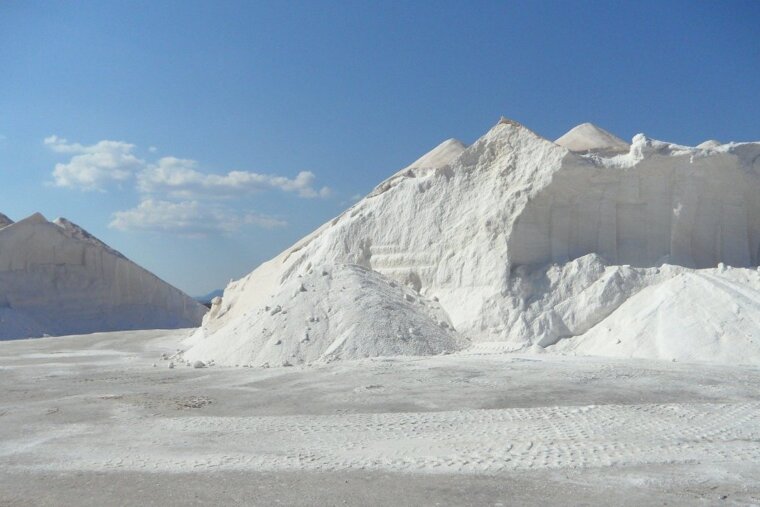 Sea Salt from Mallorca
Around 15,000 tonnes of salt are harvested each year in the south-east of Mallorca, in Ses Salines d'es Trenc, Colonia de Sant Jordi.
Man-made salt lakes are formed by pumping seawater from Es Trenc (purified en-route) where salt crusts in hot and windy conditions. Some of these crusts are used to make gourmet salt, a growing business as demand for high quality, natural ingredients increases. These crusts are skimmed by hand, dried and prepared for sale.
Known as 'Flor de Sal' (sea blossom salt), this is not your ordinary table salt. It has higher concentrations of magnesium, potassium, calcium and micronutrients which makes it better for human health. Some of the salt is flavoured – you can get herbal seasoning such as thyme or rosemary or go for more exotic flavours including orange-chilli, hibiscus, and truffle – and the salt can be bought in good delicatessens throughout Mallorca, online or even from the airport.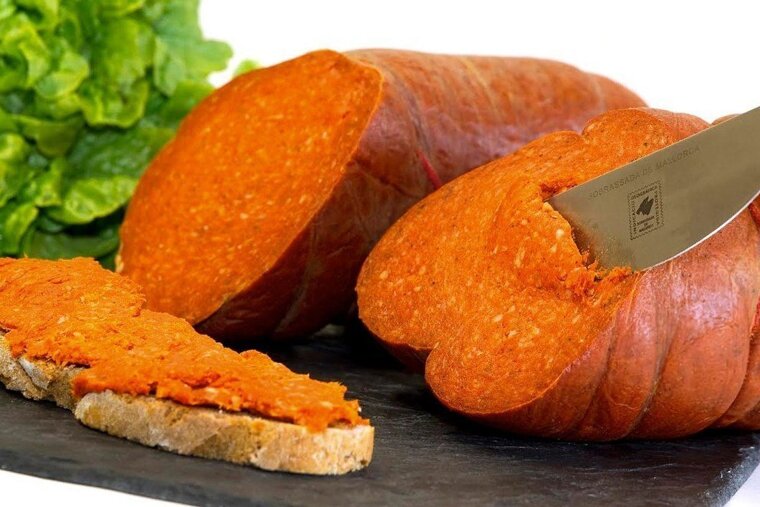 Sobrassada Sausage from Mallorca
Sobrassada is a raw, cured sausage that is native to Mallorca and other Balearic Islands. Similar in colour to Spanish chorizo, due to the presence of paprika, it is made from pork mince, salt and spices. The specific amounts of each ingredient are regulated to allow the sausage to be labelled 'Sobrassada de Mallorca'.
Sobrassada dates back to at least the 16th century and, traditionally, it was made in the autumn when the local pigs went to slaughter. The conditions at that time of year (mildly cold with high humidity) created the perfect conditions for the dehydration of the meat. Most sobrassada is sold as 'dolç' which means 'sweet' (the non-spicy version) but it is also possible to buy 'coent', the spicy version when the producers add cayenne pepper to the mixture.
The texture of sobrassada is one of soft meat paste and it is generally used as a spread on rustic bread but it has lately become the base of many contemporary combinations, and it goes especially well with honey. It can also be added to sauces to add depth and a meaty flavour. The town of Campos in Mallorca hosts an annual Sobrassada Fair in October where plenty of opportunities arise to taste this special sausage in a variety of recipes and guises.
Spirits & Beer from Mallorca
There are two main local, traditional liqueurs on the island: the 'Licor de Hierbas' which can be 'seco' (dry), 'semi' (half-dry) or 'dulce' (sweet), and the 'Palo de Mallorca'. These are both popular amongst locals and with tourists to take home as a souvenir. The 'Licor de Hierbas' is made with distilled 'aguardiente' (local grappa) and 'anís' (anisette) mixed with a bunch of local herbs. The 'Palo de Mallorca' is a distinctly Mallorcan aperitif, made by mixing sweet caramel with bitter 'chinchona' bark. Another popular liqueur uses oranges grown on the island while almond spirits are also available using nuts grown throughout Majorca. Also famous is the Amazona rum which is made near Marratxí and poured into coffee to turn it into a 'carajillo'. Local distilleries also produce gin and vodka with distinctive Mediterranean flavours.
Spanish and imported beer is available everywhere and a few craft breweries have sprung up on the island lately, using local ingredients to give their brews a special touch.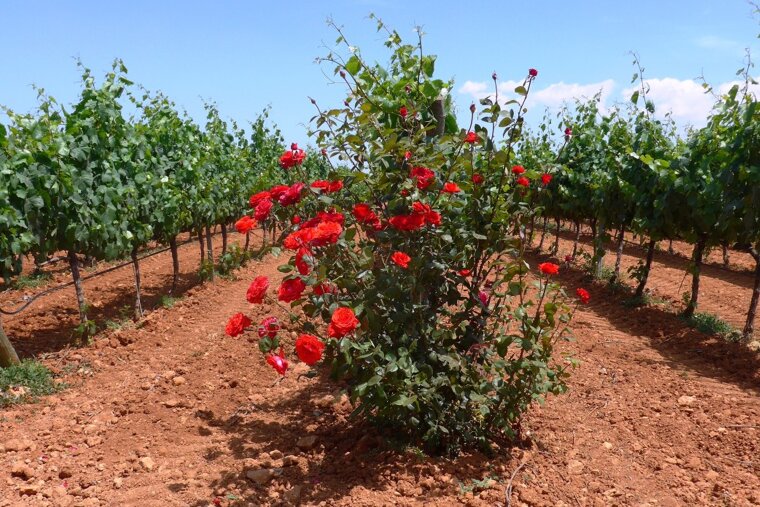 Wine from Mallorca
Wine making has been part of Mallorca's culture dating right back to Roman classical times. The wine industry prospered from the 14th century right up until the 19th century when the plague of Phylloxera hit. Today it is making a 'come back' with dozens of vineyards producing quality wines. The most prominent area for growing wine is Binissalem, located in the centre of the island along the MA-13 from Palma to Inca. Over 40 autochtonous grape varieties are grown in Mallorca where they thrive thanks to its Mediterranean weather. This singularity makes the island's wines really unique. The most popular ones include Callet, Mantenegro, Moll (Prensal Blanc), and Monastrell (Mourvedre).
Most restaurants and supermarkets across the island sell Mallorcan wine, so there's plenty of opportunity to taste this local produce. Read more about Mallorca's wine below, or visit a vineyard for a tour and tasting to find out more about Mallorca's wine production.