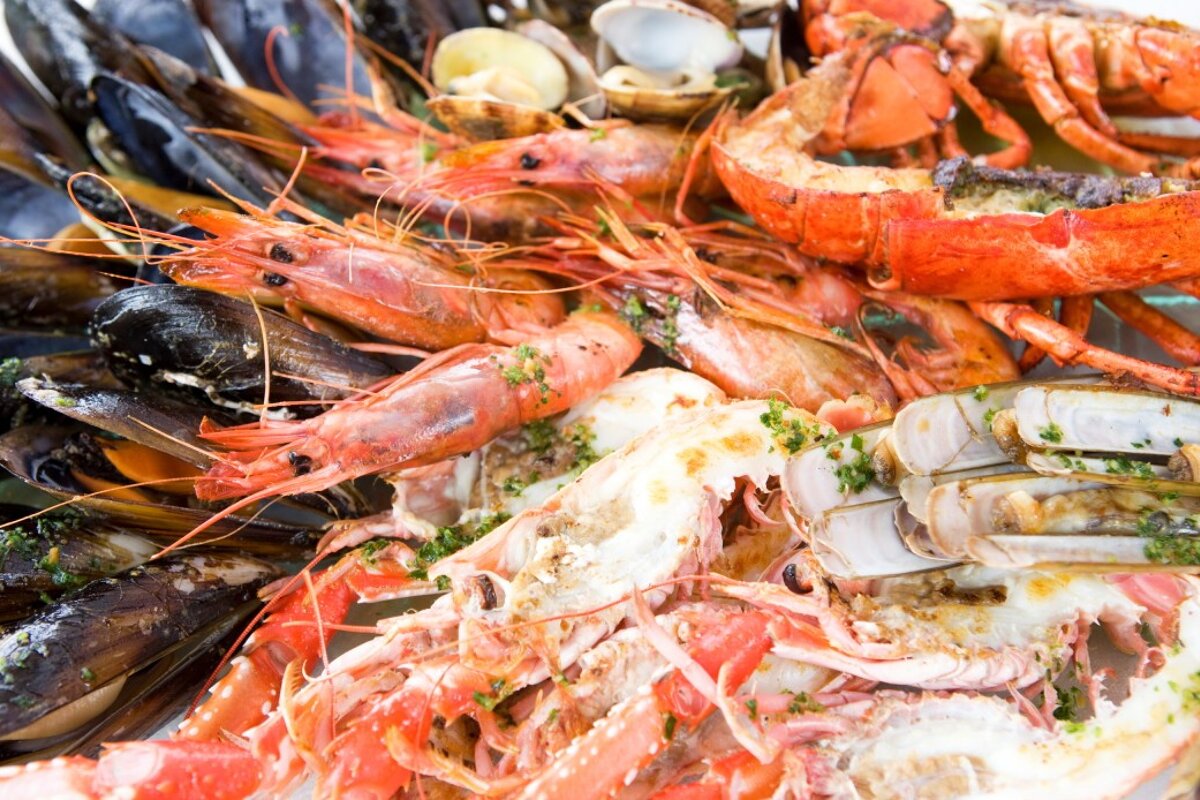 Local Cuisine in Mallorca
Discover the top Mallorca local cuisine
Mallorcan cuisine, based on pork, fish and vegetables with generous use of garlic and olive oil, is hearty peasant fare steeped in tradition and rooted in local ingredients.
But despite the rich traditions, you will find that increasingly restaurants are becoming more inventive with their cuisine and that dishes make use of the delicious local produce, such a sun-drenched lemons, plump and juicy olives and the wonderful natural salt plains in the south.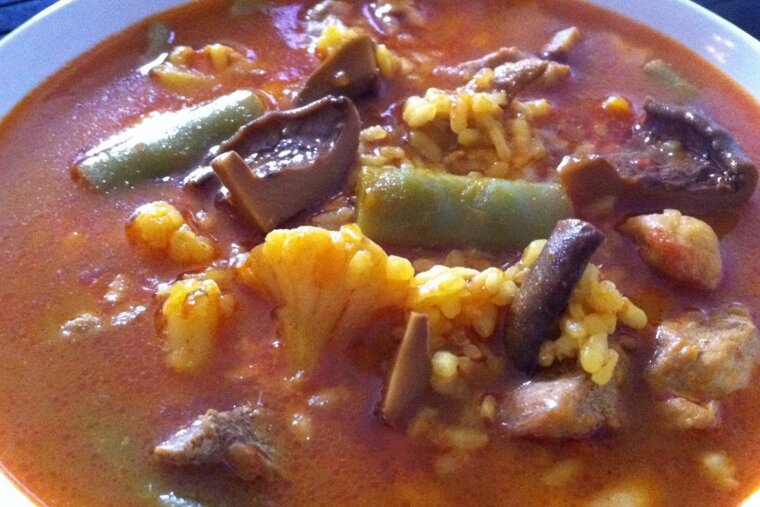 Arros Brut | Rice stew
A traditional rice dish with vegetables and meat.
Spaniards love their rice. Although under the shadow of the internationally famous paella, almost every region in Spain has its own typical rice dish especially around the Mediterranean, and Mallorca is no exception.
Arros brut means "dirty rice" in mallorquí but there is nothing unclean about it. It is basically a delicious mix of meat and vegetables that change with the seasons with rice made according to the "caldoso" style, which means that it is cooked with excess water so that it is a bit soupy. As with many recipes in Mallorcan cuisine, it has a combination of spices that usually include saffron, paprika, cinnamon, pepper, clover and nutmeg.
Ingredients change with the seasons and range from chicken to pork, game, snails, sobrassada, rabbit, wild mushrooms, pepper, peas, beans, artichoke...
Bunyols | Mallorcan Doughnuts
A sweet, fried snack enjoyed at fiestas.
Bunyols or Buñuelos in Spanish are a sort of doughnut made from a potato dough, cooked in hot oil and sprinkled in sugar.
The air around the small towns in Mallorca on the weekend of 'Les Verges' (the virgins), is filled with the smell of frying these tasty treats. The mixture consists of mashed potato, flour, eggs, yeast and butter, once the mixture is combined and left to rise, a small amount is picked up between the thumb and first finger and a thumb hole is pressed through before dropping in the hot oil.
Bunyols are available from many cafes and bakeries during the Les Verges fiesta in October. There are also made freshly at many of Mallorca's Fairs, especially in the autumn. They are best eaten hot, even if it means waiting for them to be freshly prepared.
Bunyols are traditionally eaten during the festival of Les Verges which has not been widely celebrated for many years but nowadays more and more young boys and girls are getting back into the tradition. The story goes that boys would serenade girls from the street below their window and offer flowers in exchange for bunyols. After singing their hearts out, the mother would invite the boys into the house and serve a freshly made plate of bunyols. The festival is celebrated on the night of the 20th October and during the day of the 21st where you will see many bunyols being enjoyed.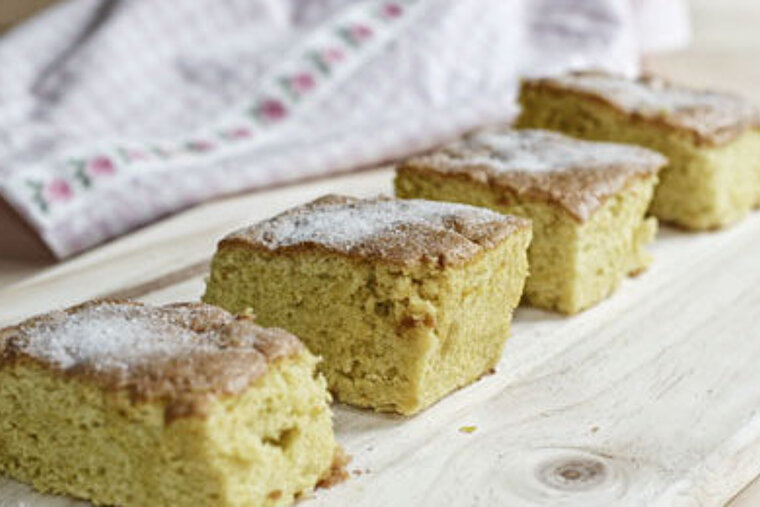 Coca de Cuarto | Sponge cake
Light and fluffy breakfast cake.
Traditionally eaten for breakfast or for 'merienda' (afternoon snack) with almond ice cream and hot chocolate, this cake is extremely light and fluffy.
The very simple recipe contains eggs, sugar and flour, but it also admits variations including the addition of lemon, orange, chocolate...
The perfect bite for an afternoon break at a Mallorcan cafe.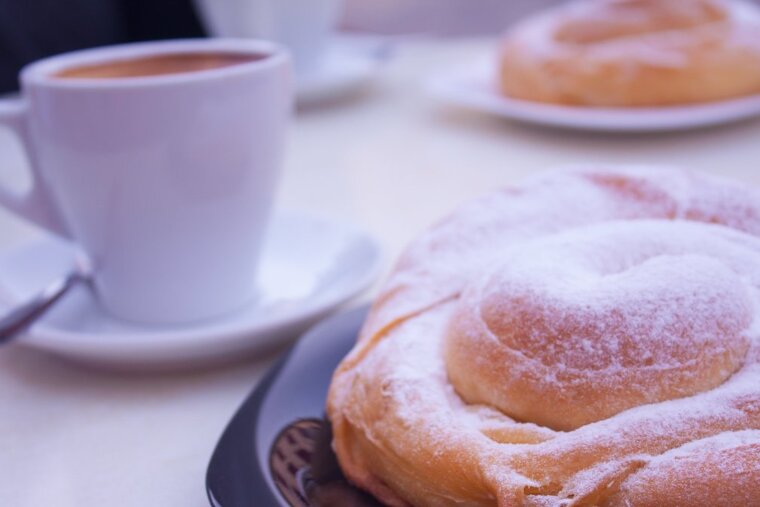 Ensaimada | Perfect pastries
Mallorca's most famous pastry and a very popular souvenir.
Ensaimada is undoubtedly the most famous pastry from Mallorca and it has old origins that can be traced back to the 17th century, when it was made for parties and celebrations.
It is essentially a spiral-shaped pastry made with flour, eggs, water, sugar, mother dough and 'saim' (pork lard), delicious for breakfast or 'merienda' (afternoon snack) with a coffee. There are different variations on the basic recipe, so you can find ensaimadas filled with 'cabell d'angel' (a very sweet filling made with pumpkin strings), cream, chocolate... In Carnival, it is typically eaten with sobrassada and pumpkin ('tallades').
Mallorcan emigrants have spread the recipe across Latin America, so adaptations can be found in Argentina, Puerto Rico (where it is known simply as 'mallorca') or the Philippines.
It is also very common to see lots of hexagonal ensaimada boxes on the flights leaving Mallorca, being one of the most popular souvenirs to take home from the island.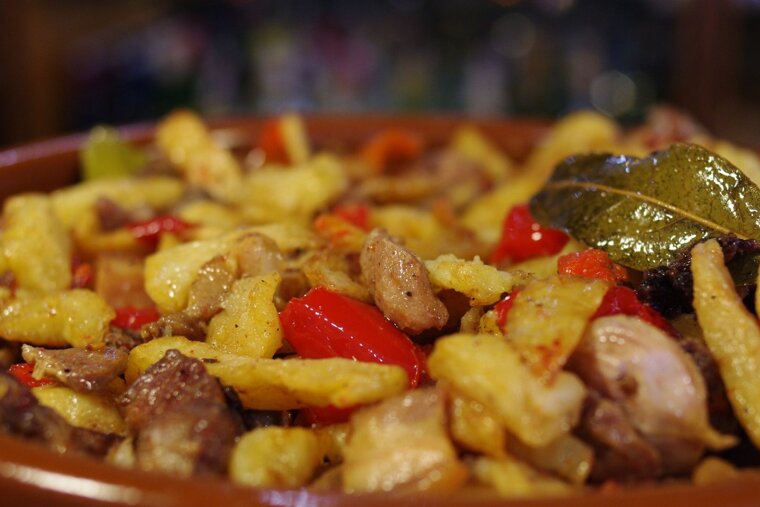 Frit Mallorqui | Vegetables & Offal
A classic Mallorcan dish traditionally made with offal and vegetables.
The "matança" was (and still is in some areas) a very important event in Mallorca. The whole family, and even the whole village, gathered to slaughter a pig and eat together those perishable bits which could not be cured or salted. The frit malloquí was a dish usually made in this occasion.
The traditional recipe contains potatoes, onions, tomatoes, peppers, garlic, olive oil, herbs and spices (mostly clover, chillies, pepper and bay leaf) which are fried with liver, blood, lungs, etc. Variations include offal from lamb or goat, as well as other meat cuts or fish.
Its origins can be traced back to the medieval Jewish community on the island, the Sephardi, because of its similarities with Arabic and Jewish-Sephardi cuisine, and it is already mentioned in a 14th-century manuscript.
There are local specialities such as the "Frit de rates" with game, "Frit de sang" made with blood and typically from the Serra de Tramuntana or "Frit variat" with lots of different ingredients.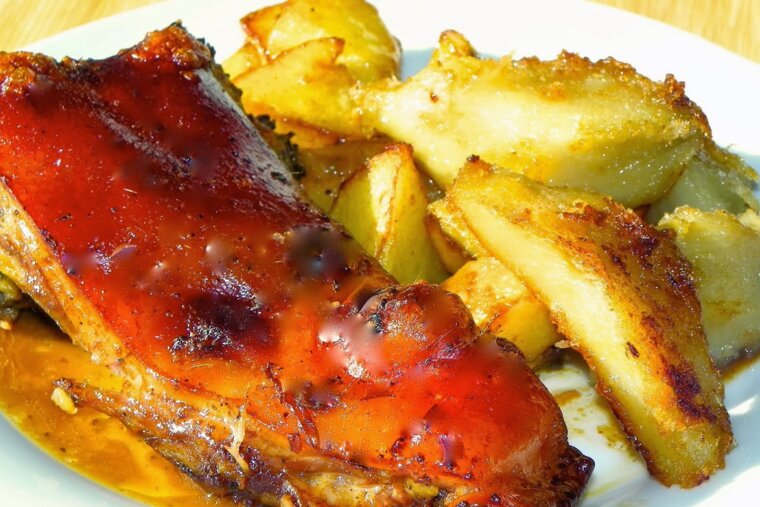 Lechona Asada | Roast piglet
Roasted piglet usually eaten at Christmas.
The traditional Mallorcan roasted piglet is marinated during 24 hours in a mixture of brandy or wine, garlic, bay leaf, thyme, rosemary, lemon, salt and pepper to make it more tender and tasty.
Cooked for a long time in the oven, the result is a deliciously juicy meat. They usually prepare this recipe with very young piglets, between 3 and 21 days old. Locally reared animals can be identified by a yellow tag.
Traditionally, when people did not have an oven in their home, they would bring the marinated piglet to a bakery or a specialised oven.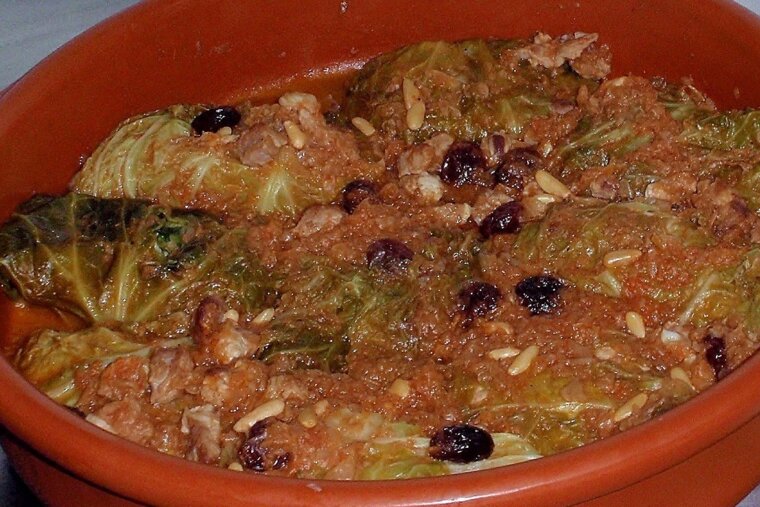 Llom amb Col
Typical local dish made with pork loin & cabbage.
A classic recipe of Mallorcan cuisine, "llom amb col" basically means loin with cabbage and it is a combination of local winter ingredients.
This delicious dish is made of little parcels of pork loin, sobrassada and botifarró enveloped in a cabbage leaf and then very slowly cooked with tomatoes, wine, pine nuts and raisins.
Traditionally made on a clay pot, llom amb col is perfect for a wintery evening on the island.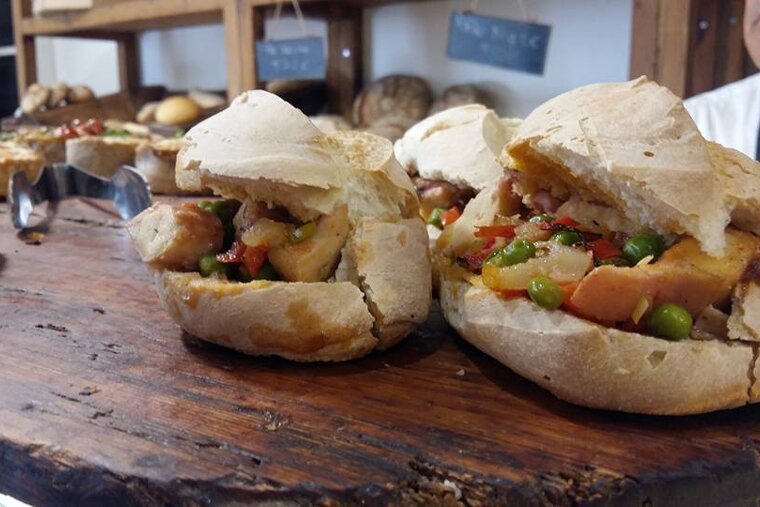 Llonguet | Sandwich bun
Light & crunchy local bread.
The llonguet is a small fluffy bun with a crunchy crust and a deep crack in the middle. Its lightness and softness make it perfect for sandwiches ("bocadillos") or just to spread with sobrassada.
Traditionally, llonguets were the first to go in the oven; bakers tested the temperature with them and they also released moisture into the oven.
This type of bread is so traditional in Mallorca's capital, that Palma inhabitants are sometimes known by the name "llonguets".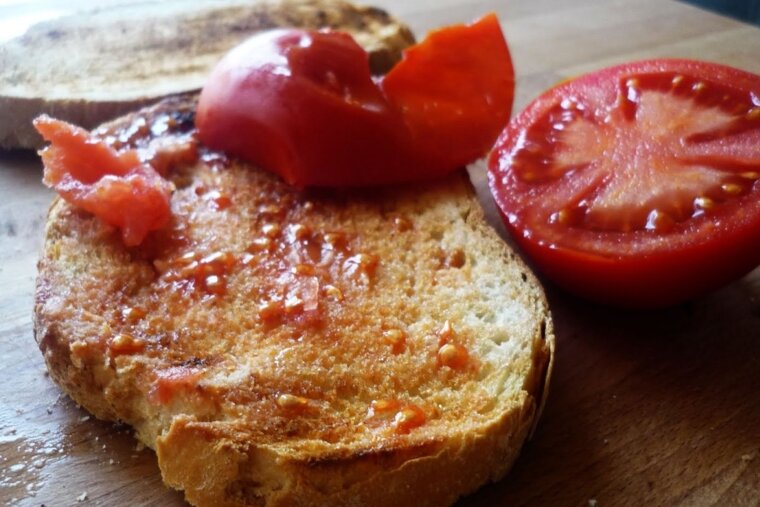 Pa amb oli | Bread & oil
Traditional snack served almost everywhere.
Pa amb oli means "bread with oil" and it is just that, the best local brown bread, rubbed with garlic, local "ramallet" tomatoes and olive oil made with olives grown on the island. The perfect dish for breakfast, to start a meal or to enjoy for "merienda" (afternoon snack).
Very similar to the Catalán "pa amb tomaquet" although made with a different type of bread, pa amb oli is perhaps Mallorca's most famous dish. It was first documented in the 18th century by the Mallorcan friar Josep Bernat Martí i Oliver as a slice of bread with oil, but now it is most commonly prepared with garlic and tomato.
Pa amb oli is served all across the island, and there are lots of variations of the classical recipe, topped with trampo, cheese, ham, sobrassada... the options are endless.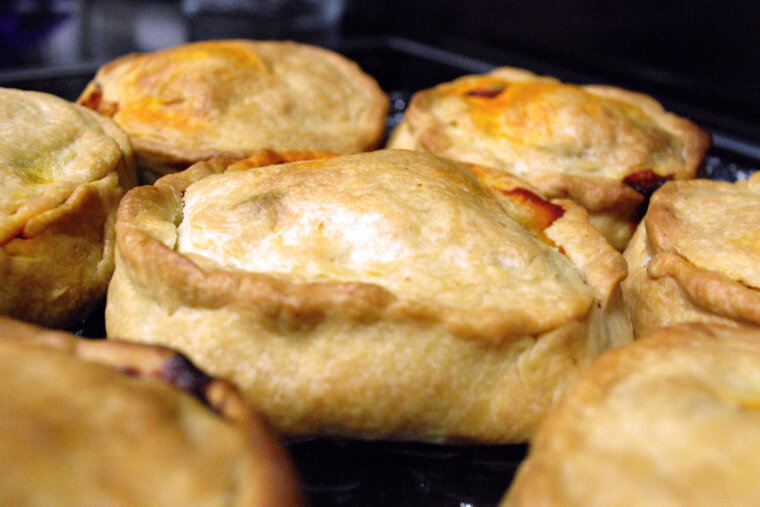 Panades | Filled pies
Easter time savoury filled pastries.
Panades are made in Easter week, taking advantage of the meat preserved after the 'matança' in December, and eaten during Easter weekend to celebrate the end of the prohibition to eat meat.
Usually all the women in the family gathered together to prepare panades, together with their sweet version, the rubiols.
They are traditionally filled with lamb, but there are versions with pork, chicken, sobrassada, vegetables and even fish.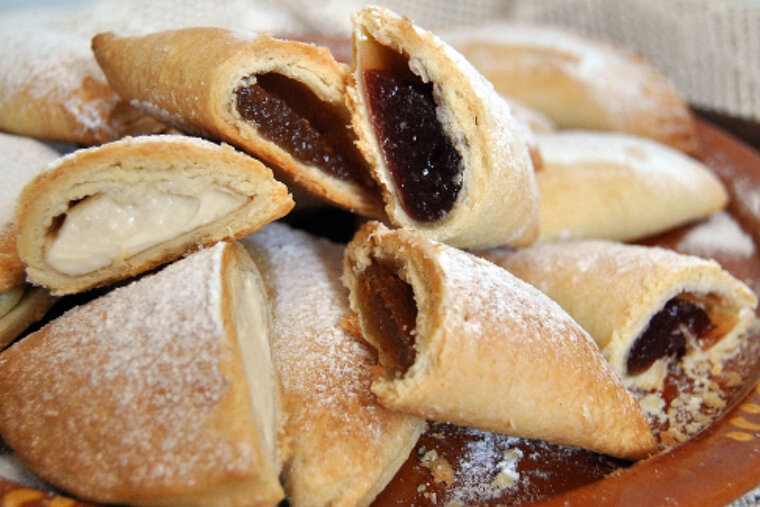 Rubiols | Sweet rolls
Filled sweet pastry prepared in Easter.
Traditionally friends gathered to prepare the rubiols during Easter week, and each family had its own recipe, transmitted from one generation to another.
They are now sold throughout the year in local bakeries. Their crescent shaped pastry is usually filled with cottage cheese, although they can also contain homemade jam, sweet pumpkin, chocolate, etc.
Rubiols are usually made together with savoury panades, because they share the same basic dough.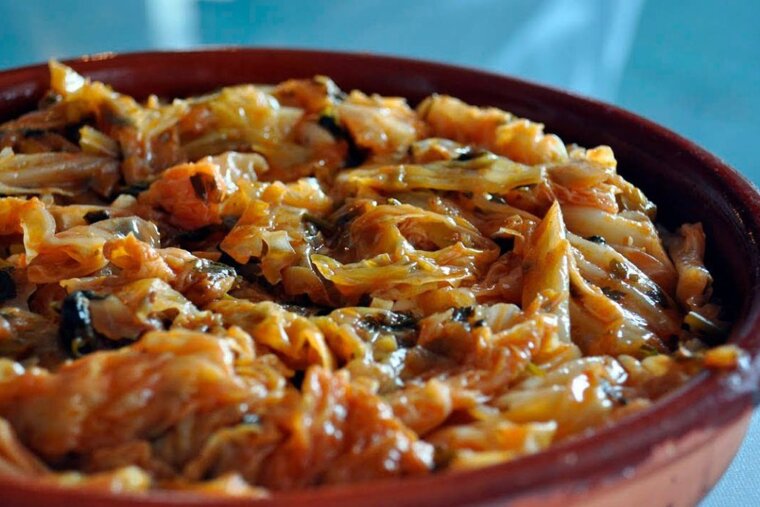 Sopas Mallorquinas | Rustic soup
As the name says, a typical & hearty Mallorcan soup.
One of the best known dishes of traditional Mallorcan cuisine, "sopas mallorquinas" are a dense, warm soup perfect for those chilly days on the Tramuntana mountains.
Ingredients change with the seasons, but they usually include local bread cut into fine slices, onion, garlic, tomatoes, cabbage, beans and other seasonal vegetables, paprika and, sometimes, meat such as pork loin or botifarrón.
The final touch comes in the shape of a nice splash of local olive oil.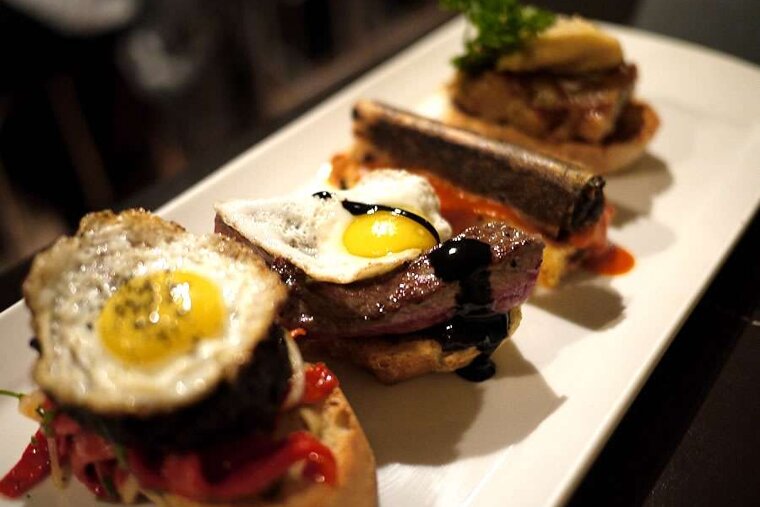 Tapas
A Spanish institution, served in every part of the country
Originally a free 'lid' (tapa) of ham across a drink, nowadays they consist of small portions of everything from octopus to olives.
An integral part of Mallorca's foodie culture, it is also a fantastic way of cheaply eating yourself around the island. Locals eat tapas before going out to eat a proper meal, but several portions can make a meal in itself. The idea behind tapas is one of community and conversation, designed to encourage conversation, because people are not so focused upon eating an entire meal that is set before them.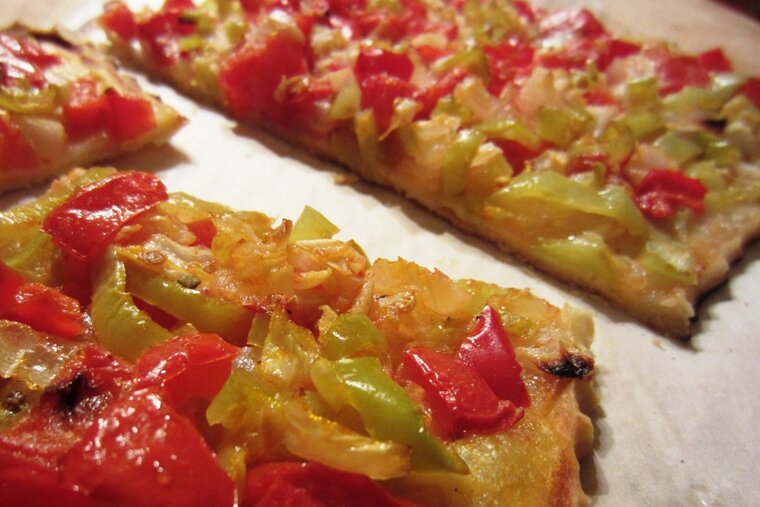 Trampo | Tomato & pepper salad
A refreshing salad made with local vegetables.
Trampó is the perfect dish to enjoy for lunch on a warm day in Mallorca, while taking a break from all the sunbathing or the exhausting sightseeing. Made with tomato, green pepper and onion dressed with salt and olive oil, its lightness will allow you to avoid the dreaded afternoon slump.
All of the ingredients in this dish come from traditional Mallorcan crops and it is often served along with Spanish tortilla, fish or meat. It is also part of the "coca de trampó", a type of Mediterranean focaccia topped with this salad.
You can find lots of varieties of the basic recipe by adding capers, olives, potatoes, boiled eggs, chickpeas and even tuna or cod. But the best part is always dipping freshly baked bread in the olive oil, infused with the vegetables' flavours. Not for nothing, the name trampó comes from "trempar" or "to dress" in mallorquí.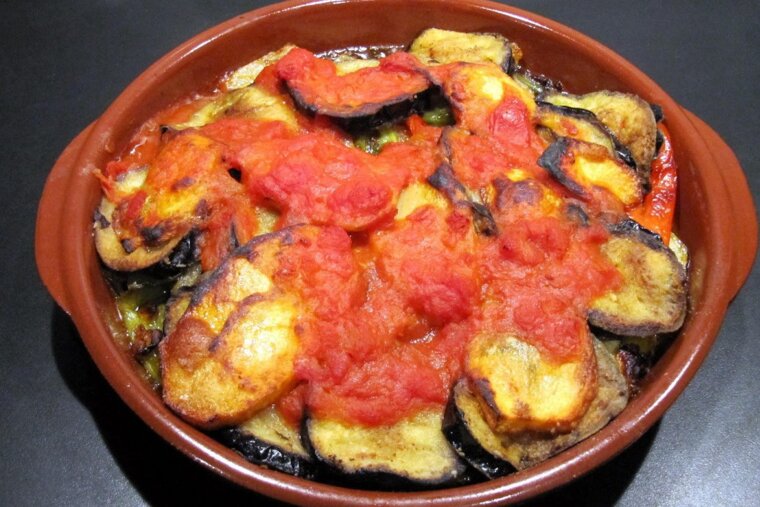 Tumbet | Vegetable stew
A traditional vegetable dish that can be eaten on its own or as a side.
Tumbet (or "tombet") is a quintessentially Mediterranean recipe that combines fried laminated aubergines, potatoes, red peppers and tomatoes, together with olive oil and garlic and sometimes zuchinni. The perfect dish to enjoy under the bright Mallorcan sun.
Its Mediterranean character is clear when compared to other similar dishes that can be found around the coast such as the samfaina from Cataluña and Valencia, or the Provençal ratatouille.
The recipe can be dated back to the 16th century after potatoes and tomatoes were introduced in Europe. A wonderful feast of melt in your mouth vegetables, tumbet is very popular around the island and it is a great choice for those vegetarian or vegan visitors to Mallorca. It is also sometimes served along with meat or fish.
More inspiration...
Surely there can only be one place to head for more inspiration after reading this page.... check out our local Restaurants suggestions!