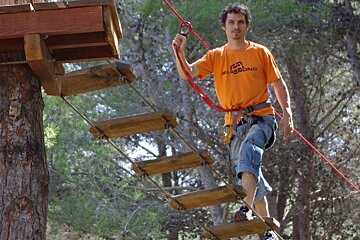 Jungle Parc, Santa Ponsa
Tree-top adventures on bridges, ropes and zip wires
Action packed fun in the forest. The Jungle Parc has three courses of varying levels - one for children over 4 years old, and two for adults.
The courses are set over nine hectares of woodland and you use a variety of methods to swing from tree to tree. The adult platforms range from 3m to 10m high and you use a combination of ladders, bridges, ropes, vines and zip wires to complete the course. The Parc provide all the safety gear you will need to make the experience totally safe.
Ideal for groups and families, the parc is open all year round but days and times vary, so please check. Read about the time we experienced the Jungle Parc in Santa Ponsa.
Especially for the younger children Jungle Parc has a sister park...Jungle Parc Junior.
Location