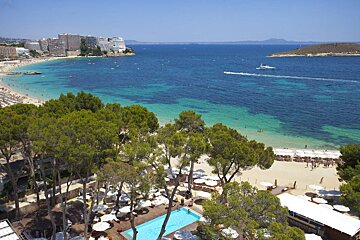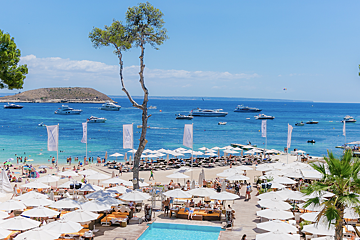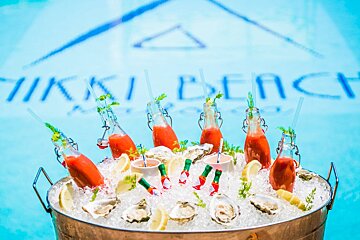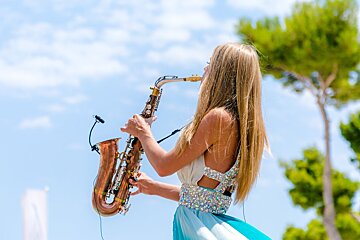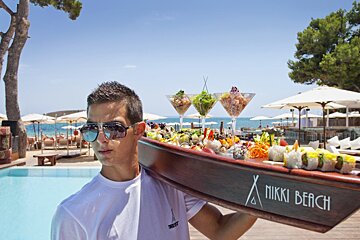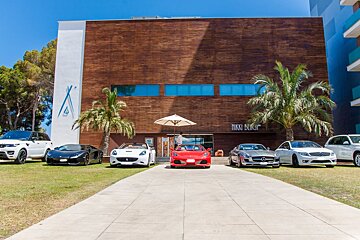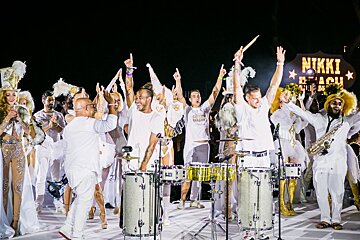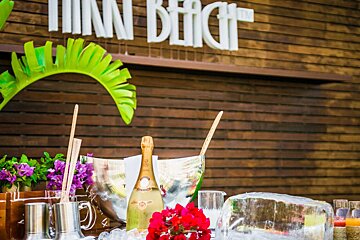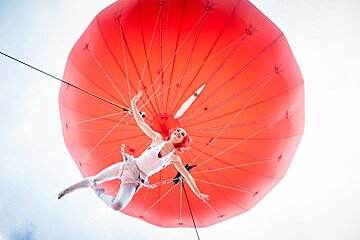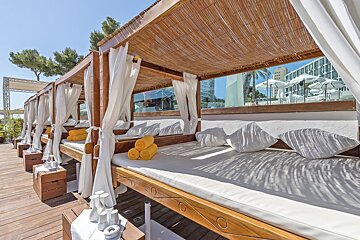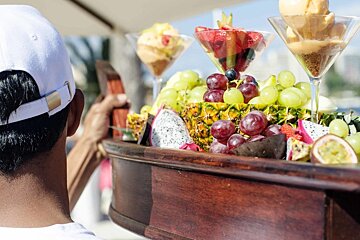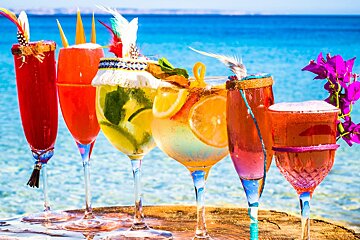 Nikki Beach, Calvia Beach
Jetsetters' favourite Mallorca beach club, on south-west coast
Nikki Beach is where Mallorca's 'in-crowd' can be found, bronzing themselves on exotic, oversized plush lounge sunbeds, sipping champagne on the beach, and dancing to the all-day grooves of Nikki Beach's world-class DJs and live entertainment...and then relaxing in the chic and sophisticated environment over sunset drinks.
Located at one of Mallorca's beautiful white beaches, and only a 20-minute drive from central Palma, Nikki Beach is universally considered one of the best day party venues in the world. Whether it's an intimate dinner for two, a party with family or friends, a landmark celebration or a full-on corporate event, Nikki Beach has the most professional and enthusiastic events team and the most talented chefs at the ready to whip up a glorious event to remember topped off with world-class service.
This beach club opened in 2012 and includes fabulous pool, indoor and outdoor dining and of course a private beach area. You can also enjoy bedside beauty treatments and for those arriving by Yacht there is a complimentary zodiac yacht pick-up service.
Opening hours:
April till September; 11:00 - 20:00
Restaurant: Open for lunch daily between 12:00 and 20:00
Watch this
Worth knowing
In a constantly varied and edgy programme of irresistible parties and top-class entertainment, Nikki Beach keeps groove fresh all-summer long with an exciting array of themed events. Come and be part of the ultimate beach party experience and join us for one of our legendary afternoons; be entertained by Nikki Beach signature entertainment and live acts every weekend!
Check the events calendar for what's coming up.
The pool
The elegant pool is surrounded by stylish wooden decking and boast sea views. On all sides the are comfortable day-beds where you can relax and soak up the Mediterranean sunshine or chill-out in the shade under a parasol.
The Restaurant
Experience our globally inspired cuisine, consisting of classics from Nikki Beach's exotic locations; lovers of good food can sample a whole range of new taste sensations with a  mouth-watering array of the freshest dishes.
As the sun sets, discover our new dining experience with evenings of classic cocktails, fine wines and champagnes with an amazing candlelit setting. Savor the delights of our global cuisine and the legendary Nikki Beach entertainment at our beachfront restaurant under the stars.
Visitor comments
"Amazing place as ever. This ticks all the boxes and is a wonderful place. The staff are first. Always beyond helpful and go out of their way to make everything you do or have there enjoyable and simple. Five stars. The food is excellent, variety and quality that of a top restaurant. The music and atmosphere is amazing and despite being a party place there is nothing obnoxious or nasty in anyone there. Thank you again." - Trip Advisor
"We came here for my boyfriends birthday last Sunday. We got a 4 post bed, as it was coming to end of season, fairly quiet cloudy day and we was buying a bottle of drink they let us choose a bed free of charge. We ordered a bottle of Hennessy but they had sold out due end of season approaching so they gave us a bottle of Remy Martin for the same price. Our waiter was full of enthusiasm and very knowledgeable, same as the blonde girl who gave us the bed. We had a fabulous day even though it wasn't busy we still had fun! I got a bottle of rock angel wine which was 14% and very tasteful, recommended by our great waiter! We also had lunch and I can't express enough how well the food is presented and wonderful it tastes! We ate in the main restaurant before we partied. I had the the sexy salad and my boyfriend had the slider mini burgers. It doesn't matter how much you spend here they really do make you feel special and give you that nikki beach 5 star experience! Thanks to the staff for a awesome day!" - Trip Advisor
"When on holiday with my girl friends over the summer we decided to go to Nikki Beach for a nice meal and evening of cocktails The cocktails were the best I've ever tasted. ( We tried a few!) Staff were always on hand to take cocktail orders also." - Trip Advisor
"The whole experience is amazing, especially the entertainment. The whole atmosphere is all about fun, drink and more fun." - Trip Advisor
"Worth every euro!!" - Trip Advisor
Location