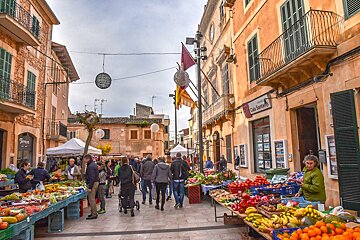 Santanyi Market
Traditional market in the southernmost town in Mallorca
Over 150 stalls selling all sorts of fruit and veg, as well as local cheese, olive oil, flowers, clothes and much more every Wednesday and Saturday in Santanyí.
The best market in Mallorca's south, Santanyí market is celebrated in the town centre, around its main square. Fruit and veg, cheese, preserves, cold meats, olives, wine, spirits, flowers, clothes, accessories, homeware, decorations, arts & crafts... here you can find everything and more.
From 09:00 to 14:00.
Location