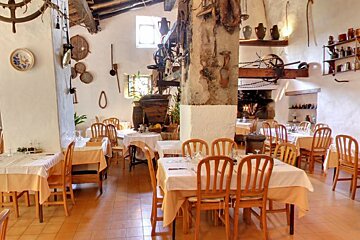 © Ca'n Costa Restaurant, Valldemossa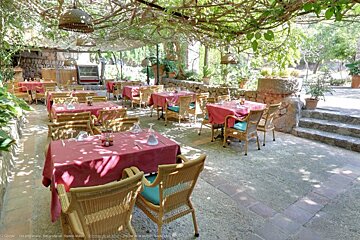 © Ca'n Costa Restaurant, Valldemossa
Ca'n Costa Restaurant, Valldemossa
Traditional Mallorcan restaurant in the Tramuntana mountains
Located in a historical building, the dining room at this restaurant is built around an old olive oil mill or 'tafona' carefully preserved. They serve a local, traditional cuisine with fresh seasonal produce.
Fresh fish, grilled meat and salads are part of the menu, as well as more typical Mallorcan dishes like 'Frito Mallorquín' (fried liver with potatoes and peppers), 'Arroz Brut' (rice with local produce such as game, vegetables, sobrasada or butifarrón) and 'Tumbet' (fine slices of fried potato, aubergine and red pepper) among many others. Their most famous dish, however, is the 'lechona asada', roasted suckling pig.
Summer (April - October): Monday - Sunday, 12:30-16:00, 19:30-23:00.
Winter (November - March): Sunday - Friday (closed Tuesday), 12:30-16:00. Saturday and the eve of holidays: 12:30-16:00, 19:30-23:00.
Visitor comments
"The restaurant is an old restored house, really tastefully decorated. Warm setting and friendly staff. The food was outstanding. Every dish we ordered was lovely. Definitely worth a visit." - Trip Advisor
"An extensive Mallorcan style menu and adequate wine list. Good service, large portions and fairly priced. Highly recommended." - Trip Advisor
"10 out of 10! I would recommend this place to all , don't drive by call in!!" - Trip Advisor
Location