Last week saw us donning our glad rags as we headed to Nikki Beach Mallorca's first Amazing Sunday, and what an experience was waiting for us - sun, fun, food and…cocktails.
The morning of this first Amazing Sunday, was far from 'amazing'. With on and off showers we were slightly apprehensive that a beach club might be a little exposed to the elements. However, Nikki Beach is more than prepared for this rare Mallorcan rainfall, with interior dining as well as a covered terrace. Luckily, none of this was necessary because as we stepped through the entrance sun broke the clouds.

Nikki Beach is set on the outer rim of the island's party hub, Magaluf. Juxtaposed to the full English breakfasts and "ye olde pubs" the world famous beach club is fronted by an understated yet chic entrance. Upon arrival, smiling staff guided us through the indoor dining area out onto the terrace which stretches all the way down to the sea. Outside, the beach club houses a DJ booth, ample lounge area, bar, outdoor dining space, pool and amazing atmosphere.
---
Our waitress, Kairi, stole our eyes away from the view by walking us to our table and inviting us to look at their extensive food menu, and cocktail list. With the sun now shining, it seemed rude not to open with a cocktail so we had a gin fizz and the cocktail of the week, a thirst quenching watermelon spritz (and with a new spritz every week I felt the need to collect the whole set!). Sipping on these, after ordering food we sat back admiring impressive plates of sushi, seafood and other delights pass by, whetting our appetite for what was to come.

Our meal started with Nikki Beach's signature artisan bruschetta with pata negra to share. It was presented on an attractive wooden platter, giving us all the ingredients of a classic bruschetta but taken to the next level. The highlight of this dish was olive oil enhanced with cress giving the dish a delicious peppery kick.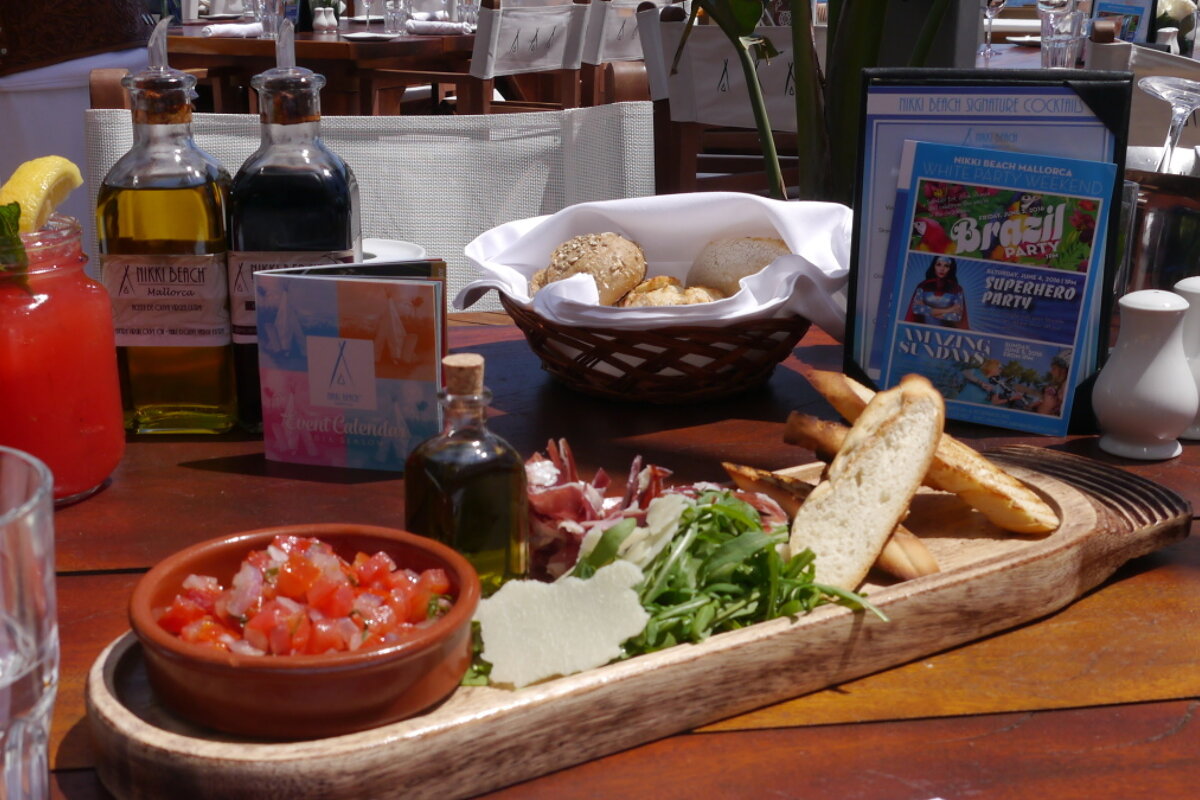 ---
For main we had Nikki Beach's famous chicken satay which was served in an Asian steamer. The double decker steamer held a layer of rice which sat above the chicken. The chicken was wonderfully vibrant, served in a bright golden satay sauce with a variety of fresh Asian vegetables, creating a light but filling dish. For our second main, we had Asian twist black cod which was striking against the black plate it was served upon. The cod was cooked to perfection and placed on top a bed of noodles that were lightly infused with a truffle and citrus glaze.
---
Dessert was the ultimate in cafe gourmands, we were lucky enough to sample the creme de la creme of Nikki Beach deserts. There was Bailey's cheesecake, a trio of Movenpick ice creams, chocolate lava cake, tarte tropezienne and crème brûlée. Had we been served any of the above alone we would have been more than satisfied so to sample all of them was amazing. However, to top it all, as a caffeine lover, the highlight of the meal for me, came in the form of Nikki Beach's signature iced coffee. The coffee-come-cocktail summed up the whole dining experience; wonderfully presented, delicious to the taste and with an alcoholic kick, it was the perfect way to end an excellent meal; Vodka, Baileys, Frangelico, Ferrero Rocher ice cream and a shot of espresso all served in a sundae style glass (we've tried to recreate it at home but we are clearly lacking that Nikki flair!). The only thing left to do was to move pool side, 'force down' one or two more exquisite cocktails take in the live DJ and Balearic vibes.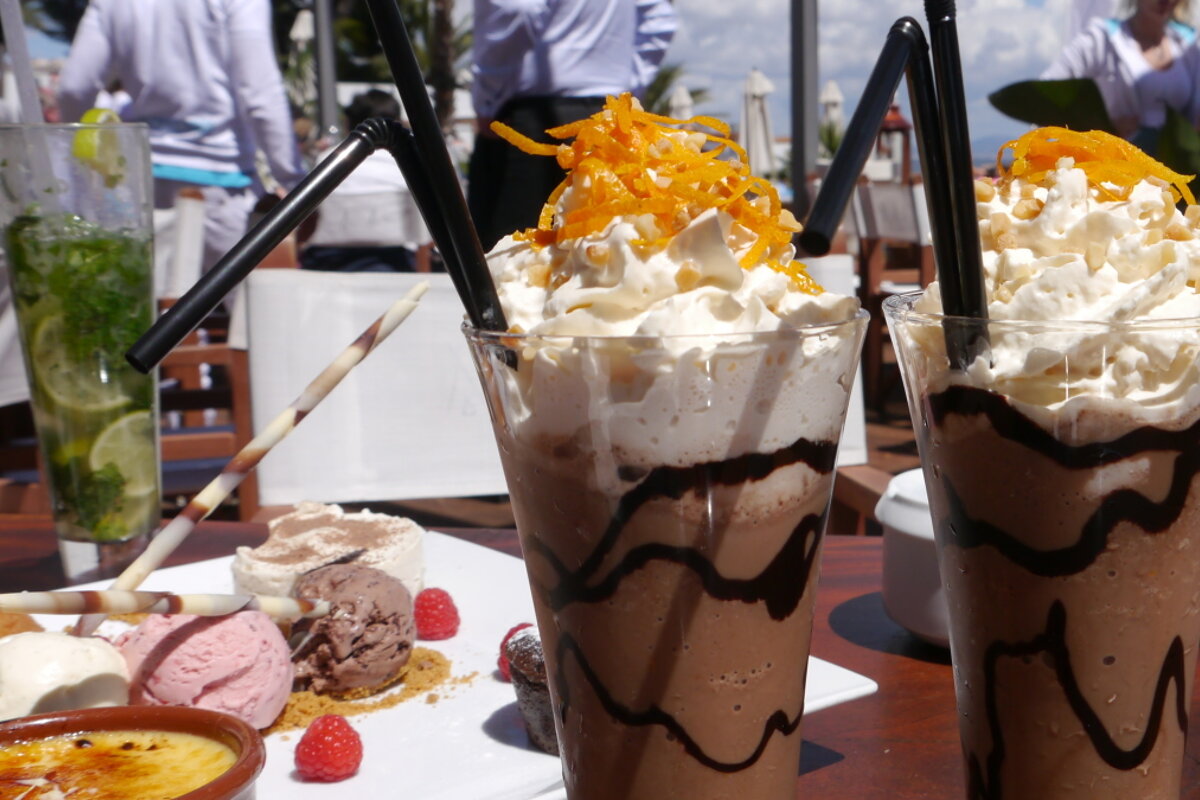 ---
As a whole day experience, Nikki Beach Mallorca comes with my highest recommendation for fantastic food, sun-worshipping, stunning views and true beach club atmosphere. An amazing venue any day of the week, but especially so on an Amazing Sunday.