S'Angel Gastrobar Restaurant Review
Last weekend, I stumbled across S'Angel in Inca for a spontaneous late lunch on the way back from the Serra de Tramuntana mountains. Not knowing Inca all that well, we drove around the town at about 15:00 on a Saturday afternoon looking for somewhere to enjoy a spot of lunch. Before long, we came across this remarkable restaurant.
At first glance when entering this place, it looked like a large bar serving food, little did we know that we were in for a real treat as we explored a little further inside. Upon asking for a table for lunch at the bar, we were guided through to a light and airy dining room with glorious high glass ceilings. The style was chic, with minimal décor, contemporary lighting, wooden tables and very smartly presented staff.
The staff were effortlessly efficient and friendly from the very beginning of the dining experience. Delivering us our menus as soon as we were seated and coming back to take our drinks orders within a few short minutes. The wine menu offered an extensive list of Spanish and Mallorcan wines by the bottle at fantastic value with prices starting at 11€ and going up to around 30€. To give you an idea, the ever popular Ramón Bilbao Crianza Rioja is around 16€ for a bottle. Unfortunately, my other half was driving so just opted for a sparkling water (2,50€) and I selected a glass of the house Rose. Upon the wine being poured I did have some doubts because it looked quite dark in colour (usually a big 'no no' for me as I tend to like the rose blushes), but was pleasantly surprised when tasting it as it was actually very light, non-acidic and easy to drink.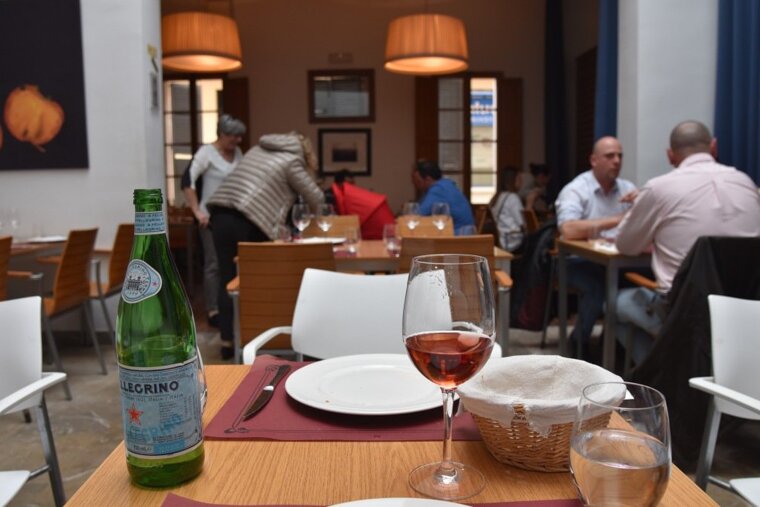 Pondering over the food menu, we were fascinated with the wide variety of choices which would cater for anybody and everybody. For instance, the 'Finger Food' section offered Spanish favourites like Garlic Prawns (9.80€), Croquettes (6.50€) and Foie Gras on Toast (8.50€) alongside international favourites like a Club Sandwich (8.50€) and a Hamburger (8.50€). Other sections of the menu consisted of Salads, Pastas, Meats and Fish which all followed the same diversity, from Iberian Pork Cheeks (11.80€) and Pan-Grilled Squid (13.40€) through to Phad Thai (8.90€) and Lasagna (7.50€). We were spoilt for choice!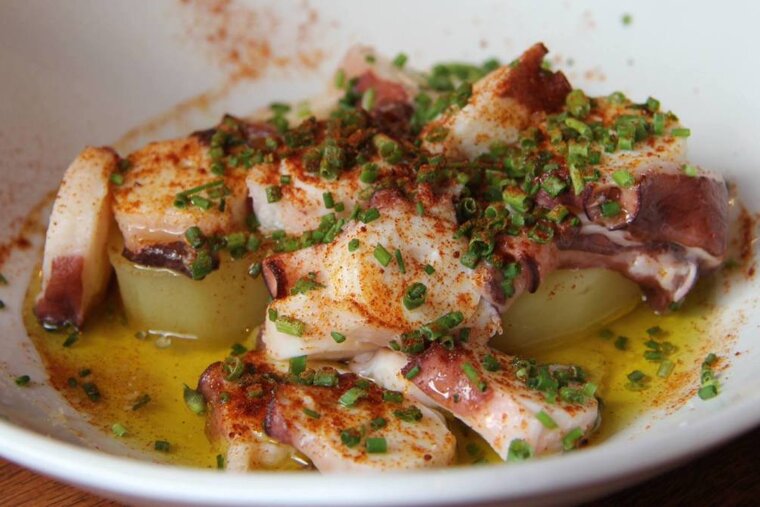 It's probably worth mentioning, we didn't do this meal the conventional way! Having a real weak spot for Vietnamese food and having spotted Vietnamese Rolls (9.50€) on the menu, we decided to share this as our starter rather than picking some of the 'Finger Food' choices which looked more like starters. These summer rolls were not the usual delicate ones we have encountered in the past in both London and Vietnam. These were definitely the restaurants very own rendition of the famous dish, being exceptionally large, packed full of salmon, mango and salad. However, the tasty sweet and sour, fresh and fragrant flavours of Southeast Asia were definitely present!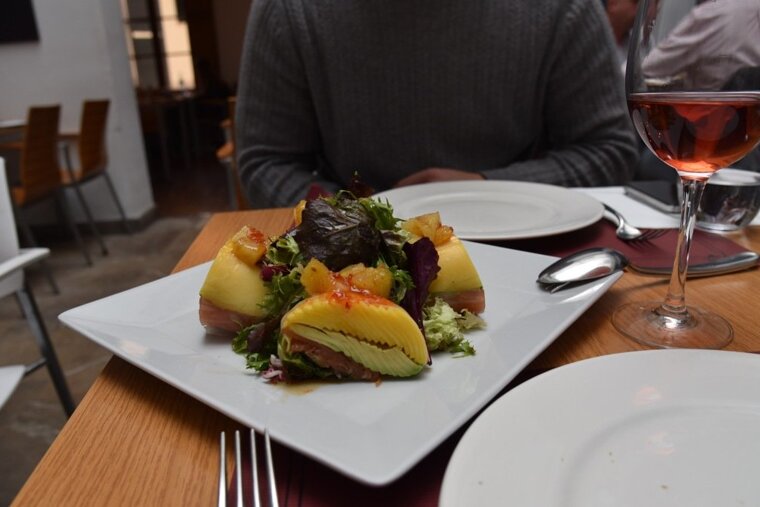 As soon as our plates were cleared, the main courses soon followed. It rapidly became apparent that large portion sizes were a running theme at this place. We couldn't believe our eyes! Normally I would be slightly anxious because quantity doesn't always mean quality but, because the starter had been so impressive, I was eager to see what was next. The Chicken with Coconut Milk and Red Curry (9.90€) was packed full of chicken and bursting with flavour thanks to the spices and fresh herbs, the dish was definitely turbo-charged with chilli which left our mouths tingling.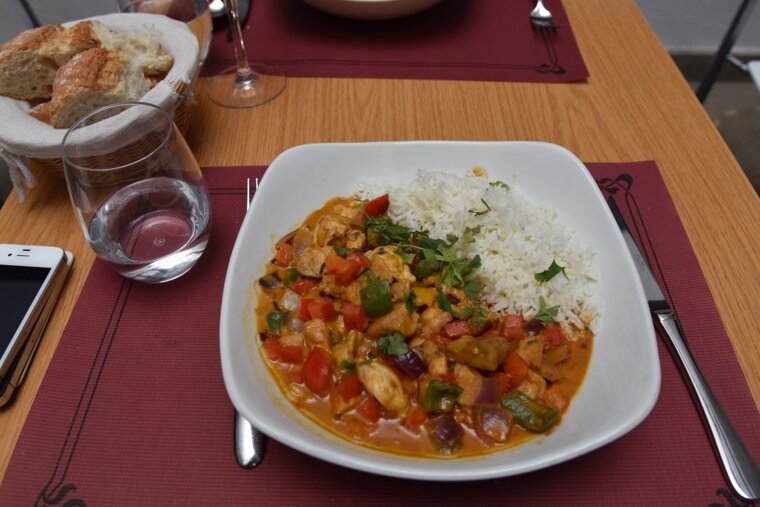 The Pappardelle with chicken, spinach, gorgonzola, and grapes (8.50€) was also a winner. For those who love a bit of blue cheese in their life, this dish was dreamy! The cheese was obviously flavoursome but not overpowering and the pasta, as fresh as it gets.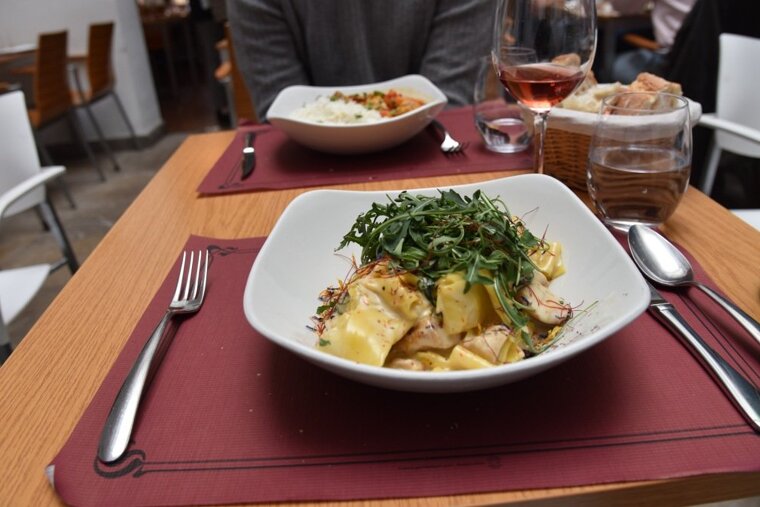 More than satisfied with the food we had already consumed, we mischievously looked at the dessert menu, purely out of curiosity! The mouth-watering treats consisted of things like Cheesecake, Tiramisu and much more. Without too much reluctance, we ended up ordering the White Chocolate Pannacotta with Red Fruits and Ice cream to share between the two of us. Once again we weren't let down, the pannacotta was creamy but light and upon digging deep to the bottom we were greeted with a delicious red fruit compote. Two café cortado's later we were ready to head back to Palma. Upon receiving the bill, we were stunned at how cheap this meal was, just 42€ for the two of us. It's hard to fathom how this fusion restaurant manages to have such a wide range of outstanding quality food at reasonable prices!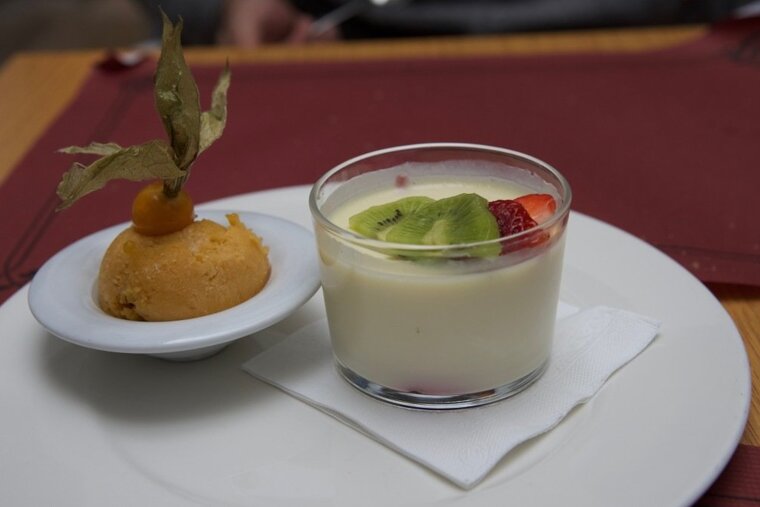 It turns out that this restaurant is linked to Tomeu Torrens a famous chef on the island, who also owns Celler Can Amer restaurant in Inca and S'Angel in Palma. I came back to Palma telling all my friends about it. Which is always a sign of a good feed!
More inspiration...
Mallorca boasts a whole host of gourmet restaurants all around the island. Take a look at some of our top picks.