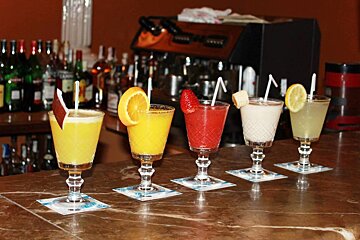 Abaco Cocktail Bar, Palma de Mallorca - La Llonja
Fancy cocktails in a lovely courtyard bar at the heart of La Llonja
This cocktail bar in the heart of Palma old town is renowned for its delicious concoctions and beautiful courtyard.
Hidden behind huge old and unassuming doors, this bar serves some of the best cocktails in Palma, in the most unusual surroundings. Expect birdcages, flowers, fountains and old-style waiters.
Open from 20:00 to 01:00 (02:30 on Friday and Saturday).
Visitor comments
"Nice place, something a bit different to anywhere else I've been before. Drinks are a bit on the expensive side but nice for one or 2." - Trip Advisor
"Huge fun. Not to be missed. Have a good wander around to enjoy all the spaces and the over the top decor. A true cocktail bar. Staff in livery add to the fun." - Trip Advisor
"Different but strangely cool. It's like a harvest festival with added cocktails. Worth a visit if you're in Palma." - ​Trip Advisor
Location