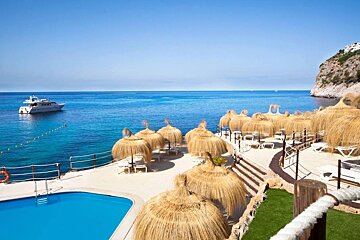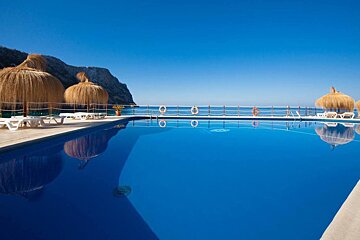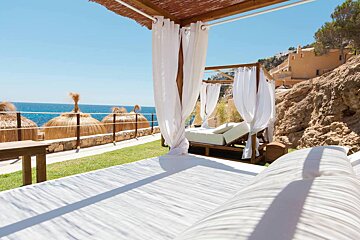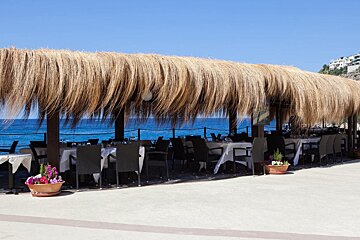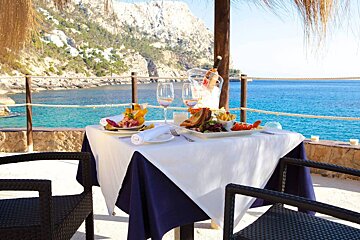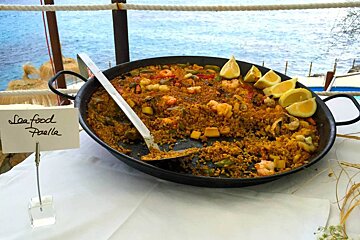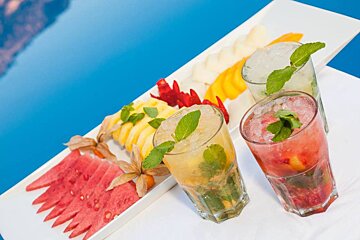 Gran Folies Beach Club, Cala Llamp
Beach club with restaurant & bar at Cala Llamp
This elegant and exclusive beach club is located in Cala Llamp, a piece of coastline that still retains a traditional Mallorcan feel. A restaurant, bar and swimming pool where you can enjoy all day outdoors.
Both bar and restaurant sit among rocks which have been shaped by the erosion of the sea. Few other places on the island enjoy such a private atmosphere, boasting spectacular views over the bay with clear waters that stretch to the horizon and high cliffs formed by the end of the Tramuntana mountain range.

There are different areas, restaurant, swimming pool, sun loungers and cocktail bar, you can relax, enjoy a dip in the sea or the swimming pool... This is the perfect place to spend a whole day away from your routine or celebrating an event or happy occasion.
Open from April to November, every day 10:00-23:45.
The Bar
There is an extensive cocktail list on offer at this beach club, both alcoholic and non-alcoholic. You can even sample three different types of sangría, made with red wine, white wine or cava.
The Restaurant
The restaurant serves traditional Spanish tapas, rice, grilled fish and salads. They are specialised in paella and grilled meat, including sirloin steak with foie and Pedro Ximénez wine sauce, or beef carpaccio. They also serve breakfast, including a traditional Mallorcan platter with toasts with tomato and Serrano ham.
Visitor comments
"The food is quite simple, with a focus on fish, salads and pizzas, but they also have an amazing steak which can be cooked at the table on a hot stone. I've been here a lot, and it can be a little too busy, a little slow, but we enjoy the good service from the friendly staff (& if it's a little slow then at least you're in the perfect setting to relax and enjoy the wait). Highly recommend!" - Trip Advisor
"We had a beautiful lunch here on a stunning summers day, the view was superb and the service excellent. The menu was largely classic and perfectly executed - the garlic prawns in particular were the best we have had anywhere, the paella (so often disappointing in Spain) was perfectly textured and savoury. Overall a great experience and a highlight of our trip." - Trip Advisor
"The views, the service, the food - all fantastic and well worth a visit every time." - Trip Advisor
Location