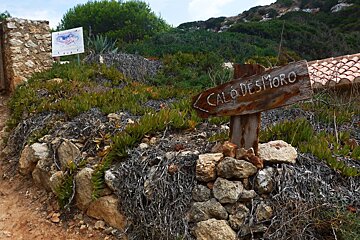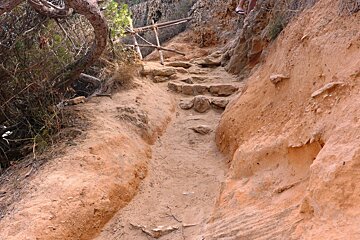 Es Calo des Moro Beach, South Mallorca
A protected beach in South East Mallorca
Es Calò des Moro is one of those picture perfect calas that takes your breath away. It is located in the south east of the island, six kilometres from Santanyí. 'One of the last paradises of Mallorca,' claims the foundation 'Amics d'Es Calò des Moro' which has been looking after it for the last fifteen years.
There is a makeshift car park nearby and signposts to the cala. Don't be put off by the 'private property' sign; the cala is privately owned, but open to the public.
Calò des Moros is often mistakenly called S'Almunia, which is the cala adjacent to it. It's a short walk but to get down to the sea you need to be agile, as the descent is a little precarious. There are no stairs, just outcrops of sandy rock.
A huge hotel was once prevented from being built on the land here, and the foundation worked hard to clear the rubbish that had been left and plant 2,000 indigenous plants. The result of this love and care is a beautiful, clean cala with crystalline waters in a beautiful setting.
-
Setting & Location
The actual beach area is very small and the water comes up quite far, which explains the little sandy barriers sunbathers had made when I visited. The sandy spaces are limited and interrupted by rough rock, where people sit or leave their bags while swimming. When it's busy there's little space to lay down a towel. It's definitely a cala that will appeal to those preferring to swim rather than sunbathe.
Water Safety & Clarity
Stunning turquoise water glistens between rocky cliffs which are covered with bushes and pine trees. On one side is a cavern where the water cools down significantly, and I watched some adventurous swimmers climb up the side of the rock for an exhilarating jump.
Watersports Nearby
Due to it being so small, it's not a beach you would spend a whole day at. Neither is it suitable for small children as there's little space to play. The beach is unguarded and there are no facilities.
Location