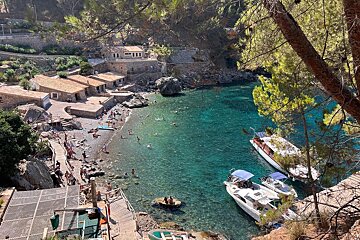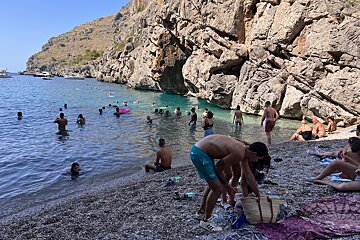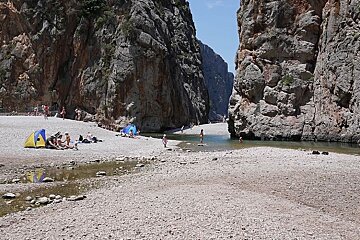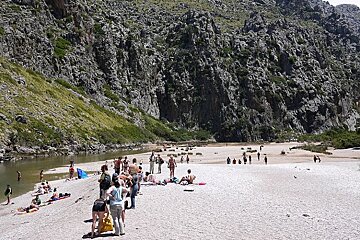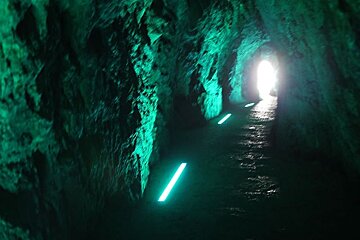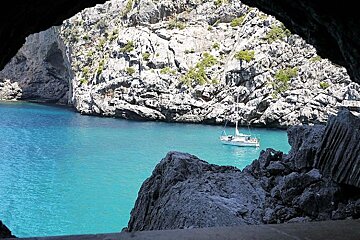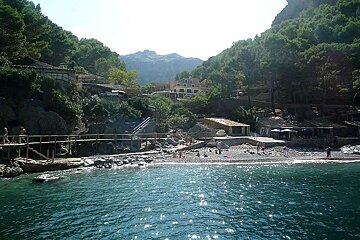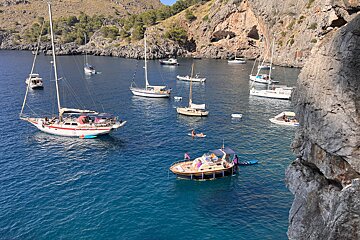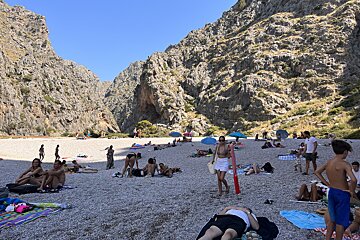 Sa Calobra Beach, West Mallorca
A rare and breath-taking bay, tucked inside steep cliffs and a rocky gorge on Mallorca's northwest coast.
One of Mallorca's most talked about treasures, Sa Calobra, forms an unusual cove found at the head of a gorge of the Torrent de Pareis. It's curious location and dramatic surroundings have inspired artists for many years and still do today.
Here, you will find two separate areas of beach. Whether you arrive on foot, bicycle or by water… Sa Calobra first presents a small 30m stony beach, engulfed by local restaurants serving great and simple beach food. Follow the paved path to the right and you will come to a short, narrow, and well-lit tunnel only accessible on foot. This 1-kilometre burrow leads you to the main attraction at the head of the Torrent de Pareis.
A 30-metre narrow entrance to the seashore sits between theatrical high cliffs on a bed of gravelly sand. A stream separating this area from the rest runs behind here, bordering a much larger stony area beyond.
Unsurprisingly given its remote location, there are no facilities on offer here so bring something comfortable to sit or lie on. There are however a good selection of bars and restaurants, public toilets, and a First Aid point back at the initial pebbly bay of Sa Calobra.
Setting & Location
The journey to Sa Calobra is half the attraction and not for the faint hearted. With a relentless 9.5km climb (beating even some of the more enthusiastic cyclists), the route to Sa Calobra is considered one of the most iconic cycling routes in the world and a must-do for energetic cyclists. Once you've made it there, enjoy relaxing and a sense of escapism amongst the exceptional and one-off surroundings… and remember to bring your own beer for a bucket list sunset photo!
Water Safety & Clarity
The water is a wonderful blue-green colour and perfectly clear. Several boats come to anchor here for the day in the deep water and although the water is calm and marked with buoys, no lifeguards are on duty here, neither is it a quick retreat or ideal for anyone wanting to leave in a hurry.
Beach Quality
Whilst there is only a very small section of sandy gravel by the water's edge, the stony pebbles making up the rest of the beach don't seem to deter many of the locals, nor do the seasonal jellyfish. The dramatic setting and exclusivity this beach offers, far outweighs the less comfortable flooring. Both areas of beach are kept very clean and well maintained despite their popularity.
Watersports Nearby
Although there are no water sports available here (unless you happen to be friends with one of the private superyachts often anchored in the bay…) the area is superb for snorkelling with all the surrounding rockery and their resident Mediterranean fish.
Directions
The best way to get to Sa Calobra by far, is by boat! Catch a passenger boat from Port de Soller or naturally, why not charter your own…? It's worth hiking down through the Torrent de Pareis in the cooler off-season, but most visitors arrive by car or bus.
Year round, Sa Calobra receives busloads of tourists making their way up and down the windy hairpin-bend lanes. The mountain roads are a challenging drive or cycle, but with 5* knockout views and well worth your time. The twisty, narrow, and steep road takes about an hour from the junction off the Ma-10. Try to time your journey to avoid the descending morning busloads, and again on their way back up in the afternoon. Similarly, if you aren't confident in overtaking hundreds of cyclists, you can always join the busloads and spectate from an elevated coach.
Location