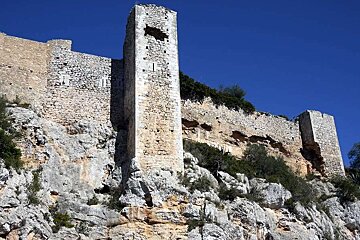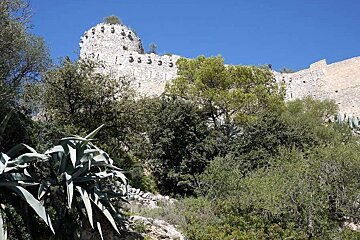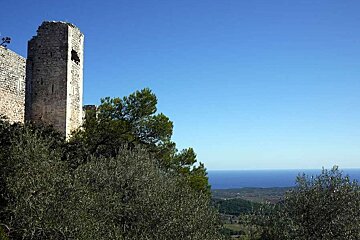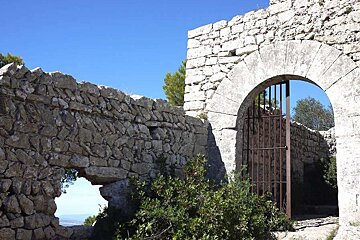 Santueri Castle, Felanitx
Dramatic clifftop castle in Mallorca overlooking the east coast
Santueri Castle sits on top of a rocky outcrop some 475 metres above sea level. It is a stunning, well preserved castle with remarkable views of the south east of Mallorca and the Cabrera Islands on a clear day. The present walls date from the 14th century but a fortification has existed here since Roman times.
The Moors certainly had a hand in re-building the castle during their occupation of Majorca between the 8th and 13th century. When King Jaume I invaded Mallorca for a second time in 1231, the castle was used as a refuge for the Moors and was beseiged by the Christians.
Legend has it that the Moors were tricked by the Christians after they found the castle to be impregnable. The locals held a party one evening with music and dancing, which distracted the Moors allowing them to be attacked from the other side of the castle. Not to be out-smarted, several of the Moors escaped to a defensible cave where they were surrounded again. The Christians thought they would be able to leave them to starve to death but the Moors taunted them by holding up fresh fish every day - what the Christians didn't know was that there was a tunnel at the back of the cave leading to the sea.
In 1811, the castle passed into private hands. After 13 years closed, you can now enter its interior where you will find a splendid central tower, ruins of ancient defensive structures, the old keeper's room, a cistern and many other constructions that tell the story of the life inside the castle.
Additionally, you can enjoy the walls and towers and of course the views. There are plenty of hiking and cycling trails in the area, or you can drive right up to the castle by taking the road from Felanitx to Santanyi.
Visitor comments
"Very small side streets take you to here, and it's definitely worth while. The views are spectacular and the castle is so interesting, people of all ages will enjoy it here but be careful if your less mobile" - Trip Advisor
"Well worth a visit. Scenic drive through winding Cas Concos roads up the mountain to this ruined castle, the site of which has been in use since prehistoric times. There is limited parking so may be best visited at off peak times, there was ample space when we visited in April. Lots of climbing and steps up to the summit where breath taking 360 degree views await you. Entry was 4 Euros per adult, children free." - Trip Advisor
"Castle ruins at the top of the hill. A bit uncomfortable drive up (narrow unsecured road and tight bends, nothing dangerous though) but the reward was there. Absolutely stunning views from the top. Free parking and a few Euros entry fee." - Trip Advisor
When to come
The castle is open every day from 10:00 to 18:30.
Location