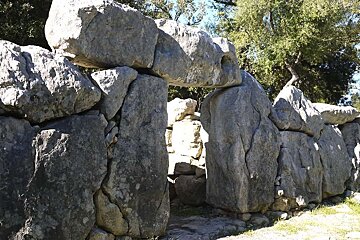 Ses Paisses, Arta
Bronze-Age settlements in Mallorca
This Bronze-Age talaiotic settlement near Arta is a significant site and a link with Mallorcans of 3,000 years ago.
Most impressive of all is the massive entrance portal, formed from three stone slabs weighing up to eight tonnes each. Inside there are several rooms and an atalaia (watchtower); the entire settlement is surrounded by a Cyclopean drystone wall.
The first excavations were carried out by Italian archaeologist Giovanne Lilliu, who focused on the village central area, the Talaiot and all the attached structures. Highlights in this area are the hypostile and the horseshoe-shaped room, among others. Excavation works were resumed 30 years later. The foundation of the settlement is dated circa 850 BC. It is believed that the village was built around the central Talaiot.
When to come
Open Monday to Saturday, 10:00-14:00 in winter. From April to September, open from 10:00 to 17:00 Tuesday to Friday and 10:00-14:00 Saturdays and Sundays.
Location