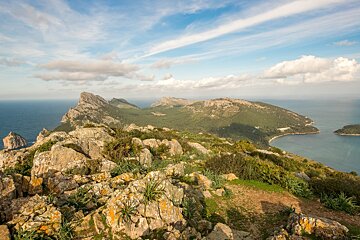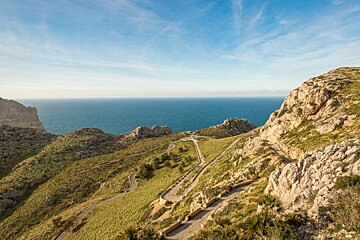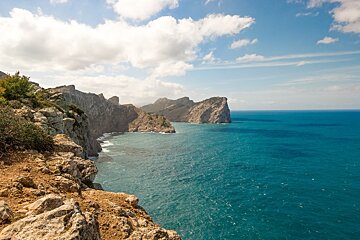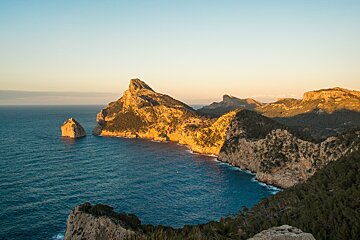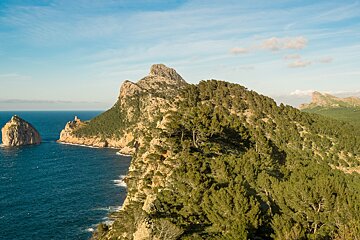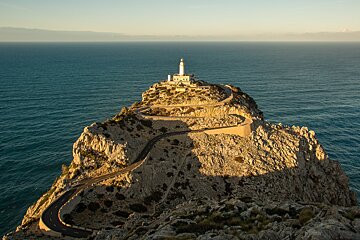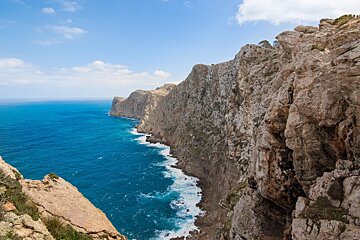 Cap de Formentor, North Mallorca
Dramatic scenery and sandy beaches in the very north of Mallorca
This wild peninsula on Mallorca's northeast tip has stunning views, sandy beaches and the island's original luxury hotel. The 20-km drive from Port de Pollenca to Mallorca's most northerly point has scenery as dramatic as anyone could wish for. Cliffs 400 metres tall jut into the sea, their weird rock formations attracting nesting seabirds, while pine trees seem to grow out of the rocks.
The drive is also famously scary. A local legend has it that the parish priest and the local bus driver arrived at the Pearly Gates and only the driver was admitted to heaven. The reason? He had led far more people to pray. Six kilometres from Port de Pollenca you reach the view point of Mirador des Colomer - scramble up the steps for views over a rocky islet. A path opposite the steps leads to an old watchtower from which you can see the whole of the peninsula, as well as the bays of Pollenca and Alcudia.
The road continues through pine woods and past more view points (each one helpfully indicated with a picture of an old-fashioned camera) before tunnelling through En Fumat mountain, where you look down over Mallorca's most inaccessible beach. Eventually you reach a lighthouse with the inevitable bar and shop and more stunning views, all the way to Menorca on a good day.
On the way back, stop at Formentor beach and the newly reburbished Hotel Formentor. It opened in 1929 and has been pampering the rich and famous ever since. The fine sandy beach used to be reserved for the hotel's guests, but is now open to the masses.
Location