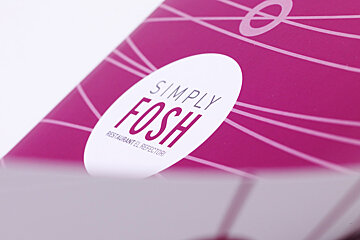 Simply Fosh Restaurant - Review, Palma
Top quality restaurant, now Michelin starred
Discreetly located in an unassuming street in the old town of Palma lies one of the islands most talked about restaurants. Marc Fosh is one of those celebrity chefs who has an opinion and is not afraid to share them.
He received a Michelin star for his efforts at Bacchus before starting up his own restaurant, Simply Fosh, in the fashionable Hotel Misseo. We decided to go check it out.
Running late as per usual, the Frenchman and I considered our dining strategy as we drove to Palma. In order to achieve a comprehensive taste testing we like to make sure we try a range of dishes, taking it in turns to choose the richest dishes in order that 'Prince Charming' doesn't turn back into a 'Fat Frog'. We decided that one of us should have fish and the other would have meat for our main course, thus ensuring a thorough test the culinary skills of the kitchen.
As we struggled to find a legal parking space, the clock quickly ticked past our reservation time – not something that bothers the Frenchman, but irritates me beyond belief. Can't we just park in the car park, I grumbled? The Frenchman insisted that I drive around Las Ramblas one more time, as it would seem that finding a cost-free parking space remains one of the last bastions with which he can demonstrate that he hasn't lost his masculine ability to hunt for a prized specimen, now that all the buffalos are gone and we are forced to live in the modern world (with conveniences like multi-storey car-parks).
'Look', he cried triumphantly, 'there's a space'. Rats I thought, this will only encourage him for future outings. I frowned, and asked what the red & blue circular sign with 'no parcing' referred to. Ah, but it's past 8pm, he said, and promised to pay the fine.
Despite us being 30 minutes late for our table, we received a gracious welcome - as if we had chosen the perfect time to arrive - and we were offered a table on the terrace or in the dining room. The restaurant comprises of a sexy dining room and a decked interior courtyard, with a feature waterfall wall at one end. Plenty of greenery and pots of rosemary on each table gave the terrace a modern, fresh, urban oasis feel. Al fresco, suggested the Frenchman and we took a table laid for two in the courtyard. After being offered cava or champagne, the menus were presented for our perusal. Now, normally when I scan a menu, one or two items immediately catch my eye and the choice is relatively simple. Not so in Simply Fosh. I had to read the menu carefully about a dozen times before I was able to make a final choice. This is 'creative' cooking to say the least – with unexpected pairings of ingredients, and in some cases I found it hard to imagine what the dish might actually taste like. All very interesting and experimental.
The usual suspects of bread (warm & fresh), olives (not bad), Alcudian olive oil (fragrant & light) and aoli (saffron infused, very good) arrived. Our server asked if we were ready to order, so we did. For starters, the Frenchman asked if the lobster in the pasta dish was fresh. Yes, was the reply, fresh from Canada. Sadly, this was too far travelled for the Frenchman who has developed an environmentally-friendly attitude of late; so he ordered the smoked beef salad instead (without checking where the cow had once grazed…).
Following my choice of starter (beetroot gazpacho), I asked for the fish of the day (a local fish I was told, like a golden-finned tuna, but apparently not actually a tuna fish – there is no direct translation I was told); and the Frenchman asked for the sea-bass. I gave him a hard Paddington Bear -like stare. He looked at me innocently before he twigged. The buffoon had forgotten our plan to have one fish and one meat main course. 'Ah', he said, and asked the waitress to give us a couple more minutes which she accepted with a smile.
After a stern talking to, we attempted the order again, this time asking for the guinea fowl and the sea bass.
A short time later, our pre-appetizer of anchovy with cauliflower cream and topped with a foam arrived, beautifully presented and polished off within seconds. Our starters followed in good time. Regular readers will know that I am fond of gazpacho and order it wherever possible. Simply Fosh's take on it uses beetroot instead of the usual tomato and red pepper. Served with marinated salmon and a scoop of granny smith apple sorbet, the deep pink soup was very attractive to the eye. I tried the soup. Not pure beetroot after all, there was a definite red pepper flavour to it, which was okay but a little bit odd against the earthy beetroot. Time to mix in the apple sorbet I thought. The benefit was two-fold. First, it cooled down the soup from room temperature to chilled, and second, the apple flavour cut right through the red pepper to combine gloriously with the beetroot. Delicious, although as a personal preference I wasn't too convinced about the need for the salmon.
The Frenchman's smoked beef salad with saffron, poached pears, Parmesan and rocket leaves was exactly that, and had been lightly dressed with a vinaigrette; it definitely passed the taste test but wasn't overwhelming.
And so to the main courses. Little breasts of guinea fowl lay upon a bed of pearl barley, with a pumpkin puree on the side and chunks of al dente pumpkin and baby leeks. A rich Perdo Ximinez jus accompanied the moist and flavourful bird. A delightfully presented dish, and a good portion size – thankfully leaving me room for dessert. The Frenchman's sea bass came with an orange & fennel puree and crispy flakes of chorizo iberico. The fish looked very appetizing – fresh soft white chunky flakes with a crispy skin – it was perfectly cooked. A very good combination of flavours I was informed.
Our very smiley server asked if we would like to look at the dessert menu? Of course, the menus duly arrived. We ordered the straightforward sounding Simply Fosh apple crumble, and the rather more complex praline parfait with a blood orange sorbet and a cardamom yoghurt soup. Of course, we had to contend with the de rigueur pre-dessert palate cleanser first - in this case, a strawberry compote with a coconut mousse topping.
A very attractive apple crumble soon followed. The warm apple was topped with crunchy caramelised crushed biscuits (reminiscent of a cheesecake base), and served with vanilla ice cream and a very good caramel sauce. For those interested in the crumble to fruit ratio, I can tell you that the crumble was in short supply, but any more would have made the dessert overly sweet. It seems that Marc Fosh knows best. The praline parfait was a delicate dessert – it had a good nutty flavour and was light enough to finish off the meal nicely.
Total cost was €110, without wine (bottles are available from €18). Lovely service and trendy surroundings, not to mention that unusual menu, makes this a place that you would be happy to keep returning to. You can guarantee that Marc Fosh will keep this place interesting and fresh.
We will definitely be back to experiment further but perhaps on a different night than on a Monday– on leaving we noticed the menu on the door had several more fine options and we suspected produce supply was more limited after the weekend.
If you are a dedicated foodie, or just like fine dining, this should be one of your stops during your stay in Mallorca.
And in case you are wondering: no, we didn't get a parking ticket, much to the delight of Monsieur Smug…
Location