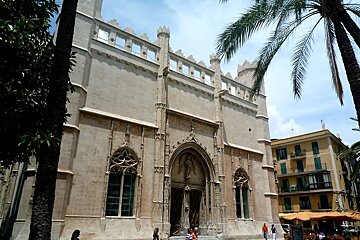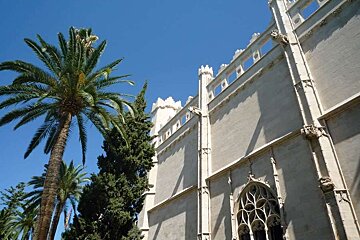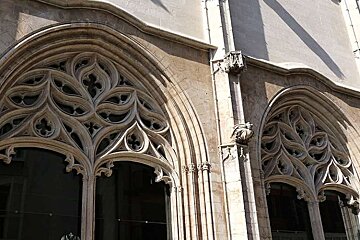 Sa Llotja, Palma de Mallorca
Cultural Centre & Art Gallery
With twin turrets and an angel over the door, this 15th-century seafront building looks half-castle, half-church. In fact it is neither.
It was designed by Guillem Sagrera (the architect of the cathedral's Portal del Mirador) as the city's exchange when Mallorca was a major maritime trading centre in the 15th century.
As trade declined through the centuries, Palma ceased to have so much commercial importance and the building changed its use according to need. It was used as a store for goods and guns during the War of Independence and became a gallery for fine art at the end of the 19th century.
The rectangular hall has an octagonal tower at each corner, with ten smaller towers to act as buttresses. Stand among the spiralling pillars, gaze up at the rib vaulting, and try to imagine the Mallorcan merchants of 500 years ago haggling over silk, spices and silver.
Nowadays La Llotja is a cultural centre, hosting temporary exhibitions.
Visitor comments
"It sits on the waterfront and is an impressive sandstone Gothic building completed in 1450. It is an impressive building and apparently is only used for temporary exhibitions but if you are visiting the castle and the cathedral it is just down the street and worth a visit." - Trip Advisor
"This building is spectacular, great architecture. It is near The Cathedral but is well worth visiting." - Trip Advisor
"This lovely building is on a lovely square right by the marina, it is gorgeous by day or night and very atmospheric and photogenic. There are sometimes art exhibitions there also. Great tapas on the square too." - Trip Advisor
When to come
The building is not open unless there is an exhibition on.
Location