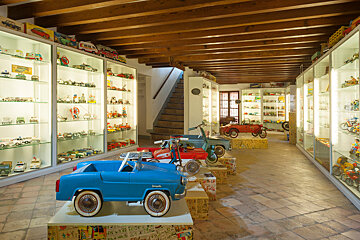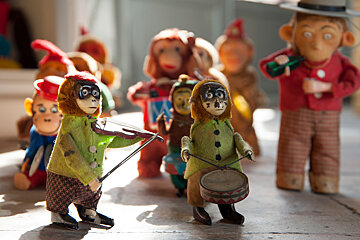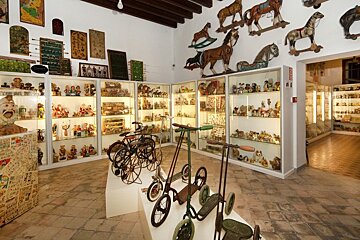 Museu de Sa Jugueta, Palma Centre & Marina
One of the best toy museums in Spain
Based on the collection of Antoni Roig Clar, this museum showcases over 3,000 toys from all around the world and from different eraas.
There are pieces from Spain, Germany, Japan, America... ranging from dolls to small theatres, mechanical toys, toy horses, bicycles and much more. These toys are authentic survivors, since around 80% of new toys break on the first days after being bought.
The museum also organises temporary exhibitions and weekly activities for children such as concerts, workshops, games, film screenings, theatre performances, etc.
There is also a great restaurant serving lunch and snacks, from traditional Mallorcan llonguets to a Mediterranean-inspired daily lunch menu with vegetarian options. The bar is open until late at night serving small bites and snacks.
Visitor comments
"We found this place after getting lost, didn't have a clue where we were, so it was a lucky find. It's a great bar, very nice atmosphere, and upstairs you can visit a very interesting museum full of old toys." - Trip Advisor
"While visiting Palma, a friend and I saw the Museu de Sa Jugueta sign and ducked inside on a rainy afternoon for a visit. The museum, which is located upstairs of the restaurant portion of the facility, is small but well organized and interesting. Both of us had a nice time seeing the toys from years past and reminiscing about which ones we remembered seeing or playing with when younger. Worth a visit if you are visiting that area of the city!" - Trip Advisor
"Perfect mix with toys for kids and good restaurant with local cuisine. The two brothers who manage the restaurant was members of the pop music group Antonia Font (drummer and singer), one of the bests groups of the Catalan music scene during the last 10 years." - Trip Advisor
When to come
The museum is open on Tuesday and Wednesday from 09:30 to 17:00; Thursday to Saturday from 09:30 to 00:30. Closed on Sunday and Monday.
How to get passes
Tickets cost 3.5€, reduced to 3€ for pensioners and 2.5€ for children
Location