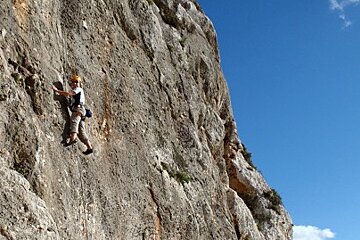 Cala Magraner - The Best Climbing Venue in Mallorca
A climbing venue that caters for every level, in a great location
Mallorca is blessed with a many excellent climbing areas spread throughout the island. The "Rock Fax" guide book describes 20 different areas but there are many more being bolted every year.
Each of these climbing venues have their own special reasons for a visit. They vary from high mountain crags, the huge amphitheatre of Sa Gubia, long lines of cliffs stretching along valleys and little tucked away piece of rock near urban centres. However, if after 5 years of living here, I had to choose my favourite it would have to be Cala Magraner.
Reasons to like Cala Magraner;
It´s By The Sea
You know you are really on a climbing holiday when are wearing very little and you are pulling on warm rock above the sea. What climbing trip to Mallorca would be complete without a photo of your belayer standing on the edge of the beach with rolled up trousers trying to keep the rope dry as the waves gentle laps their ankles. This is especially likely to provoke envy back home when the photo is taken on Christmas or New Years day. Try "Elvigilant de la Platja" grade 4, if you fancy getting your feet wet. Climbing is often combined with regular dips or at least one long swim at the end of the day. Bliss!
Excellent Climbs
Cala Magraner has some excellent well bolted climbs in the grade 4-5+ range. There is even a decent grade 3 that can be used to introduce new leaders or ease yourself back into climbing for the day. There is also an over-hanging juggy grade 5+, aptly named "The Juggy one". So even lower grade climbers can enjoy the trill of getting there hands on huge jugs. I find the range of routes allows the more mortal climbers to work their way up the grades as the day progresses. Before you know it you are climbing the lovely "Ses tres Maries" 6a+. And finally for the rock gods and goddesses there is Sector Cueva (The Cave) with steep hard tufas. There really is something for everyone here.
The Walk In
Yes, I am including the approach as a positive reason to visit Cala Magraner. It is only 30 minutes flat, easy walking through some rural farming areas complete with rickety stiles and strange gates. It´s far enough that you go prepared with a picnic and make a day of it but it´s not far enough to break a sweat. The walk-in also means that the beach is only frequented by the occasional walker or mountain bikers and of course climbers. A private climbing beach in Mallorca, what more could you asks for.
It´s a Family Affair
It is very common to have widely differing abilities amongst a group of climbers and this climbing venue does cater for everyone. It is also the perfect place to sit and read a book, lie in the sun or contemplate your naval. Last tine I went my Dad came too and brought his ukulele along. Rock climbing is definitely not his thing but he was happy all day at Cala Magraner.
For more information and topos for Cala Magraner see the "Mallorca Rock Fax" guide.
-
Sam Shelley is a UK MIA qualified climbing instructor with Rock and Ride – Mallorca. Visit their website for more information on climbing courses, guided multi-pitch adventures, advanced coaching, traditional climbing, deep water soloing and more.
Location