Exploring Mallorca's Marine Reserves
A scuba diving trip with Zoea Diving Mallorca
Zoea Diving, a five star PADI dive centre in Santa Ponsa is not a place you would typically stumble upon as it's discreetly tucked away in the gated Club Nautico marina, well away from the busier parts of the resort.
It may not be the easiest place to find, but ultimately that adds to the sense that you are diving with a private club rather than a large-scale commercial operator.
The Zoea dive shop's location right on the waterfront in the Club Nautico marina means there's no long trek carrying heavy tanks to the boat – in fact, all you need to is take your BCD, regulator, mask and fins over to the boat, as the friendly, multi-lingual staff do the heavy lifting for you.
Dive trips for certified divers run three times per day, with departures at 9:30, 11:30 and 15:30 and groups are generally small. The centre has three comfortable, custom built dive boats that will whizz you over to any one of 30 dive sites along the southwest coast of Mallorca in well under 30 minutes.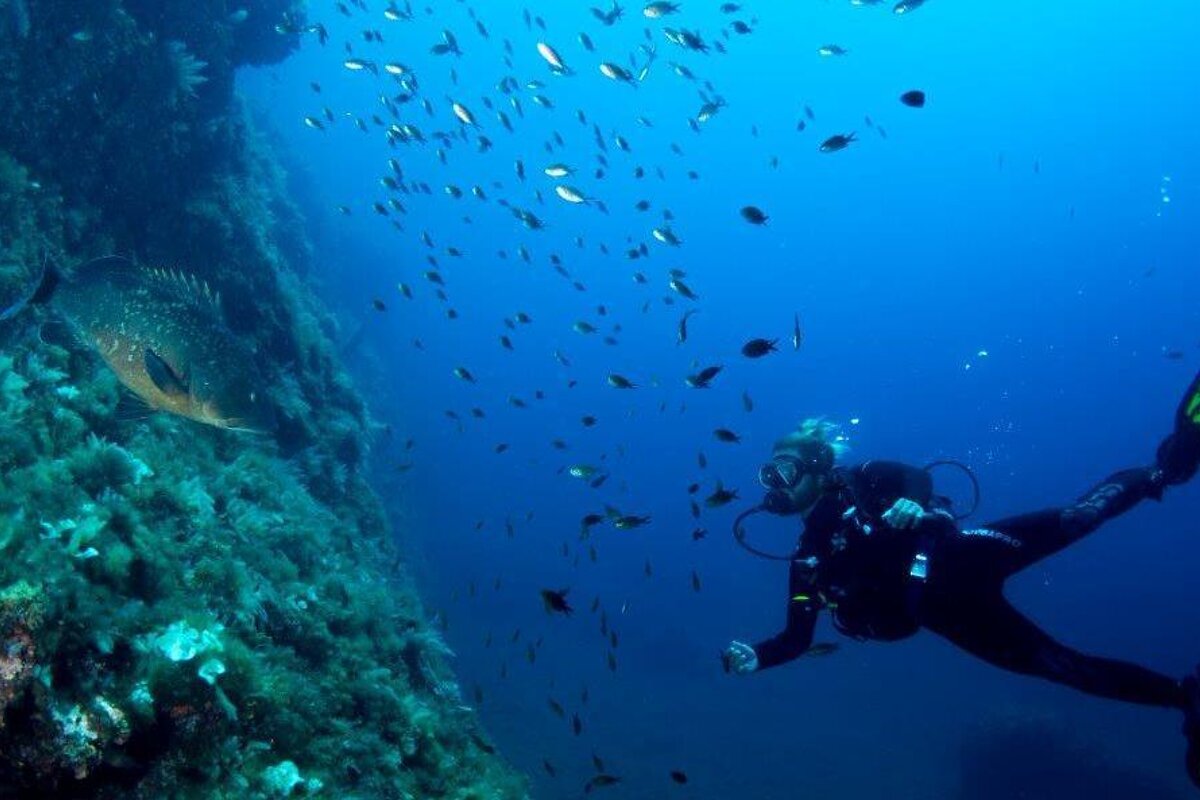 ---
Two of Mallorca's marine parks, El Toro and Islas Malgrats, are less than ten minutes away and, due to fishing restrictions in these areas, they offer some of the most abundant marine life around the island. Zoea also run dive trips out to Dragonera and Cabrera Islands, which are both marine reserves.
On the day I joined a dive trip, we visited El Toro, a narrow islet with several dive sites dotted along both sides. The dives there are suitable for all experience levels. Indeed, the scuba divers on board ranged from those with many years' experience to total newbies. My dive buddy, who had not dived for several years, was given a thorough refresher by the dive guide en route to the site, and remained under his watchful eye throughout the dive.
Having rolled backwards off the boat, we made an initial descent to 5 or 6 metres and then followed the gently shelving seabed down to down to 20 or so metres. Zoea Diving's instructors clearly knew the site well and made a great effort to point out creatures lurking in the shadows: large octopuses tucked into their hidey holes, a scorpion fish that blended into its rocky background so well it was hard to discern, and a mean-looking yellow spotted moray eel. Bright orange and violet starfish clung to the seabed, as we swam slowly through clouds of tiny brown chromis and not-so-tiny silver fish. Most impressive though was a big-lipped grouper the size of a small child, resting motionless under a rocky outcropping.
---
Towards the end of the dive we entered a small cave, the sides and roof of which were encrusted with delicate, multi-coloured corals. Rolling over to look upwards, we could see our exhaled air bubbles like silvery puddles trapped on the cave's ceiling, and the sea outside the cave a deep shade of indigo.
A slow ascent brought us neatly back to the boat, and specially-designed ladders made exiting the water a breeze, even with all the gear, including fins, still on.
Back on board an icebox filled with bottles of water had thoughtfully been provided so we could wash away the salty taste and enjoy the short, fast ride back to base.
For those who are new to scuba diving, the introductory Discover Scuba dive (96€) at Zoea Diving is ideal for those who want to give it a try. Full PADI dive certification courses, from Open Water, for beginners, all the way up to Instructor level are also offered. The dive centre is open year round, although during the winter months dive trips only take place at weekends.
For certified divers, dive trips cost from 36 € (plus equipment and insurance) per dive. Various packages are available for those planning to do multiple dives. Kayaking, snorkelling and paddle surfing trips are also offered.
...