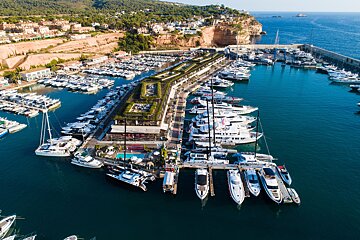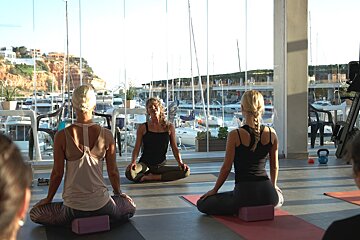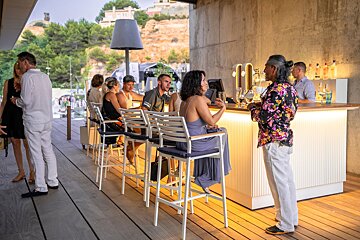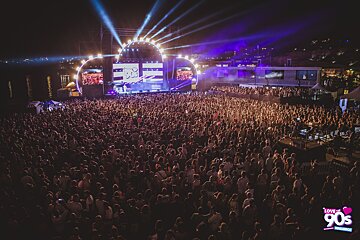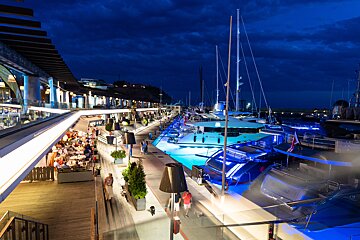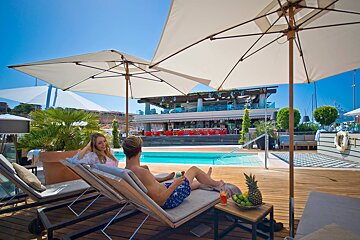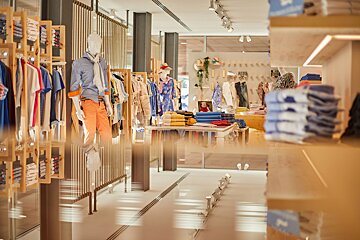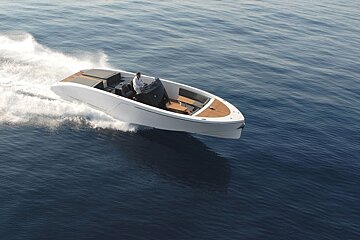 Port Adriano Marina, Calvia Mallorca
A Super-Yacht Marina providing everything from moorings to activties, dining & shopping
Port Adriano is the super-luxury super-yacht harbour in Mallorca. Designed by Phillipe Starck and has berths for boats between 6 and 100 meter long as well as shops, bars, restaurants and a range of watersports.
The harbour is situated in a great location in the centre of the Western Mediterranean, just to the South-west of Palma (9km away). It is surrounded by areas of great natural beauty for sailing and other nautical sports, such as the Malgrats Islands, the coast of El Toro and the North coast of Mallorca, recently declared a World Heritage Site by UNESCO.
Work on the current Port Adriano began in 2007 to extend the facilities which were originally founded in 1974. The floor of the harbour was dredged making the water deep enough for super-yachts and the marina building was redesigned by French designer Philipe Starck.
The idea was to prioritise the day to day use of the marina by creating a space that would be attractive and functional for all visitors to Port Adriano. As such there were 240 underground car parking spaces built so that visitors could easily come for the day without spoiling the setting with a car park.
Aspects of the harbour have Starck flourishes too; these mooring bollards and the harbour lights are designed to blend the interior of the boats with the harbour and the use of wood mirrors the decks of the yachts.
The port is also home to a number of exceptional restaurants, bars and shops as well as water-sport activities from Kayaking and paddle-boarding to jet-skiing and sailing. So it is a great place to visit for the day where you can find something to entertain everyone.
Nautical & Crew Services
This port offers you everything you need for your vessel including management, brokerage, moorings, fuel and any other type of service related to yacht maintenance and repairs.
For crews they have a selection of services which include a crew bar,gym, transportation services, parcel services, car rentals and special events.
Moorings
Moorings can be booked for boats between 6 - 100 metres. Bookings can be made online or via email using the enquiry link on this page. You will need to specify the length and beam of the boat and the desired dates.
Watch this
What you can do
This port has a lot to offer from shops, bars and restaurants to various water-sports and organised events.
Shopping: You will find an exquisite selection of fashion shops with premium international brands.
Restaurants: There are gastronomical experience for all palates, 11 restaurants ranging from Mediterranean to haute cuisine.
Water-sports: The port offers a full range of water-sport activities from plain old sailing, to paddle boarding, jet skiing, diving and kayaking.
Events: The port puts on a fantastic spectrum of entertainment from music, shows, cinema, family activities and competitions. Visit their website to find out the details of up-coming events.
Visitor comments
"A very nice new Port, Port Adriano, with lots of nice bars and restaurants, lots of place to take walk, must be more lively in summer time and more croudy and more nice!!!Really enjoyed our stop here!!!" - Trip Advisor
"We wandered through here on a quiet Sunday afternoon- quiet but not too quiet. Lots of choice for bars and restaurants and plenty of beautiful yachts to look at. The place has a friendly feel." - Trip Advisor
"Fantastic bars and restaurants abound! Very high class destination with very select places to visit. The best (for us) was Brunos but overall this fantastic Port area is well worth a visit." - Trip Advisor
"A sophisticated Port with plenty of places to eat and drink. We prefer this to Portals Nous as it is not so pretentious and the staff not so condescending. We have been coming to this area since before the new port was built and think it has improved it as a destination to visit. Little else in the area, not touristy but we like it." - Trip Advisor
"The magnificent Port Adriano which was newly opened only 2 years ago really should be visited. It is so well appointed, stunning, modern, some of the world's biggest super yachts to ogle at, very nice restaurants, a great homemade ice cream bar, luxury shops etc, I'm sure it will eventually overtake Puerto Portals as THE place to be. They are certainly making an effort with a whole team of acrobats and dancers who gave nightly performances throughout the summer. I go regularly, nice place to walk around, and lots of free parking, you can go around and park under the new part. I guess one day they will charge but for now it's still free, don't let the barrier gate put you off, it's open to everyone." - Trip Advisor
Location