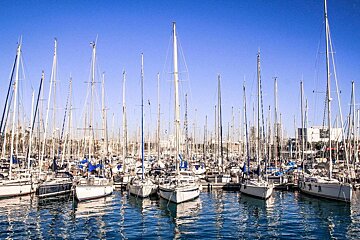 © Ilona Antina Photography
Real Club Nautico de Palma Marina, Palma de Mallorca
Palma's main marina, by the cathedral
This royal yacht club is it the oldest and biggest in the Balearics. Situated near the centre of Palma, it offers good security with easy access for all nautical goods and services. There are 946 moorings of which 589 are for members. The club has a sailing and canoe schools,
It is the base for some prestigious regattas such as the King's Cup and the Princess Sofia Trophy, in which many members of the Spanish Royal Family frequently participate. The club has many facilities for its members including an indoor and an outdoor pool, gym, library and TV lounge.
Amenities:
Water
Electricity 220V/380V
Engine mechanic
24hr surveillance
Crane
First aid
Fuel Pump
Weather info
Ice
Pool
Toilets
Showers
Laundrette
Market 10 minutes walk
2 restaurants and bars
Nautical services
Electricity.
39º 34' N / 02º 38' E
Location