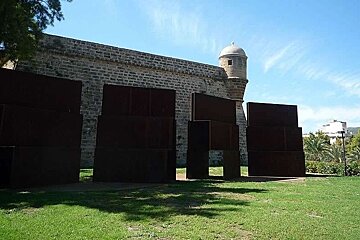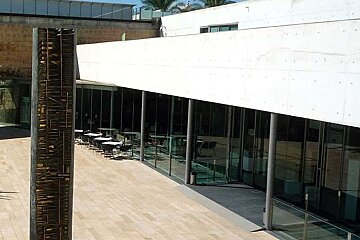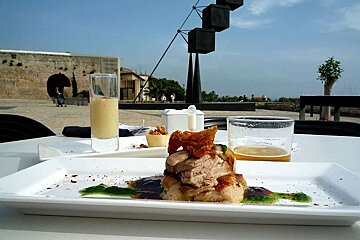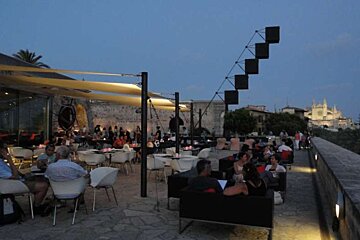 Es Baluard Museu, Palma de Mallorca
Wonderful contemporary art gallery in a 16th-century fort
Es Baluard Museum of Modern & Contemporary Art was opened in 2004 as a cultural institution for research and dissemination of Balearic & Mediterranean art from the 20th and 21st centuries.
The museum is housed in a former military fortress - the Baluard de Sant Pere - which dates back to the 16th century, and was part of the Renaissance wall that surrounded the city of Palma.
The collection of the Foundation Es Baluard consists of paintings, sculptures, ceramics and drawings by artists emerging from the late 19th century: Cézanne, Gauguin, Picasso, Miro, Picabia, Magritte, Giacometti , Motherwell, Tàpies, to more recent artists such as Horn, Plessi, Polke, Kiefer, Schnabel, Barceló, and Scully. There are also outstanding examples of Catalan and Mediterranean landscapes, and artists who directly or indirectly have been associated with the Balearics: S. Rusiñol, J. Mir, A. Gelabert, H. Anglada-Camarasa, J. Or MH Mompó Ramis, among others.
Es Baluard was developed by the government and has an annual budget provided in equal shares by the Mallorcan counsel (Consell), the Balearic government (Govern) and Palma´s town hall (Cort). The public museum is however managed by a private foundation, chaired by Pedro Serra, who has also personally donated many of the gallery's art pieces.
The museum covers a total surface of 5,027 square metres, with 2,500 sq.m of exhibition space. The museum features one of the largest cisterns from the 17th century, known as 'The Aljub'. This fresh water reservoir was used to supply the Sant Pere quarter,as well as ships that used to dock in the harbour. It is now used as a setting for installations of contemporary artists, and for shows and concerts.
The exhibition space extends on to large terraces and external spaces, from where you can enjoy wonderful views of the Bay of Palma. There is a book and gift shop, and a highly regarded restaurant on one of the terraces. There are no foreign language texts in the museum (only Spanish & Catalan) or audio guides, as the collections are refreshed every 3 months or so, and it is not practical to provide them.
Watch this
Worth knowing
The bar and restaurant are open from Monday to Sunday from 10:00 until midnight.
Visitor comments
"A great development of a modern gallery space within a heritage port fortification. The gallery itself is excellent. A very nice place to spend an hour. Some good works of Miro and some peripheral Picasso, plus other worthwhile items. Seems receptive to contemporary exhibitions, which is always interesting. The gallery restaurant and cafe space is also excellent. Breakfast on the outside terrace is wonderful. All the staff I met were exemplary. A cultural must do in Palma." - Trip Advisor
"This is one of the finest galleries I've visited. Well laid out and sign posted. The current Waste Lands exhibit is moving with images of left over war torn lands from ten perspectives. The rest of the museum is bold and very modern in all ways. Do not miss it." - Trip Advisor
"This is an amazing building, stark concrete and shining steel mixed effortlessly into ancient stone walls. And the views... Worth going just to admire the vista. Lovely cafe/restaurant on the lower terrace too." - Trip Advisor
When to come
The museum is open Tuesday to Saturday from 10:00 to 20:00, and on Sundays from 10:00 to 15:00. Closed on Fridays, as well as January 1st and December 25th.
How to get passes
Tickets cost 6€, except on Fridays, where you can pay what you want (minimum €0.1), or if you go by bike, when you only pay 2€. Reduced to 4.50€ for seniors, pensioners, students, and on Tuesdays.
Free for children under 12 years old, the unemployed, as well as accredited journalists, teachers, guides, and cultural managers. Also free on January 6th, 20th & 30th, March 1st, April 9th, May 1st & 18th, September 17th and 27th, October 12th and December 6th.
Location