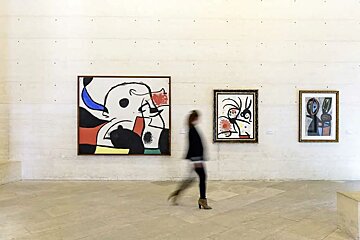 © Fundacio Pilar i Joan Miro, Cala Major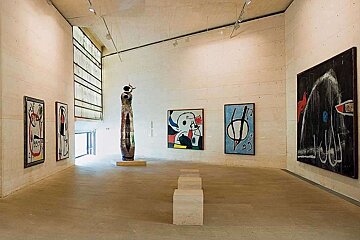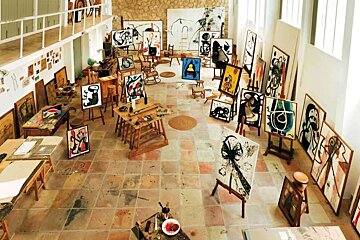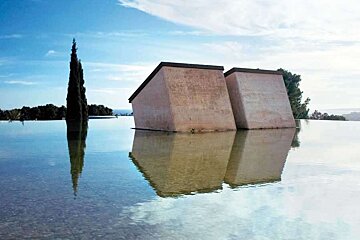 © Fundacio Pilar i Joan Miro, Cala Major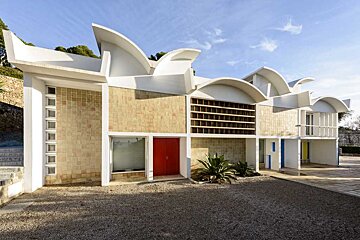 © Fundacio Pilar i Joan Miro, Cala Major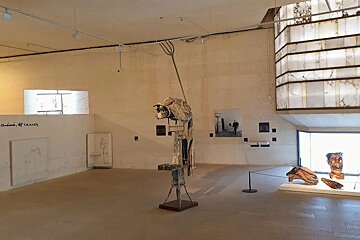 © Fundacio Pilar i Joan Miro, Cala Major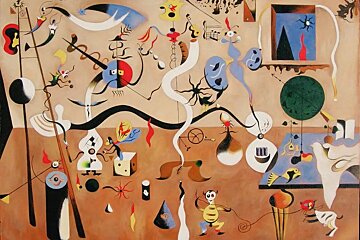 © Fundacio Pilar i Joan Miro, Cala Major
Fundacio Pilar i Joan Miro, Cala Major
Art gallery & museum devoted to the famous Spanish painter
The painter and sculptor Joan Miro spent most of his life in Barcelona, but both his wife and mother were Mallorcan and he always longed to return to the scene of his childhood holidays to draw inspiraton from what he called "the light of Mallorca".
In 1956, aged 63, he bought a house and studio in Cala Major. He lived here until he died in 1983 after which the house was enlarged to hold a permanent exhibition of his works.
The collection includes more than 100 paintings, 25 sculptures and 3,000 studio pieces, but only a small amount is displayed at any time. The paintings are almost childish, all vivid splashes of bright primary colours, influenced by his love of peasant traditions and his fascination with siurells (clay whistles).
Anyone tempted to remark that their child could do better should take a look at the heavily realistic work that Miro was producing aged eight - the fantasy came later. Works on display include the draft for UNESCO's Mural del Sol in Paris. Glance into Miro's studio, left untouched since his death, with work in progress, open tins of paint and black stains all over the floor.
Visitor comments
"This place is stunning, not only does it contain loads of brilliant works by Miro, but also the building is amazing. The space, lines, atmosphere, light, all combine to compliment the fantastic work of Miro. It's so tranquil and restorative, I wanted to stay there all day and just soak it up - my 9 year old didn't quite feel the same although she did really engage with it. She thought Miro's images looked like children's dreams - what a great description. I'll certainly go back again, I loved it." - Trip Advisor
"Excellent venue take a bus 3 or 46 from Palma and then a steep walk up hill but its well worth it. There is Joan Miro's studio and house and a gallery too." - Trip Advisor
"The collection of Miro's works is not as extensive as the one in Barcelona but it is very impressive. The gallery building is enormous and provides rooms with the necessary dimensions to enjoy his works. Miro's studio though is something else. The light that it enjoys can only have been a pleasure to work in and an inspiration to him. Easy to understand why Miro and Pilar settled in Mallorca." - Trip Advisor
When to come
The museum is closed on Mondays. Opening hours are as follows:
In summer, from mid May to mid September - Tuesday to Saturday 10:00-19:00; Sundays and holidays 10:00-15:00
In winter, from mid September to mid May - Tuesday to Saturday 10:00-18:00; Sundays and holidays 10:00-15:00
Closed on December 25th and January 1st
How to get passes
Tickets cost €7.50. Reduced price for residents of Palma, pensioners and 16 to 18 years old, only €4.
Location