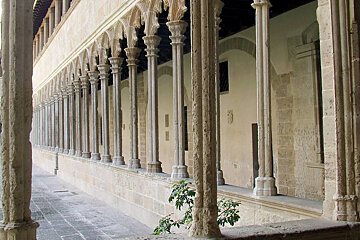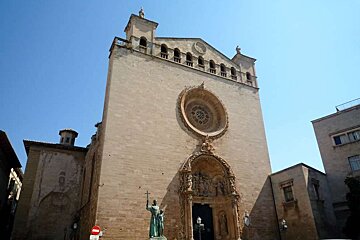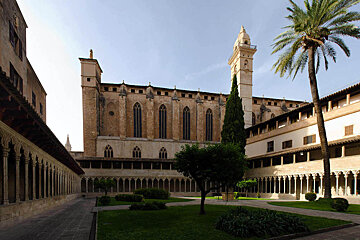 Basilica de Sant Francesc, Palma de Mallorca
Gothic style church in the heart of the old town
The facade of this 13th-century church in Palma (remodelled after it was struck by lightning in the 17th century) is typically Mallorcan - a massive, forbidding sandstone wall with a delicately carved postal and a rose window at the centre.
You enter through lovely & peaceful Gothic cloisters with orange and lemon trees and a well at the centre. Inside the church is the tomb of Ramon Llull (1235-1316), the Catalan mystic who became a hermit following a failed seduction attempt and was later stoned to death attempting to convert Muslims in Tunisia. His statue can be seen on the Palma seafront.
Outside the basilica is a statue of another famous Mallorcan missionary, Fray Junípero Serra, who once lived in the monastery here. The streets behind the church, once home to jewellers and Jewish traders.
Visitor comments
"This is an outstanding church and cloisters that should not be missed if you are visiting central Palma." - Trip Advisor
"A lovely cloister in this amazing Franciscan monastery building. This is the place where Ramon Llull's remains are buried. The Gothic arches are quite stunning. Don't miss the Basilica." - Trip Advisor
"Me & my wife have visited Majorca this December, and we have turned back home absolutely delighted with the island, particularly with venues like this one. The visit includes a wonderful cloister and one of the most amazing churches I've ever seen. Don't miss it if you visit Palma, you won't be disappointed!" - Trip Advisor
When to come
The church is open Monday to Saturday from 09:30 to 12:30, and from 15:10 to 18:00. Sundays and bank holidays from 09:00 to 12:30.
Location