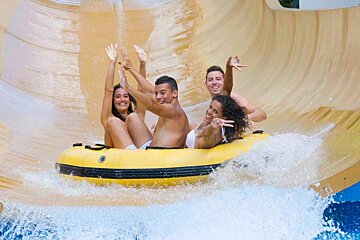 Western Waterpark, Magaluf
The wet and wild west waterpark in Mallorca
The Western Water Park is filled with thrilling water slides and pools for everyone's enjoyment. There's a special water park for smaller children and a spectacular diving exhibition featuring professional divers.
The park is open daily from 10:00am to 5/6pm from the middle of May to the end of September. There are free buses from Magaluf or you can use the 104 & 105 public buses from Palma. There is a car park on site, although it can get busy.
Tickets start at €26.50 for adults and €18.50 for children, with family packs available and season passes also available.
Read our review of the waterpark.
Watch this
Location