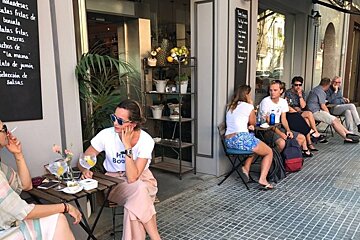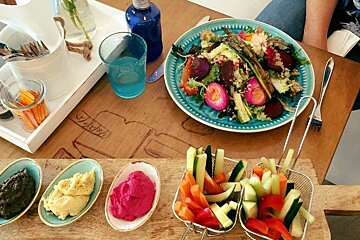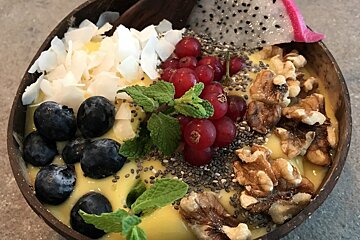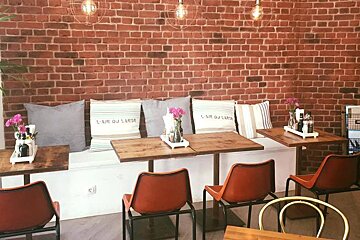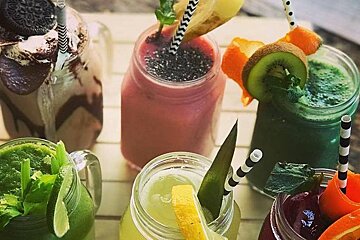 Santina Cafe, Palma- Santa Catalina
Brunch and more in Palma's gastronomic district
This cafe is located right at the heart of the beautiful city Palma, in Santa Catalina, the arty district. It boasts a relaxing vibe and a feel-good ambient. Open throughout the day, here you can enjoy a drink, brunch, a super fruit bowl, fresh smoothie and great food.
Their menu is full of healthy, international cuisine that you can also take away, made with fresh, natural products and featuring lots of vegan and gluten-free options. From homemade pastries and cakes to toast with avocado or salmon, sandwiches, salad and fruit bowls, bagels and burgers.
Open from 08:30 to 18:00 and until 19:00 on Fridays and Saturdays.
Visitor comments
"So happy to have found this little gem in the heart of one of my favourite places in Palma, Santa Catalina. The coffee is great as is the food and wine, a very healthy and delicious choice of dishes on the menu. The service is always very friendly and professional, Would not hesitate to recommend." - Trip Advisor
"Have been in for brunch a couple of times. Nice juices, food rustic breakfasts well presented. I had avocado and feta on toast with a poached egg. Very filling! Friendly staff." - Trip Advisor
"We have a place in Palma and we've struggled for a while to find cafes with plenty of gluten and sugar-free options. It was such a pleasure to find Santina. I had an excellent chicken salad bowl with quinoa and my girlfriend had an amazing burger on gluten-free bread. Excellent restaurant with very friendly service, everyone was super nice." - Trip Advisor
Location