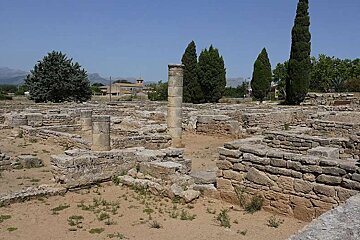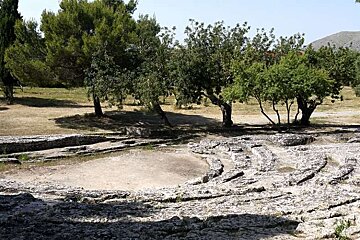 Roman Remains of Pollentia, Alcudia
Ancient Roman town & theatre in the north of Mallorca
Pollentia was founded by the consul Qintus Caecilius Metellus in 123 BC in the strategic location between the bays of Pollenca and Alcudia. It was the most important city in the Balearics duing the Roman period and covered an area of 15-20 hectares.
Artefacts of the site were first discovered in the 17th century but excavations were not started until 1923. The work still continues today and is funded by the Consorci de la Ciutat Romana de Pol-lentia.
There are three areas open to the public – the theatre, the forum and the residential area of La Portella. There is also a museum, the Museu Monografic de Pol-lentia in the centre of Alcudia (by the church) which displays many of the objects found on the site.
Visitor comments
"The Roman excavation is worth a visit if your into your ancient history.
Spread over a wide area there are various pieces to see dating to the Roman Times. Also there is a museum with artefacts just over the road, all the findings from the dig are exhibited here." - Trip Advisor
"Very good, well preserved ruins of the old Roman town of Pollentia, with lots of information. A lot of it is even wheelchair accessible!" - Trip Advisor
"This site is on the outskirts of the walled town of Aludia with a large area of free parking beside it. The entrance fee is €3.00 and well worth it. We would gladly have paid more as they are very much in need of funds to continue their excavation of the site. It is divided into three main areas. The residential area, which is close to the entrance, then The Forum and quite a distance away is the Theatre. It is a very pleasant walk to this area and worth going to have a look. The birdsong, blue skies and almond blossom added to the experience." - Trip Advisor
When to come
The museum and the Roman ruins are open Monday to Friday from 09:30 to 20:30 and weekends from 09:30 to 14:30. Closed on bank holidays.
How to get passes
Tickets provide entry to the museum and the ruins. They're available on site and can also be booked by phone, call +34 971 897 102.
Location