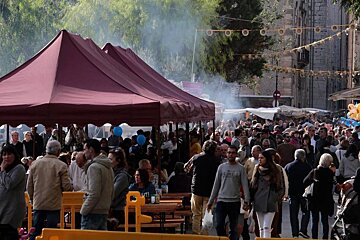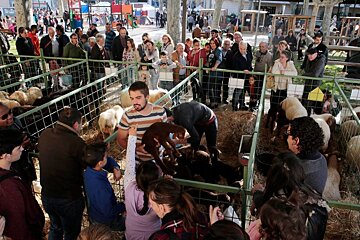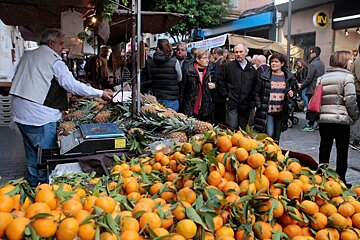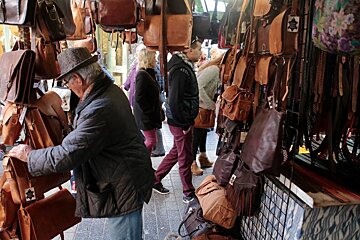 Dijous Bo Fair, Inca
The biggest agricultural fair in Mallorca
Mallorca's largest agricultural fair. Markets, artisans, funfairs, animals & agriculture, music & dancing - it's all here!
The Dijous Bo fair takes place in November and comes complete with live music, a parade, a 'correfoc' or fire run, a car show, a giants' parade, and a traditional market.
It originated as an agricultural fair celebrating the harvest, and has since grown to include a range of sporting and cultural entertainments.
Dijous Bo is Catalan for 'Good Thursday' and the event actually kicks off on the previous weekend, with parties and a 'fire run', and the reading of the proclamation. Festivities start with a bang on the Wednesday evening with the annual Mallorcan black pig contest and auction followed by the official opening of the farmers market by the town mayor. Art exhibitions, bird shows, and live music are among the entertainments, and the parties being held in many of Inca's bars and restaurants last all night. A special train timetable that runs through the night is operated to help visitors travel easily to the event.
The main fair is on the Thursday, with the farmers market in full swing, along with the usual market stalls of handicrafts and locally made leather goods, there is plenty to browse through the streets of Inca. Many of the stall keepers wear traditional Majorcan clothing and the streets are dotted with straw bales and ancient farming tools. In keeping with the agricultural heritage, old and new farming equipment and livestock are on display, and there is a horse show featuring beautiful Minorcan horses. There is a small fairground and trampolines for the children to play on and plenty of sweet treats on sale to keep those energy levels up.
The traditional Mallorcan giants are of course on show, and you can enjoy cooking displays, fashion shows and wine tasting. Local commerce exhibitions help promote local businesses and serve as a reminder that this is not just a show for visitors, but an important time for local trade.
Take public transport where you can, the train from Palma is particularly recommended and there are more regular services this day.
Location