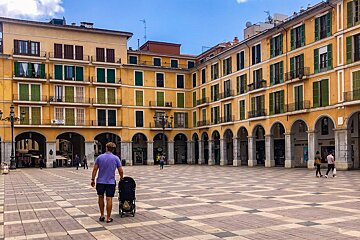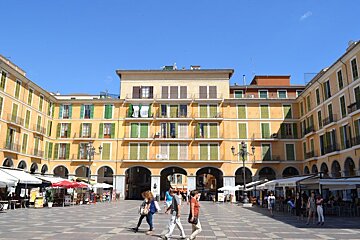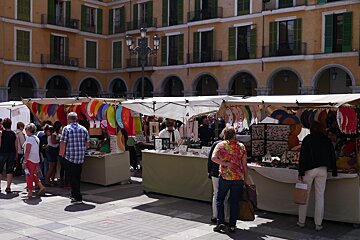 Plaça Major, Palma de Mallorca
Traditional Spanish square in the heart of Palma
The Plaça Major is Palma's main square. This rectangular space surrounded by traditional yellow buildings with green shutters has been the centre of the city life throughout the centuries.
The square stands where the San Felipe Neri convent was located. Afterward, it became the see of the infamous Spanish Inquisition in Mallorca until 1823. The current square was built in the 19th century, from 1825 until the start of the 20th century.
The beautiful buildings that surround it feature arches creating a covered corridor on the ground floor where shops could show their products. They now host a great selection of cafes, bars and restaurants with terraces opening onto the square where street artists and musicians perform.
Plaça Major hosts a craft market tailored towards tourists looking for souvenirs throughout the year, celebrated every day in July, August, September, Easter and Christmas.
Visitor comments
"Lovely old part of Palma. Plenty of bars and restaurants, market stalls and a large underground supermarket." - Trip Advisor
"This is a typical Spanish and very elegant placa with perfect proportions. Just standing there enjoying makes you feel great." - Trip Advisor
"Good square to sit and people watch. Lots of places to eat and drink. Being in the centre the prices are on the high side." - Trip Advisor
Location