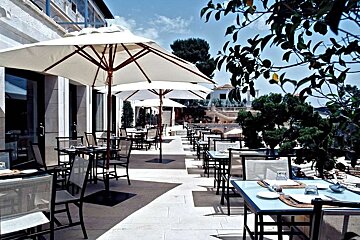 Maricel Restaurant, Cala Major
Set in the impressive surrounding of the historical Hospes Maricel
Appearing as if it arose from amid the waves, this matchless location of the historical Hospes Maricel, where the Senzone Restaurant is located.
Built right on the seaside, in the stateliest architectural style, using natural colours and the highest quality materials. But the culinary offering more than meets the impressive surroundings: Mediterranean cuisine at it's best. Fresh, simple and sophisticated, enjoy lunch or dinner in one of two lounges or the terrace in front of the ocean.
Read our Review of Sezone Restaurant.
Visitor comments
"Chill out at the Maricel! Great Service and fantastic views, the food was of an excellent standard day or night." - Trip Advisor
"We had an amazing spa day in this beautiful hotel, and appreciated the tranquillity. The lunch with the most amazing views to the ocean were both delicious and well thought out. The whole experience was just wonderful." - Trip Advisor
"Best breakfast in the world? Quite possibly!" - Trip Advisor
Location