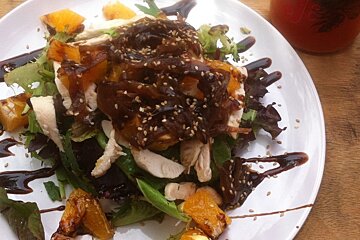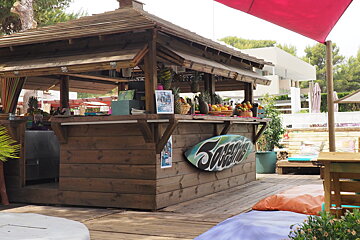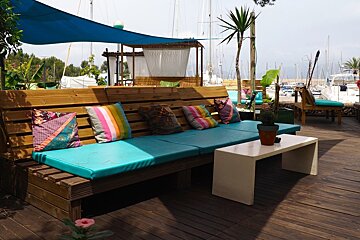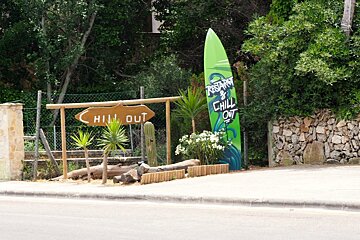 5 Oceanos Restaurant Review
A funky spot with a healthy menu not far from the beach
I have a new favourite place in Mallorca and it is 5Oceanos Restaurant and Chill Out in Mal Pas, Alcudia.
Everything about this restaurant is unbearably cool, the Bali beach lounge décor, fusion menu, funky music, fresh fruit laden beach bar, waiters sporting edgy tattoos and weird hair I loved this place and it's got something for everyone. The menu is a clever compilation of health foods and vegetarian options interspersed with steak, burgers, duck, fries and a kid's menu available on request. The drinks menu is a fabulous collection of fresh fruit cocktails and health juices next to a large beer selection and you can get your cocktails by the litre, drink while you lounge on a beanbag or sit at a laid up dining table, the choice is yours.
As you approach this restaurant you spot the wooden gazebos sporting fluttering white curtains, the jewel coloured, silk covered cushions scattered about the place, the surfboard and wooden sign proclaiming 'Chill Out' to any one passing by, I was ensnared from the start and in I went. Past the wooden beach bar is a covered terrace of dining tables but before that is a chaos of outdoor seating options, with drift wood sofas and reclaimed pallets rubbing up against Bedouin tents and gazebos. Everything is brightly coloured, nothing matches and there are flowers and plants, Buddha's and birds everywhere.
Even their tea menu is fabulous, green tea with cherry pieces, black tea with vanilla bourbon, tea with pepper, rose petals, sunflower petals, hemp, papaya, ginger, raisins, it was a tea lovers dream and I will be going back until I've tried them all, and then again after that to drink my favourite. It was a sweltering day though so I went for a 'Fresh' juice which was watermelon, cucumber and basil blended up in front of me into an over sized mason jar, it was so good I had to restrain myself from drinking the whole thing in one, thirst quenching, refreshing and pretty too.
The food menu seems simple at first consisting of only one page of five sections; pizza, burgers, tapas, greens and creations, but each section held mouthwatering options. There is salad with wakame beans and mango, goats cheese with honey and yoghurt, quinoa burger, duck breast, salmon with smoked salt, prawn carpaccio, squid ink aioli and tuna tartar with guacamole. There are so many things I want to try on this menu, a least when I come back to drink tea I won't go hungry! Eventually I went for the orange and chicken salad which came on a bed of mixed leaves, topped with caramelized onions, sesame seeds and covered in a sticky balsamic dressing and was quite possibly one of the best salads I've ever eaten.
After inhaling my beautiful salad and exceptional juice cocktail I lay back on my purple and blue pallet bed in the sun and did as the sign says, chill out, this place demands nothing but. The furniture is made for lounging, the music is soothing, everywhere you look there's something else to see and wonder at and you could happily spend hours in this 5Oceanos cocoon where you could be on a beach anywhere in the world.
In fact if I have one grievance it's only that it's not actually on a beach, its whole persona screams Thai island bar but instead this place is street side. Sure it looks out on boats but they're in the marina and it's just not the same as having sand between your toes. I am being extremely picky because the two little beaches of Mal Pas are only a 2 minute walk away but a slight shift in location and this bar would have it all.
Open everyday 10am – 2am and serving food until 1am this place gets lively in the evenings when they light the candles and tiki torches and a festival atmosphere ensues. It's located in Mal Pas an up-market suburb 30 minutes walk from Alcudia.
5Oceanos restaurant and chill out bar is one of the best places I've eaten in Mallorca since I've been here, the food was amazing, the drinks incredible and the atmosphere - laid back bliss. It's not going to break the bank either, most of the main meals area round the €10 euro mark with sirloin steak at €24 the most expensive item, cocktails and juices will cost you €5-€7 and you can have a draught beer for €2.20. Go here if you love to relax amid good food, healthy juices, quirky cocktails and tea, avoid if you're on any kind of time frame, the place is called a Chill Out, and that does extend to the service style.
Go, relax, eat, drink and be chill.
Location