Expert Running Analysis in Palma
A visit to Bicimetrics in Palma for a running analysis
This week I visited Bicimetrics for a running analysis using the latest video technology. It all came about because a friend of mine recently suggested we do the Palma Half Marathon in October. Feeling a little unfit I jumped at the chance to sign up. I thought, nothing like a challenge like that to get me back into shape.
A few years ago, I was a keen runner and often ran to and from work which led me to dabble in a couple of half marathons whilst living in London. Since spending more time in Mallorca, an air-conditioned gym with classes and a swimming pool became the more attractive option and running took a back seat.
My first thoughts in this discussion were, if I am going to do another half marathon I want to do this properly, primarily because I want to beat my previous personal best, but I wanted to ensure I didn't gain any injuries having been out of action for so long. Having heard about Bicimetrics which is affiliated with The Running School London, I thought I should book myself in to do a running analysis to make sure I am getting the most out of my performance.
Watch this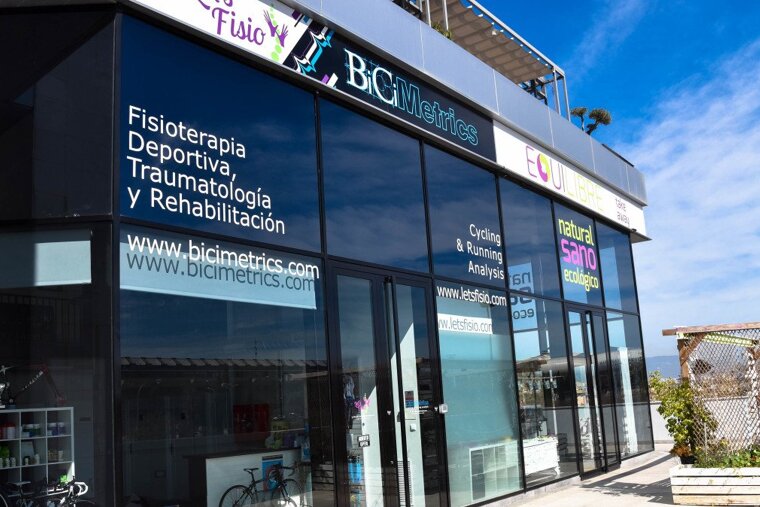 I arranged my appointment by email for a few days later, the website is very helpful and booking procedure smooth. Bicimetrics encouraged me to bring tight clothing to ensure the running analysis technology would pick up my movements accurately. So, on a sunny Wednesday lunchtime, I pulled on some tight black leggings and a tight pink sports t-shirt and made my way from Santa Catalina to the outskirts of Palma by catching the number 7 bus to Son Moix (the football stadium being the biggest landmark nearby). The travel time was around 30 minutes' door to door. It is worth noting that Bicimetrics is in a business complex with a supermarket on the bottom floor. So, if you ever decide to go, be sure to go up the escalators where you will find the shop with bicycles in the windows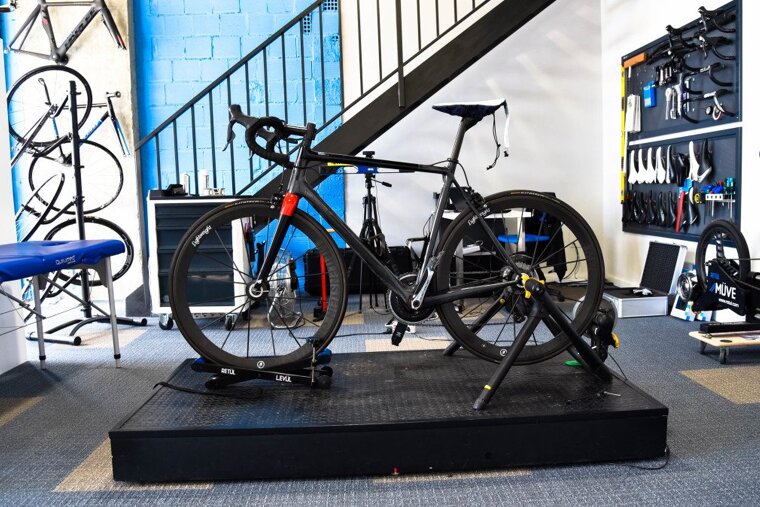 Upon arrival, I was greeted by two friendly members of staff who very helpfully answered any questions I had. The shop looks more equipped for cycling upon entrance with all the latest technology for bike fitting but, before long, I was walking through to the 'Running Analysis' room.
Helena, (a trained running analysis and technique coach) took me over to a desk and sat me down whilst I filled in a questionnaire about myself. This is where you tell Bicimetrics of any injuries, aches or pains that you think might affect your running style or performance. She also verbally asked about my running history, so I mentioned that I had been out of action in recent years, but have done my fair share of running in the past. She reassured me that this wasn't a problem and she works with absolute beginners through to advanced triathletes. The much-anticipated question of goals came along and I mentioned my half marathon dream for October and beating my personal best of 1 hour 50 minutes.
Once all the admin was out of the way, Helena explained that the running analysis involves filming me from the side and the back using some state-of-the-art technology called Dart Fish Software. She also fitted me with some reflective small sticky sensors around my hips and on my back which were required to create more accurate results when analysing the filming.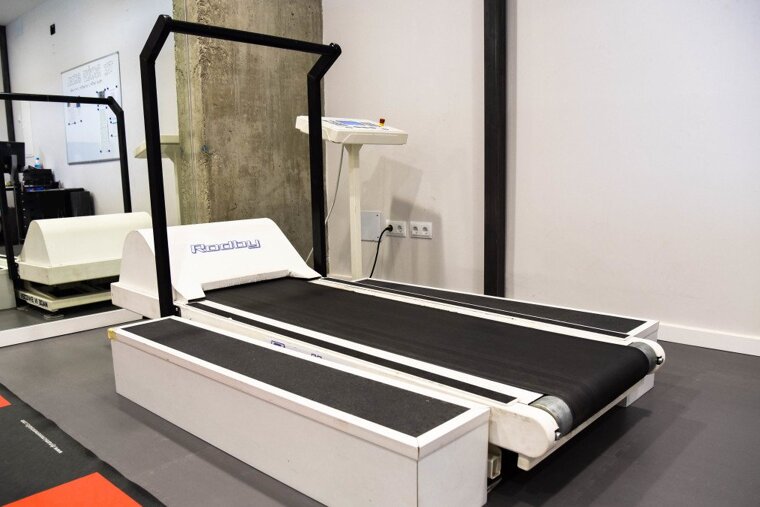 Before I knew it, we were over at the one and only treadmill in the room straight in front of a large mirror. She explained that I would be doing some running on the treadmill but also some dynamic movement exercises over on a mat which had some numbers and boxes on it.
So she started the treadmill at a walking pace and showed me how to get on and off the treadmill safely whilst it was moving. I then warmed up with a small incline walking pace before a gentle jog, she then explained that I was going to do two drills of running whilst the software was filming me; one at a comfortable running pace and one at a more challenging pace. At this point, I was slightly concerned that I might not run naturally knowing the machine was filming me, but this anxiety was somehow overcome as I found my feet and fell into a natural rhythm.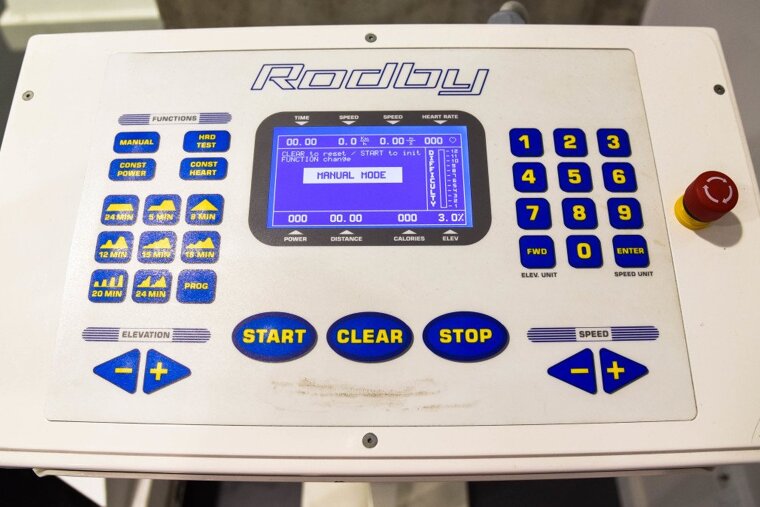 This is when she said she was going to set the speed at a comfortable running pace ready for the start of filming, and asked me to just let her know when the speed was right for me. I had no idea what the speed was because I usually see it on the treadmill in the gym, but there were no screens or buttons in front of me so I had to just guess.
Once I was obviously comfortable in my running style, Helena said she was going to start filming. This minute or so felt quite long due to the silence in the room as she scribbled away on her clipboard, although the cameras were quite small so I wasn't really aware of them. After a short break, this exercise was then repeated at a quicker and more challenging pace. Overall I don't think I was running for more than 10-15 minutes.
We then moved over to the mat, where I was asked to do various exercises which I felt definitely tested my stability, coordination and strength. Things like squats, lunges, and footwork manoeuvres were all involved, at various points tools like a medicine ball and a stick were used too.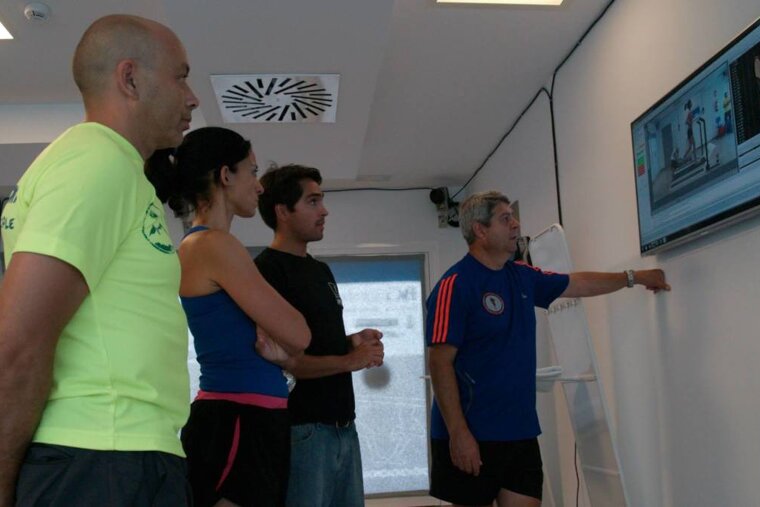 Once we had completed the exercises, I was sent back to the treadmill to warm down whilst Helena went over to the computer to analyse the videos and make some more notes. Then I sat down at the desk with her eager to receive the full debrief on my running style. We watched the videos back in slow motion on the computer screen and discussed my performance.
First things first, she was happy with my mid-foot landing, apparently, a lot of people land heel-to-toe which can create a lot of impact on the joints and cause injury. But things from this point weren't so positive, I learnt there were definitely some issues with my running style which weren't necessarily dangerous but needed to be corrected for a more effective performance.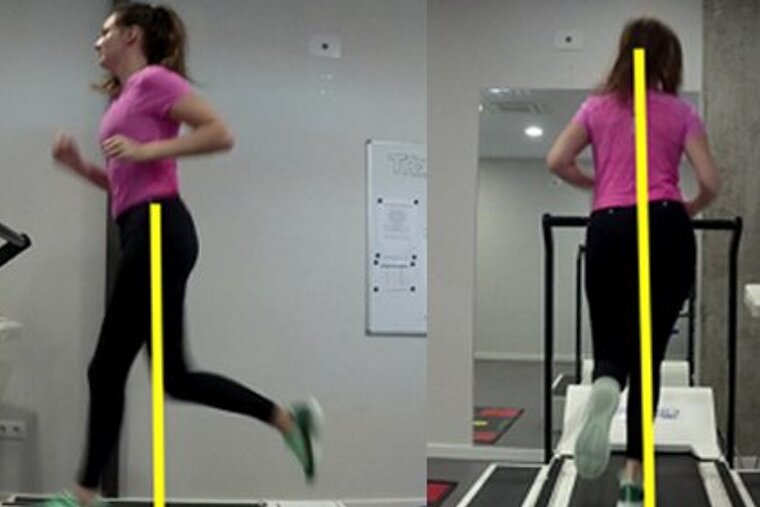 Overstride, was the first matter we discussed. Basically, the core of my body should be in line with my landing foot but, as you can see in the diagram above, it isn't. The software was clever in that she could illustrate the problems using a highlighter. Overcrossing was another issue, so the best way to describe this is that, when you are running, you should imagine the treadmill is split into two lanes and each foot should stay in their own lane when they make contact. Well, my feet were crossing over with each other, so they were landing all over the place.
I showed signs of an Anterior Pelvic Tilt which is linked to core strength and means I almost look like I am leaning forwards when running and not standing upright. I also displayed issues with rotating arms rather than keeping the top half of my body still, which was linked to the overcrossing problem. Finally, I wasn't lifting my legs up high enough. Apparently, you should be making the shape of a circle with minimal ground time between strides. This is due to lack of strength and issues with firing my glutes.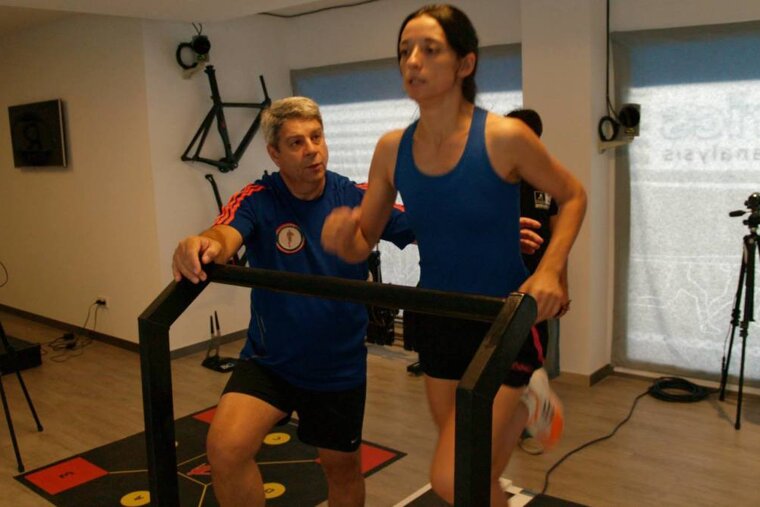 She then went on to recommend some key exercises to help improve strength in my core, legs and glutes in order to help solve these problems. She explained that simple exercises like squats and planks can be done at home and can be extremely effective. There was also the option to come and do some coaching at Bicimetrics centre. A pack of 6 (1 x hour) sessions for 180€ can be booked and sounded quite reasonable as it works out at 30€ per session. Alternatively, a single follow-up session costs 40€ per hour.
When I thought it was all over, Helena got me back on the running machine, nothing like getting back in the saddle hey?! She explained that she wanted to put into practice what I should be doing by showing me a few simple techniques. To begin with, we just focused on my legs, where I held on to the bar at the front of the treadmill and focused on lifting up my legs higher to create that circular shape she was talking about. Before long, I could let go, although this meant I had to focus on my arms and not rotating too. It was a lot to think about with lanes, posture, lifting up legs, keeping arms tight and keeping a strong core. Initially, I found it hard to connect everything and it felt so unnatural, especially when I was doing everything at once. A few minutes later (after we stopped and started a few times), it got easier but she explained that with practice it would all start to feel more natural.
Later that day she emailed me the report with all the observations during the analysis along with the recommended exercises. I decided to come away and do the exercises and practice running the way she had taught me in the session but I would definitely consider booking some coaching if I don't notice a huge difference in tackling my issues on my own.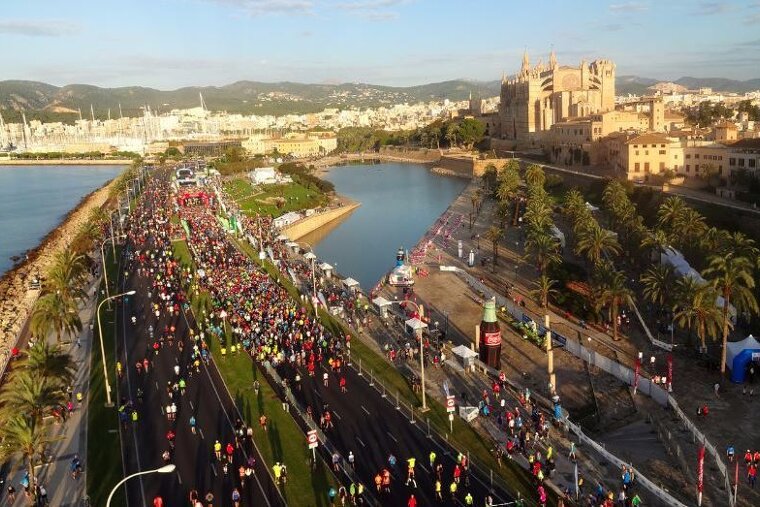 A great place and very positive experience, I would highly recommend Bicimetric's Running Analysis (100€) to anyone with an interest in running from complete beginner to the more advanced whether you want to run faster or better. Palma Half Marathon here I come!
Location