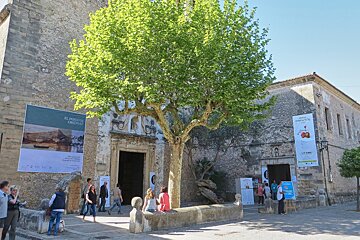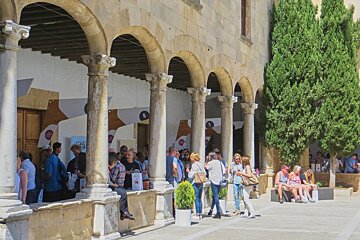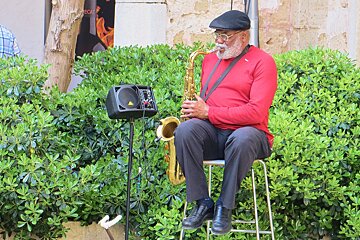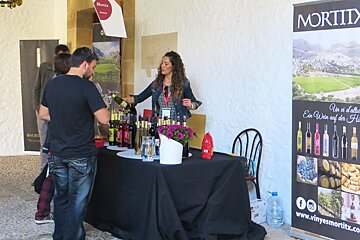 Pollenca Fira del Vi 2016 - Wine Fair
A wonderful weekend of Mallorcan wines
This was the 13th year of the Pollença Wine Fair which showcases the best in Mallorcan wines. It was held at the Claustre de Sant Domingo in Pollença on 16 and 17 April 2016 and was possibly the most important event on the island that weekend.
The Claustre was built in the 17th Century and is frequently used for events. It provided a peaceful and beautiful backdrop in which to taste and enjoy wines from the island's wineries, along with the music provided by a local saxophonist.
The Wine Fair was the brainchild of the Associació Vi Primitiu de Pollença, a group of wine-making enthusiasts set up in 1999. The first wine fair was held in 2004 and it has grown steadily ever since, however this year there was a record 38 producers at the fair representing each of Mallorca's wine regions.
A number of wineries had their winemakers present and it was a great opportunity to learn more about the various wines they produce. Below are five producers and a number of wines which I particularly enjoyed.
---
Son Artigues Finca - Bodega, Porreres
Son Artigues Finca is a small bodega founded in 2004 with an annual production of approximately 27,000 bottles. I met the German winemaker, Marc Gayda.
I tasted two of their wines:
Son Artigues Blanc - 80% Premsal Blanc and 20% Chardonnay - fresh acidity and plenty of ripe citrus.
Son Artigues Rosat – this was a blend of Shiraz and Callet – a light Summer rose with an abundance of ripe red fruits and a touch of sweetness.
---
Bodega Son Campaner, Sencelles
The previous owners of Son Campaner farmed around 5 ha of black grapes which they used to sell. When the new owners acquired the property, they wanted to produce their own wine so they hired German winemaker, Stefan Winterling, who makes his own gin under the Gin Eva label. For their first harvest in 2009, they rented an industrial warehouse and had to wait four years for a permit to build their own Bodega. Finally, in August 2015, they produced their first harvest locally.
These were the wines I tasted:
Blanc de Blancs 2015 – this was a blend of Macabeo, Chardonnay and Premsal Blanc – fresh acidity, green apples and ripe mangos – would work well with fish.
Blanc de Negres 2015 – this was a blend of Manto Negro, Syrah, Cabernet Sauvignon and Merlot – a pale pink rose with great acidity, a good body and ripe red berries.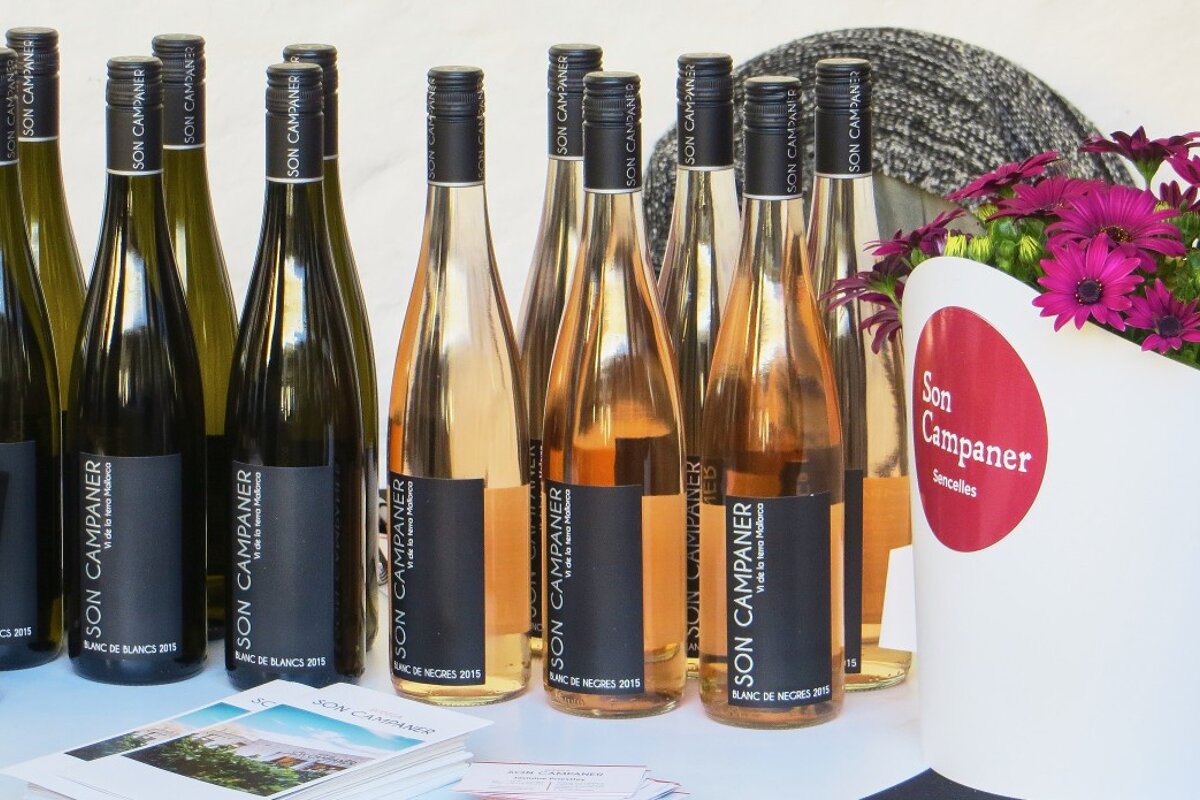 ---
Bodegas Ca'n Vidalet, Pollenca
Ca'n Vidalet was established in 1996 and produces approximately 40,000 bottles of wine per year. Everything is made by hand and I met Guillermo Morey Serra, their Commercial Director, and also their winemaker, Julia. Ca'n Vidalet not only had a number of wines available to taste, but also Gin and Marc (is a liquor distilled from pomace that is left over from winemaking after the grapes are pressed).
I tasted the following:
The Blanc de Blancs 2015 – this was a blend of Moscatel, Chardonnay, Sauvignon Blanc, Malvasia and Premsal Blanc – floral nose, refreshing acidity and mouthwatering lemons and limes.
Ses Pedres 2015 - 100% Chardonnay, 40% of which had been aged in barrels – rich, creamy and full bodied with a long finish.
The Blanc de Negres 2014 was a very dark pink rose with a camembert nose and plenty of fresh strawberries.
The Blanc de Negres 2015 was a much paler salmon-pink colour with red fruit and a hint of sweetness.
11 ONZE Dry Gin - only produced since 2011 – very aromatic with a distinct lavender nose.
---
Miquel Oliver Vinyes I Bodegues, Petra
Melchor Oliver planted his first vines in 1912 and the Miquel Oliver Vinyes Bodega recently celebrated their 100th anniversary. I met and chatted with Pilar Oliver, the great-granddaughter of Melchor and fourth generation of the family.
After tasting their wines, my three favourites are below:
AiA 2011 – Pilar's mother's name was Annamaria however the children called her AiA; this wine is named after her. 100% Merlot from a number of different barrels from different forests with different levels of toast - full bodied, ripe black fruit and soft silky tannins.
Ses Ferritges 2011 – Cabernet Sauvignon, Merlot, Syrah and Callet – a very spicy wine, black pepper, red and black fruits, plus hints of chocolate and tobacco.
1912 Miquel Oliver 2010 – This wine has only been made one time and is a blend of Cabernet Sauvignon and Merlot. It is the result of the best of 21 barriques of the 2010 vintage - ripe black fruit, velvety tannins and a very long finish – fabulous.
---
Angel Bodegas, Santa Maria
Angel Bodegas was founded by Andres Gelabert in 2006. Andres was born in Mallorca but spent a number of years living in California where his interest in wine began. When he returned to Mallorca in 2000, he set out to create Bodegas Angel. The "An" comes from Andres and the "gel" comes from Gelabert.
My top three wines are below:
Angel Syrah 2010 – 100% Syrah aged in French and American oak for 12 months – extremely smooth, elegant and restrained with black pepper and lots of black fruit.
Angel Gran Seleccio 2010 – 60% Cabernet Sauvignon, 30% Merlot and 10% Manto Negro aged for a year in French oak – more powerful than the Syrah with hints of chocolate and coffee on the finish – great with a nice steak.
Angel Cabernet Sauvignon 2011 – a big Californian style made from 100% Cabernet Sauvignon - an explosion of black fruit, extremely rich, ripe and fruity – simply stunning.
---
When is the next Fira del Vi?
6 and 7 May, 2017
How can I get to the Fira del Vi?
The Claustre de Sant Domingo is in the centre of Pollença and I would recommend hiring a car if you are not staying in the area. From Palma, take the Ma-20 slip road to Andratx/Port d' Alcúdia for 2.6km. Take exit 3 for Ma-13 towards Port D'Alcúdia/Inca and continue along this road for 38.9km. Finally, take exit 40 towards Sa Pobla/Crestatx/Pollença/Muro and continue along the Ma-2200 for just over 12km. his takes you into the centre of Pollença.
How much are the tickets?
Tickets cost EUR10 per person this year which included a souvenir wine glass and provided EUR3 off any purchase made on the day.
What are the hours?
The fair was open from 10.00am to 8.30pm on Saturday 16th April and from 10.00am to 2.00pm on Sunday 17th April.
Additional Information:
You can buy wines directly from all of the producers at the Wine Fair and a number were offering special discounts.
Location