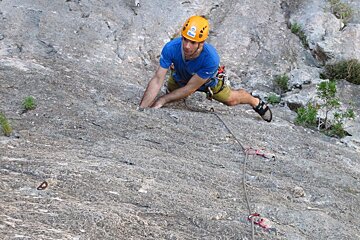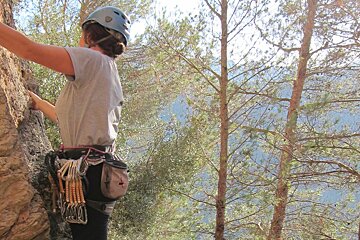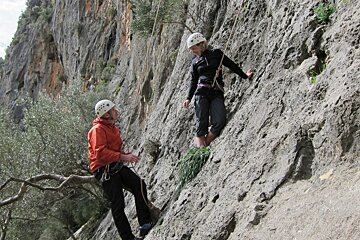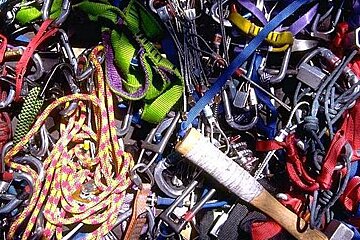 Rock Climbing Improvement Courses in Mallorca
Change your life in 3 days & take your climbing to the next level
There is much more to Mallorca than beaches, it is also world renowned as a sports climbing and deep water soloing venue. Most of the rock climbing in Mallorca is centred around the impressive Tramuntana Mountains or along the beautiful coastline, and the island attracts climbers of all abilities from all over the world.
Short approaches and fantastic rock quality make it possible to get a lot of climbing done in a short space of time and mean that with good instruction you really can take your climbing to the next level quickly and easily.
Rock and Ride's 3 day climbing improvement courses have been designed in response to the many people who have been introduced to climbing, perhaps at an indoor climbing wall and are now keen to further their general skill and knowledge level. These courses are suitable for climbers who would like to improve their grades, feel more confident on an outside crag or start to learn more traditional and multi-pitch climbing techniques.
"My climbing wall mate came back from his family beach holiday in Mallorca raving about all the climbing potential he had seen there. He had even bought the guidebook and was already planning a sneaky boys trip. I had only ever climbed at the wall and I was very excited to get my hands on some real rock. Having limited holiday time available we got in touch with a climbing guide in Mallorca for local information and help. Sam from Rock and Ride recommended a 3 day improvement course as a way of getting familiar with the best crags and to become completely proficient with outdoor sports climbing. This also meant we could spend the rest of our holiday climbing alone.
"A third climber joined the course, a stewardess from one of the boats in the harbour. Between the 3 of us our climbing grades ranged from 4 to 6c and our knowledge of knots was equally diverse. Each day we climbed as much as our bodies could take. I was surprised to find out that even legs could get pumped. My friend was made up when Sam showed him how to place traditional gear and then we spent the next 2 days getting very funny looks as he set off a sport climb fully loaded with a huge traditional rack. I did my first 6a lead outside and Silvis did her first lead ever. I learned to enjoy overhangs although I still don't like laybacks!
"We all agreed that we had done more climbing and learnt more than we thought was possible in 3 days. We even booked an extra day to try out the deep water soloing. I can't thank Sam and Justin enough for their vast knowledge , patience and sense of humour. A good time was had by all." - by Chris Day
The group sizes are kept very small (maximum 4 people) so that they can cater to individual's requests and organise the instructional days accordingly.
Sam and Justin, Rock and Ride's instructors, are dedicated climbers and have a great depth of knowledge of the crags in Mallorca. They are qualified and experienced in teaching climbing at all levels from beginners to advanced and will be able to pass on their knowledge to you.
OUTLINE COURSE CONTENT
Selection of equipment
Belay and rope skills
Leading skills
Bouldering techniques
Movement coaching
Placing gear
Belay set ups
Pushing your grade
Abseil set ups.
They will help you progress both in your climbing ability and your rope work skills so that you can enjoy climbing at venues around the world. They pride ourselves on helping you to take your climbing to the next level, whatever that may be!
Courses run throughout the year. 3 days instruction from €290 per person, all equipment provided. Visit Rock and Ride for more information on climbing courses, guided multi-pitch adventures, advanced coaching, traditional climbing, deep water soling and more.
Location