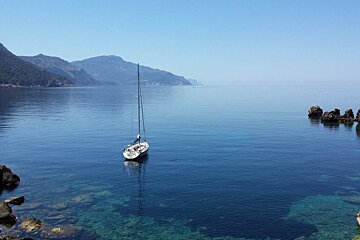 Top 12 Mallorca restaurants to sail to
Best restaurants to access by boat in Mallorca
There is nothing quite like cruising around the coastline of Mallorca on a yacht, and there are plenty of fabulous waterside restaurants dotted around the island which provide easy access from the water for a spot of lunch or dinner.
Whether you choose to anchor in a secluded bay, find a buoy or rent a temporary mooring in a port, the options are endless so you will never have to travel too far from your yacht this summer. You can pick between quiet beach settings, dine in style at one of the hottest beach clubs on the island or take refuge at one of the marinas in the evening and enjoy a more sophisticated dining experience, giving you the perfect excuse to dress to impress.
These are our favourite restaurants to reach by yacht in 2019:
1. Ca's Patró March (Deià)
2. Sa Foradada (Deià)
3. Nikki Beach (Calvià Beach)
4. Cap Falcó Beach Club (Cap Falcó)
5. Gran Folies Beach Club (Cala Llamp)
6. Purobeach (Illetas)
7. Flanigan (Puerto Portals)
8. Coast by East (Port Adriano)
9. Colón (Porto Colom)
10. Rocamar (Port d'Andratx)
11. Stay (Port de Pollença)
12. Randemar (Port de Sóller)
Memorable settings
1. Ca's Patró March
Famous for having featured on BBC's 2016 drama 'The Night Manager', Ca's Patró March restaurant is perched on the rocks in a handsome cove called Cala Deià in the west of Mallorca. This is waterside dining at its best thanks to its remote location, rustic décor and the freshest seafood menu you could want for. But make sure you book, we wouldn't want you to just turn up and be turned away because the eatery is full.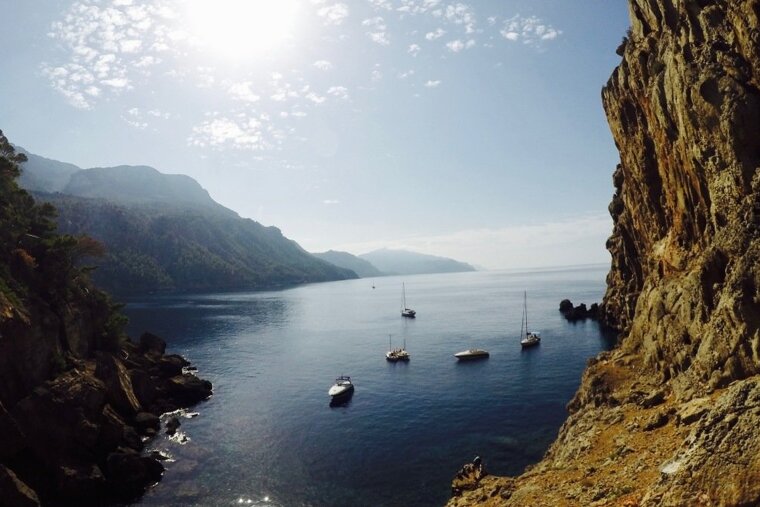 2. Sa Foradada
Yet another impressive setting, high up on the cliffs on the west coast of Mallorca near Deià, Sa Foradada is a no-frills establishment famous for its paella which is cooked on an open wood fireplace. From the terrace, you can admire the dramatic scenery and watch some stunning yachts pull up, as the occupants travel ashore to join you in Sa Foradada for lunch. Let's Sail and Mezzo Magic offer boat trips leaving from Port de Sóller and stopping at Sa Foradada for lunch.
Beach clubs
3. Nikki Beach
Nikki Beach is the most talked-about beach club on the island thanks to its signature entertainment, first-class service and food. This is the place to come for a lively atmosphere whilst dining alongside the beautiful, rich and famous. It is easy enough to anchor in the sheltered bay of Calvià Beach, where Nikki Beach offers a water taxi service to and from your boat. When selecting your food, the sushi boats are an absolute must.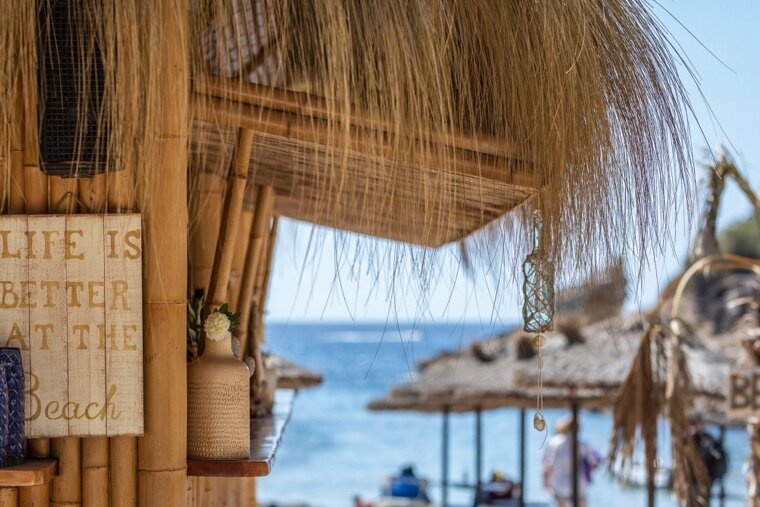 4. Cap Falcó Beach Club
This beachside restaurant decked out with bamboo and tropical décor could be mistaken for a beach shack. But, located in Cala Falco, a small sheltered bay in the south-west of Mallorca, this restaurant attracts people from far and wide. The top-notch food, chilled out music and paradise setting are the perfect ingredients for a leisurely lunch. BBQ-style seafood and meat, accompanied by fresh salads are on the menu here and, of course, it's all best washed down with a jug of sangría.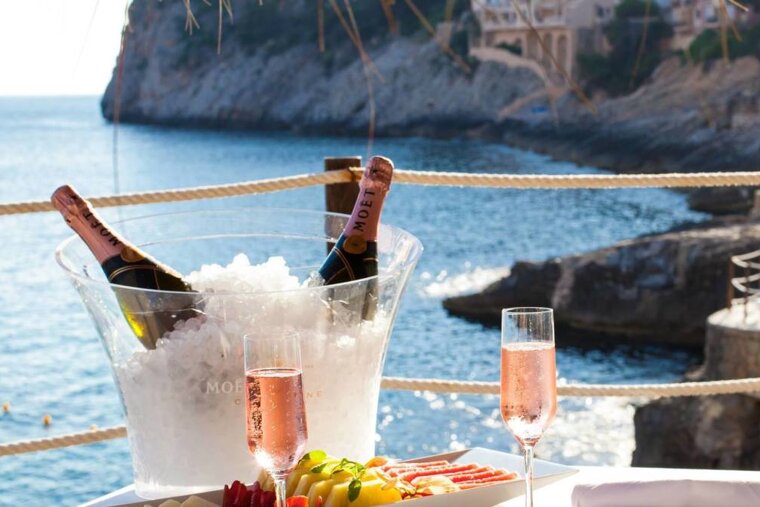 5. Gran Folies Beach Club
Located in the affluent area of Port d'Andratx, the bay of Cala Llamp is where you will find Gran Folies Beach Club. Thanks to its secluded location and striking views overlooking the Mediterranean Sea, this is a prime spot for some waterside dining. The extensive menu consists of high-end tapas, salads and fresh fish alongside popular comfort food like pizza, pasta and paella.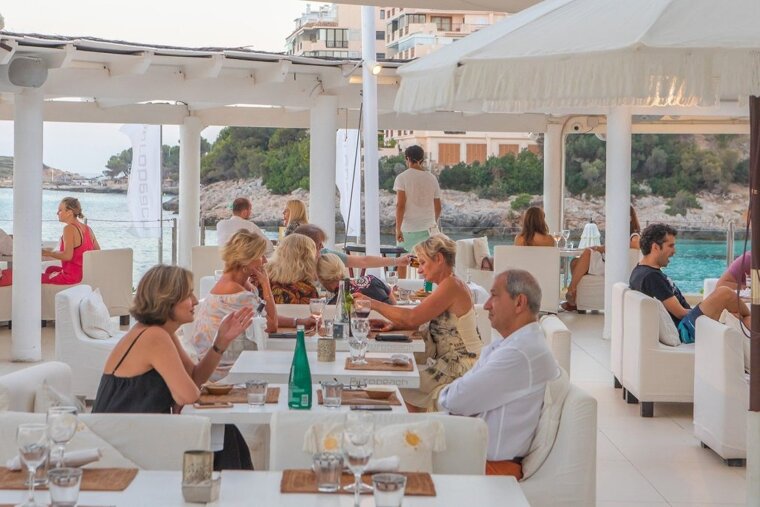 6. Purobeach Illetas
Purobeach in Illetas is a relatively recent addition to the island and the trendiest place to be seen. Anchor in the charming bay and head ashore to the iconic, minimalist and whiter-than-white setting that makes this brand so famous. The modern international menu is guaranteed to tickle your taste buds with top picks including the 'Asian beef salad', the 'Fish tacos' and the 'Puro burger'. The restaurant boasts panoramic views around the bay of Illetas so you can sit and admire your yacht over lunch.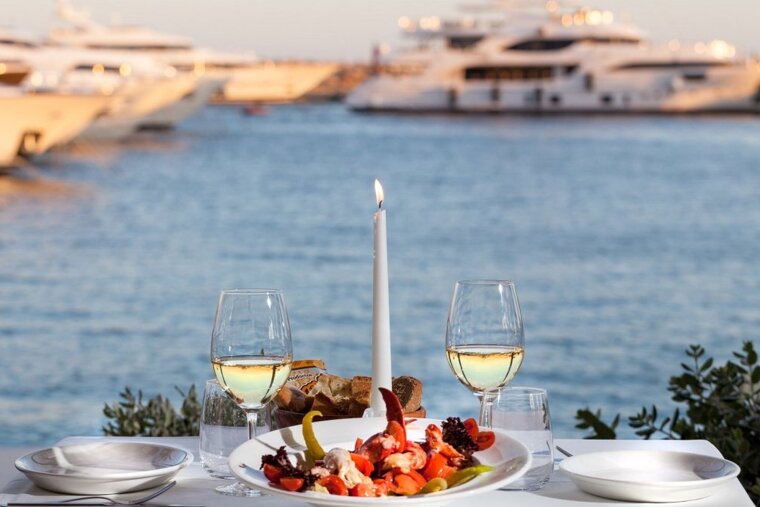 Portside dining
7. Flanigan
Residing on the port front in Puerto Portals, one of the most well-known marinas on the island, Flanigan has been a firm favourite for a number of years. The restaurant's leading location allows its patrons to cast their eyes on the glitzy yachts, cars and people who frequent the area. The menu consists of Mediterranean dishes with an international flair and keeps people coming back for more.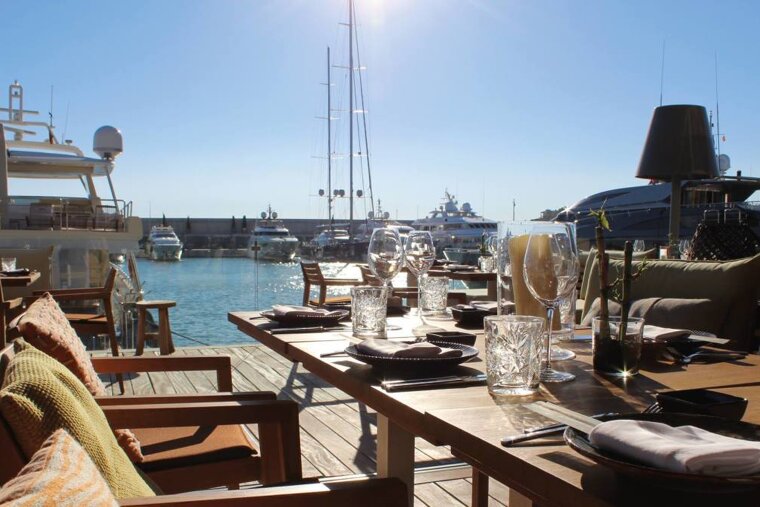 8. Coast by East
Philippe Starck's masterpiece, known as Port Adriano Marina has many first-class restaurants to offer, but our favourite is Coast by East at the end of the pontoon on the far side. Overlooking some of the most magnificent yachts in the marina, this is one of the most prestigious restaurants in the port. A modern seafood eatery, grill and bar, the restaurant serves robata-style dishes like sushi and Asian low-carb cuisine which should be consumed with only the best champagne.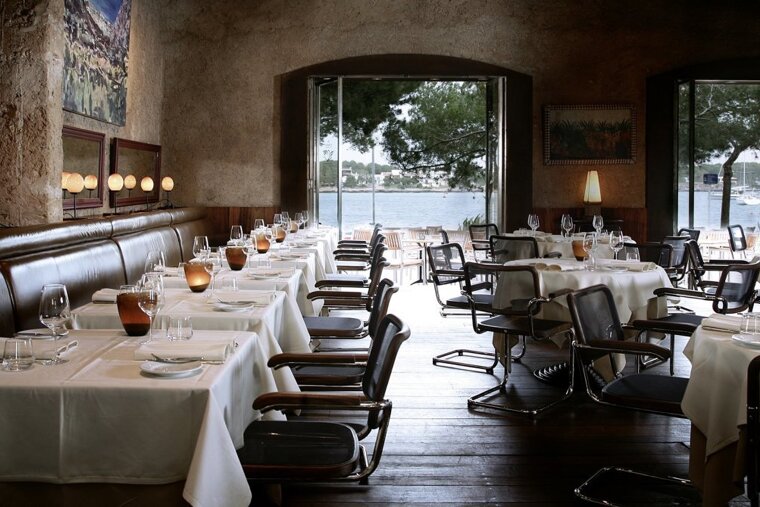 9. Colón
Along the pretty little street on the waterfront in Porto Colom, on the eastern side of the island, Colón Restaurant is famous for its fresh seafood. Its romantic ambience in the evening is created by some clever lighting out on the terrace, where you are also surrounded by the twinkling lights of the port. There's certainly a Mediterranean theme when it comes to the cuisine and the fish is always a tempting option here.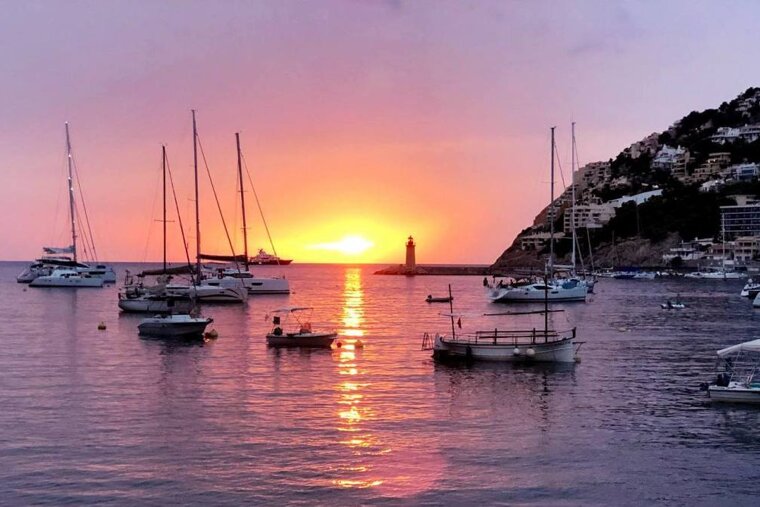 10. Rocamar
You'll be in seafood heaven on a trip to Rocamar in Port d'Andratx. This iconic restaurant has everything on the tick list. It serves up market-fresh food, has a picture-postcard setting and all the authentic Mediterranean charm you could wish for. Whether it's lobster, seabass, shellfish, paella, Spaghetti Vongole or something else that you are craving, you will be sure to find it here.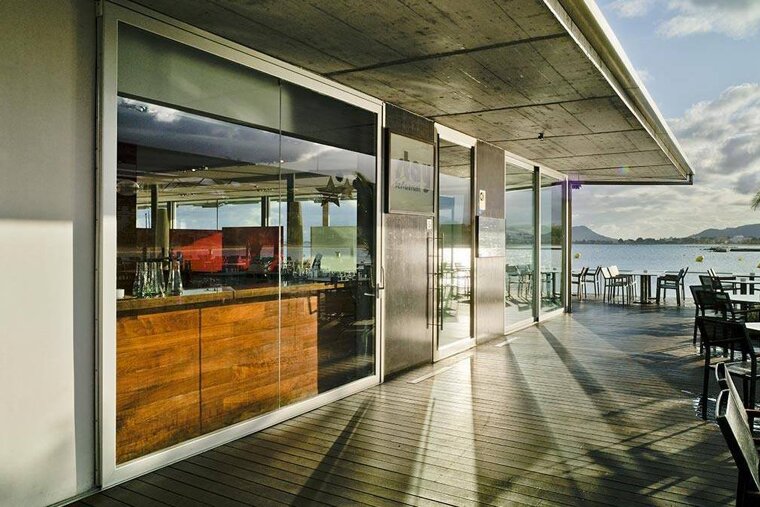 11. Stay
In Port de Pollença, Stay Restaurant is the eatery of choice as it is open year-round and is conveniently located within the marina overlooking the many yachts that dwell here. As this is very much a family resort, it should come as no surprise that this place is a crowd-pleaser featuring both local and international cuisine across its 'a la carte' and tapas menus. The three-course fixed price 'menu del día' for €37.90 (including wine) is a popular choice for large groups frequenting the area.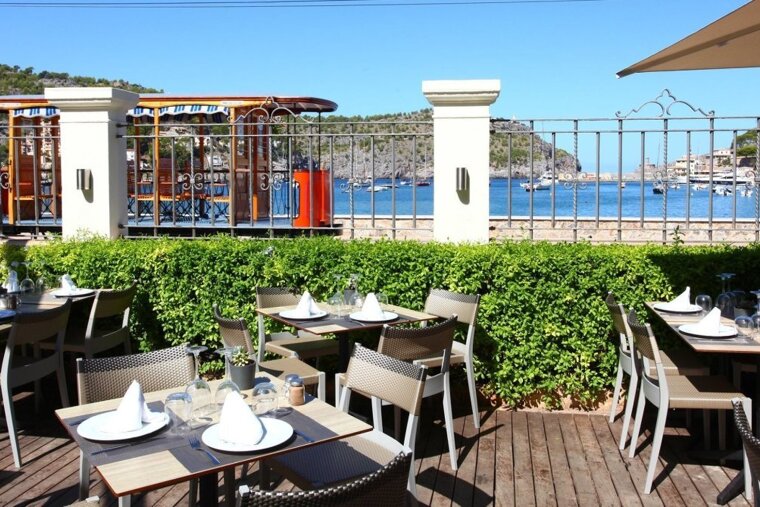 12. Randemar
Randemar is not only one of the prettiest spots in the vividly beautiful Port de Sóller but it has built up a solid reputation over the past two decades. Its owner transformed his family home into a stylish restaurant with a warm and welcoming atmosphere. Here you will find trendy Mediterranean cuisine dominating the menu and an elaborate drinks' list.
More inspiration...
Now you know where to anchor for a special meal, you just need a yacht to get there! There are also organised gourmet boat trips that can take you to some of the best coastal restaurants on the island.