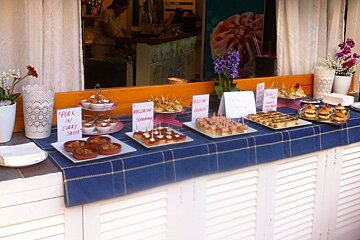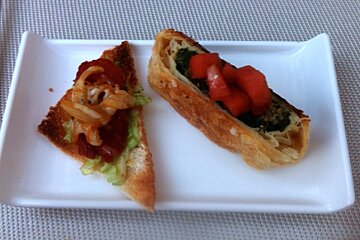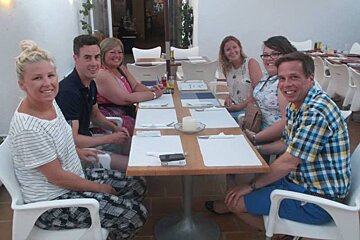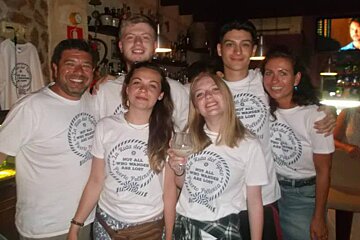 The Tapas Route - 14 Restaurants in 1 Night, Puerto Pollensa
A cheap and unique way to sample some of the best food in town
What's better than a bar crawl? A food crawl! Every Thursday night from 8-12pm, Puerto Pollenca is home to a "tapas crawl" around 14 of the towns restaurants and bars.
The idea is simple, you pay €2 in each bar and that gets you a beer or glass of wine plus a piece of tapas, you can opt for bottled water instead of alcohol. If you want to pay for additional food or drinks you can at a cost of €1 extra but you are under no obligation to do so. You can start the route wherever and whenever you like, you can hit every spot or just 1, stay for 4 hours or 15 minutes, the choice quite simply, is yours.
The 14 venues that have signed up merely have to abide by the €2 = drink + food equation and so you will be served in a variety of ways as each spot interprets the brief. The drink sizes differ greatly, as do the portions, you may get table service or it might be at the bar or buffet, the food is sometimes elegant and sometimes eccentric and its definitely not restricted to traditional Spanish fare. Each spot you visit is a gamble but for €2 ago it's well worth a shot.
I informed some friends of this unique event recently and they were well up for giving it a go, but since we were rather prone to dawdling over our drinks we didn't manage to complete the whole route before midnight so this is not a comprehensive guide to the route but here's a few highlights of our tour;
Guru - for pure geographical reasons we started here but it proved to be a solid start, an elegant, classic restaurant with large out door terrace, buffet display of the several tapas options and table service. Good start.
Tapas Tree – another elegant and friendly spot with their funky décor and lime green uniforms, some of the best food we had on the route was here.
Music Bar – the low point of our evening, this wannabe pool bar was empty and quiet and served us short measures, warm wine and cold chicken wings.
Café d'eu Moll – loved this one as they brought us a decent portion of everything to the table and just told us to mix and match, their meatballs were amazing.
Es Refugi –had a live cabaret act on and waiters wearing police uniforms and sailor hats, this bar was jam packed but despite being the party spot on the tour, they had the biggest range of food, serving paella and huge hot dogs, king prawn skewers and palma ham wrapped melon wedges, people were lingering in here.
Hokkaido – this Sushi bar was a lovely change of pace and served us tiny but beautiful sushi rolls and the biggest drinks measures of the night, plus they didn't blink at us turning up at 10 minutes to midnight and sitting for half an hour.
I'm saddest that we never made it to Il Gelato, I know some ice cream would have gone down a treat mid tour, but if you want to hit all 14 spots on this route you are going to need to plan ahead, get a map which you can see on the back of their flyers. Most of the spots are clustered around the main market square but stops 1 and 14 are off on their own. Also pace yourself, the tapas may look small but by the time you've had 14 plates of it you'll be feeling the strain, and the same goes for 14 glasses of red wine!
Definitely a great way to spend a night out, as mellow or as mad as you make it, eat as much or as little as you like and clock your favorite spots to return to later in the week. Pose for the cameras and you'll end up on their facebook page, and did I mention you can get Tapas Route T-shirts? Available from participating bars and bearing the Legend "not all who wander are lost" you and your crawl crew can take home a lasting memento of La Ruta Del Tapeo!
Location