Set against the stunning backdrop of the Sierra de Tramuntana mountains, it's not difficult to understand why poet and writer Robert Graves settled in Deia.
He first moved in 1929 and lived here until his death. His home has been restored and adapted for the public. The beautiful Mallorcan country manor now offers the visitor an insight into this oasis of peace that nourished Graves' creativity.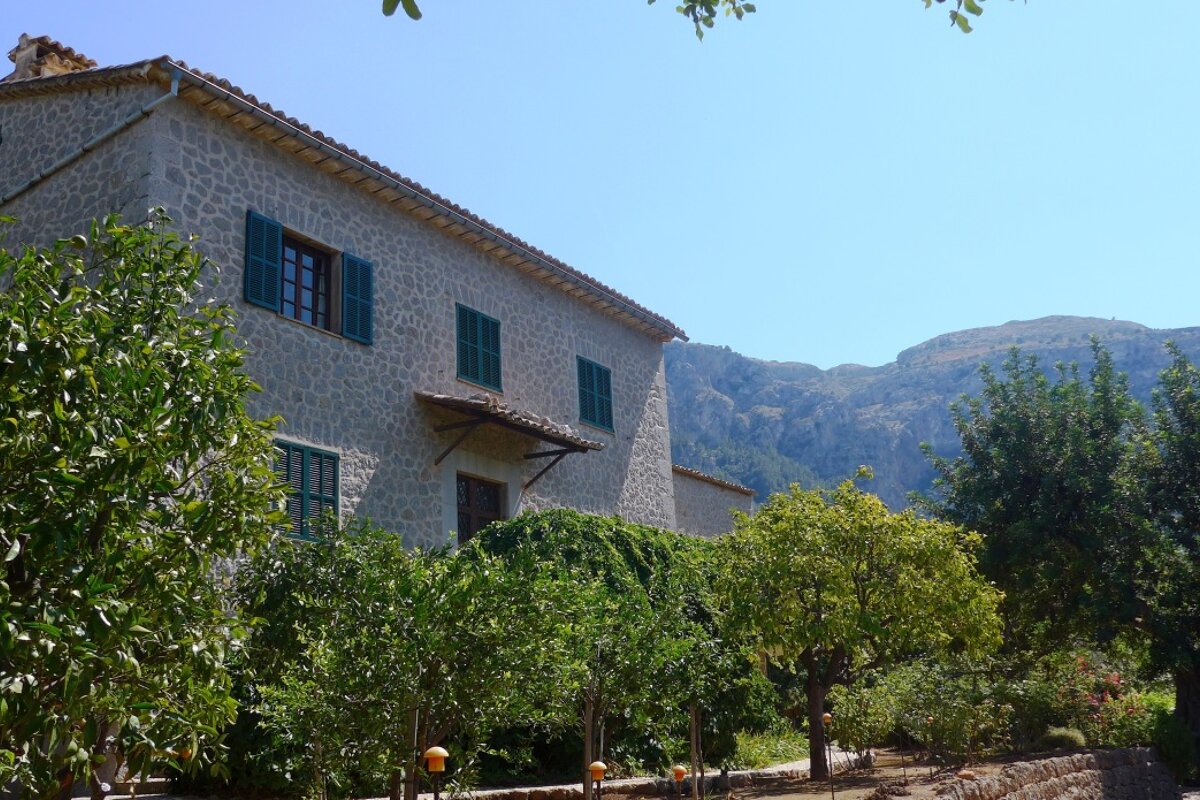 I had studied the war poets in school but although the names of Siegfried Sassoon and Wilfred Owen had stuck in my mind, I didn't recall studying Graves. Although he considered himself to be principally a poet, he also published as a novelist, critic and classicist. His most commercially successful books were I, Claudius, Goodbye to All That (War Autobigraphy) and The White Goddess. If you haven't heard of him, don't let that stop you visiting the house. The first part of the tour takes place in a barn with a comprehensive video about Graves' life and it contains enough drama to entertain even the least enthusiastic about literature.
Graves' love life was far from conservative. At one point his lover, Laura Riding, moved in with him and his wife and four children. Emotions can't have run smoothly and Riding's suicide attempt marked a turning point in the relationship triangle. It was with Riding that Graves moved to Mallorca and she was his muse. In the house, you can view the letterpress they used to print the literary journal Epilogue, which they founded together. This is only a tiny taste of Graves' life story. With the Spanish Civil War, everything would change once again and Graves' would be away from his beloved Balearic home for ten years, returning eventually with a new wife.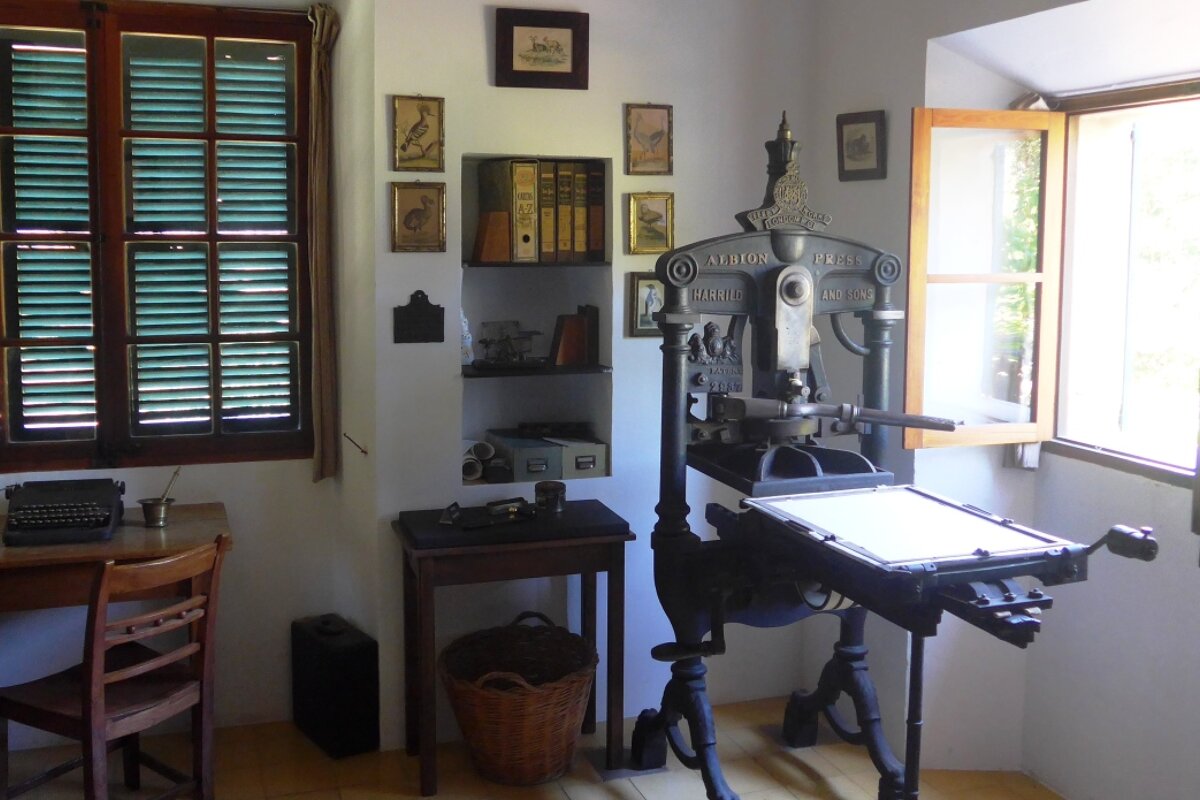 The inside of the house is charming and homely. Sunlight reaches each room through plentiful windows with views out into the surrounding garden. Those curious to see how writers and artists work will enjoy the two studies, one equipped with an old typewriter. In the video, Graves demonstrates his laborious editing process, his handwritten pages thick with paintbrush strokes blotting out his errors. I coveted his solid wooden desk, where a cup and saucer and folded glasses, gave the impression that Graves would be back at any moment to continue writing.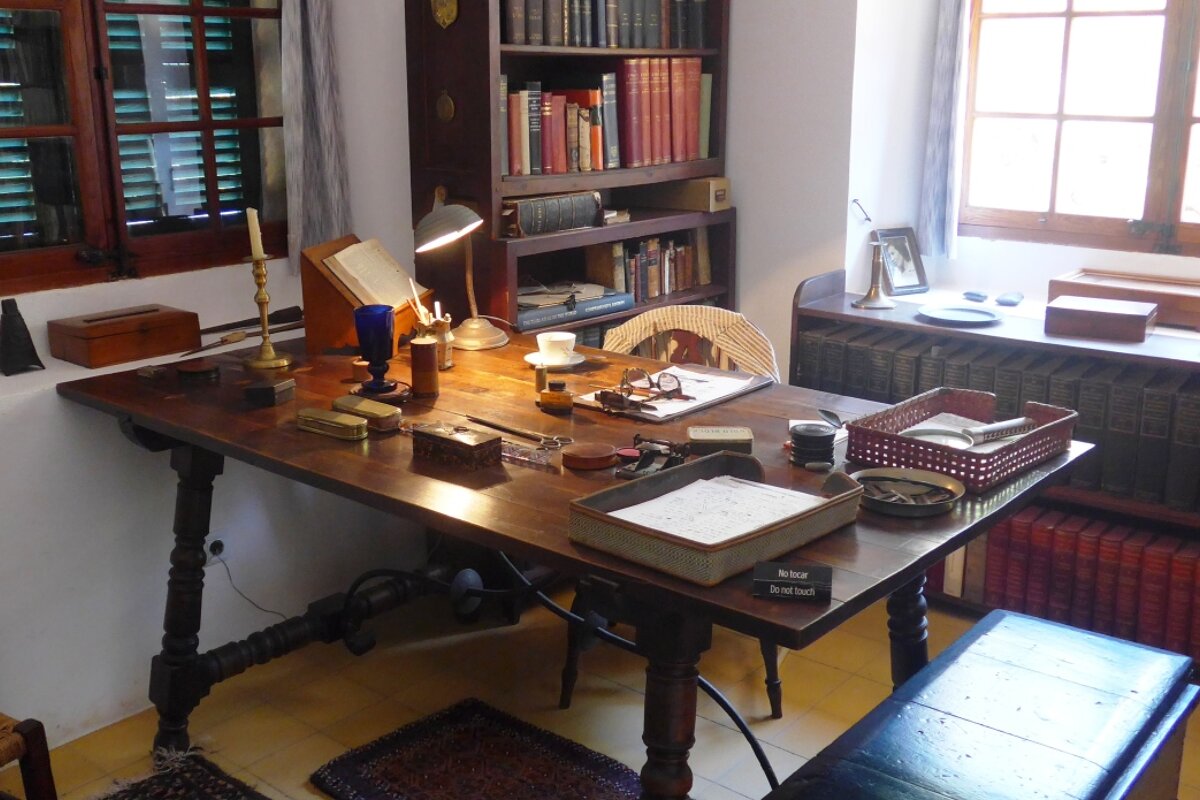 Upstairs, there is a room of glass cabinets showcasing documents and literature related to Graves. You can see him as a young man in his passport photos, read snippets of his poetry and pages from his books. I particularly enjoyed an extract from 5 Pens in Hands on why he moved to Mallorca. It made me laugh in fact because if I just swapped 'England' for costly 'London', I'd say these were my own reasons for moving too!
"I chose Majorca as my home, a quarter of a century ago, because its climate had the reputation of being better than any other in Europe. And because I was assured, correctly it proved, that I should be able to live there on a quarter of the income needed in England. And because it was large enough - some 1300 square miles - not to make me feel claustrophobic."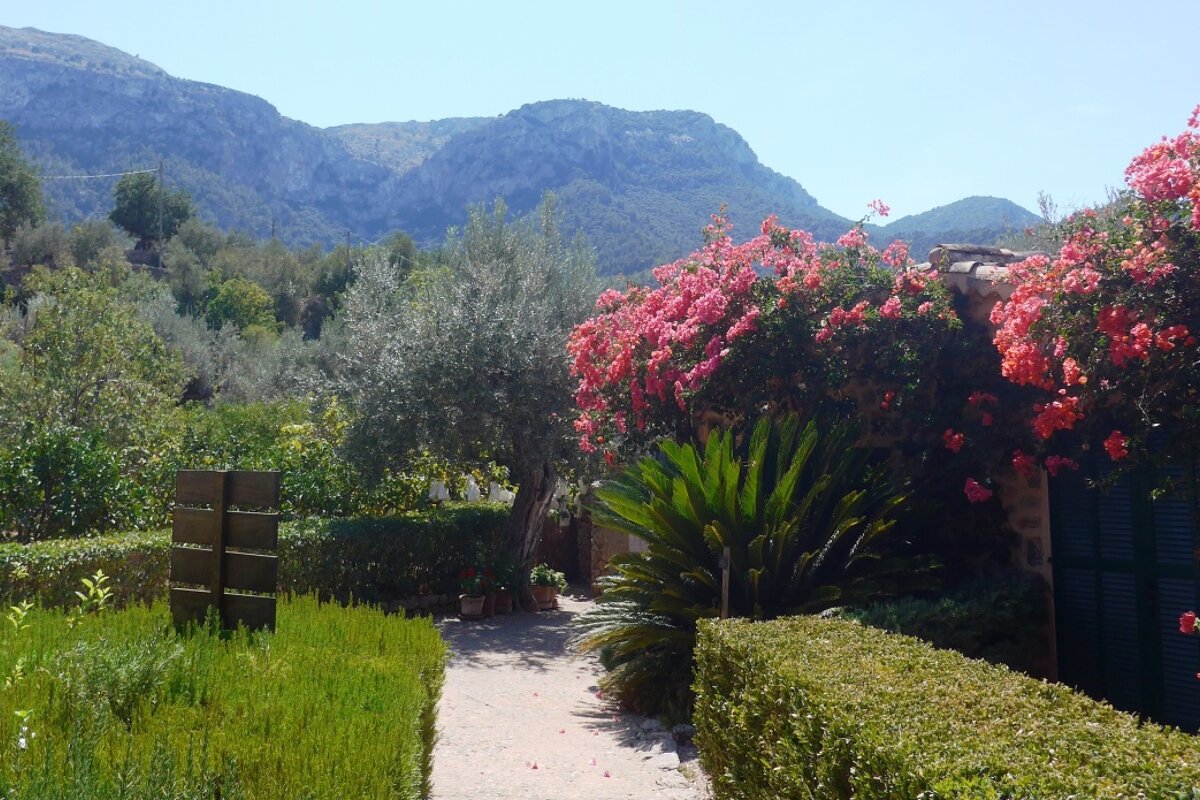 The spaciousness and peace must have been so conducive to writing. The surrounding garden is beautifully kept, without feeling manicured. Gnarled olive trees and cypress trees add texture and shade. Bright pink bougainvillea and waxy palm leaves contrast with the dry stone walls. I suggest a slow walk along the garden path. As you reach the vegetable patch, the view of the ocean will take your breath away. I can imagine a view like that breaking through writers' block and filling a depleted well of creativity. Perhaps I should have asked if they needed a writer in residence - I'd happily occupy the garden shed!
The house of Robert Graves in Deia is a treat for those interested in learning about one of Mallorca's famous residents. It's not a grand house or particularly large. It's what you would expect from someone who emigrated from his homeland in favour of a simpler life.
Entrance Fee:
Normal €7
Students / Retirees €5
Children under 12 €3.50
Groups of 10+ €3.50 each
Opening Times:
Summer (1st April - 31st October)

Monday - Friday: 10.00 - 17.00 (last visit 16.20)
Saturday: 10.00 - 15.00 (last visit 14.20)

Winter (1st November - 30th March)

Monday - Friday: 9.00 - 16.00 (last visit 15.20)
Saturday: 9.00 - 14.00 (last visit 13.20)
---
For more from Emily visit her blog
More Mallorca Insights...