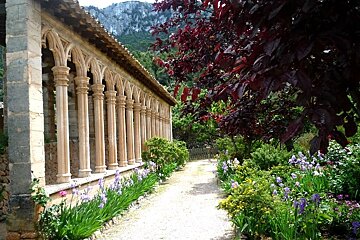 Miramar Monastery, Valldemossa
13th-century monastery on the beautiful west coast of Mallorca
The monastery in Miramar can be found close to Valldemossa on the road to Deia. It was founded by King Jaume II in 1276 as a missionary school following a request by Ramon Llull (a 13th-century theologian and philosopher).
The Archduke Ludwig Salvadore of Austria (1847 - 1915) bought the property in 1872 after falling in love with the scenery of the western coast of Mallorca.
At present, Miramar is owned by the Vives family. There is a small museum where visitors can view objects, documents and works of art relating to the worlds of Llull and the Archduke. A garden with beautiful views to the sea can also be enjoyed by visitors.
Visitor comments
"The Miramar Monasterio was a nice stop along Ma-10. If you are driving between Valldemossa and Deia it's worth a quick stop. The views from the back of the monastery were fantastic - you had a perfect view of Son Marroig and the coastline. The monastery itself was interesting to tour, and I am glad it is still being preserved, however the views were (for us) the main attraction." - Trip Advisor
"For us, this place was odd, but strangely appealing. On a rational level, it is a 'hotch-potch' of different building styles and antiquities built/collected by a rich eccentric 19C Austrian aristocrat on the site of a long gone monastery - it's all rather dusty and poorly labelled amid partially tended grounds. However, its quirkiness and the wonderful setting exerted a charm we didn't find elsewhere. We had the place more or less to ourselves and loved wandering around, particularly the grounds where there are marvellous views over the cliffs/coastline. If you enjoy nice views, the obscure and off-beat, then its well worth visiting - just don't expect café facilities (there were toilets) or to understand exactly what you are seeing" - Trip Advisor
"Monestir de Miramar - just another monastery in the monastery-rich North-West of Mallorca? No, the monastery is long gone. You will find a 19th century manor house built in Sicilian style by an eccentric Austrian archduke, a chapel inspired by Bohemian architecture and a magnificent garden stretching along a rocky cliff coast... The views from the park are magnificent, especially if you are willing to go the extra mile and continue into the terraced fruit plantations... All in all, a clear recommendation - definitely worth a visit..." - Trip Advisor
When to come
Open to visitors Monday to Saturday 09:00-17:00.
How to get passes
Tickets cost 4€, reduced to 3€ for groups over 20 persons and free for children under 12 years old.
Location