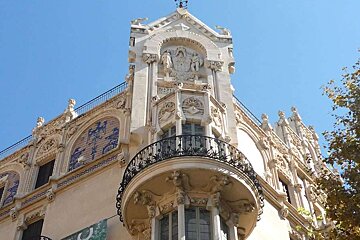 Fundacio La Caixa, Palma de Mallorca
The old Gran Hotel, this iconic Modernist building is now used as a gallery
The Gran Hotel was Palma's first luxury hotel when it opened in 1903. Designed by the Catalan architect Lluis Domenech I Montaner, it was the building that began the craze for modernists (art nouveau) architecture in the city.
Restored by the Fundacio la Caixa and reopened in 1993, it is now an art gallery featuring changing exhibitions and a permanent display of paintings by Hermen Anglada-Camarasa, the founder of the 'Pollenca School'.
The building is wonderfully intricate, with detailed tiling, a vast array of stone carvings, balconies and ornate iron railings. On the ground floor there is a bookshop specialising in design and a trendy cafe-bar.
Visitor comments
"Wanted to see some art - food for the soul - and discovered this place in a lively part of Palma. It holds the Herman Anglada-Camerasa collection (me neither) and was blown away! Why do I not know his work! He lived from 1871-1959 and you can see influences from impressionists, Japanese art and Gustav Klimt. The attached cafe was a quiet place for coffee and as I needed to work, a great place to sit with your tablet and be left alone." - Trip Advisor
"There was a fantastic Photographic show and the same day an opening of another one. A wonderful and interesting book store, a cafe, all in this splendid Art Nouveau setting." - Trip Advisor
"Breathtaking architecture ! Located on a crowded street you need to take your time and to admire this exquisite architecture! Amazing!" - Trip Advisor
When to come
It is open from 10:00 to 20:00 from Tuesday to Saturday and from 11:00 to 14:00 on Sundays and holidays. Closed on Mondays.
Location