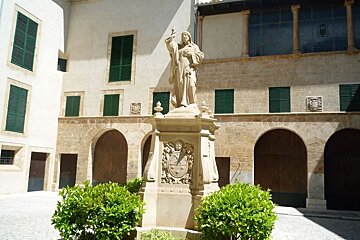 Museu Diocesa, Palma de Mallorca
Home to the Bishop of Mallorca & religious artefacts
This small museum of religious and historical antefacts is based in a wing of the former episcopal palace tucked behind the cathedral.
The bishop's palace, located right behind the cathedral, was originally built in the 13th century. Although its main style is Gothic, it has undergone various renovations throughout the centuries that have changed its initial image.
Among the paintings, pulpits and prayer books are splendid Arab tapestries, a collection of ceramics spanning five centuries and a 17th-century painting of baby Jesus carrying a cross. Look out for the portrait of St George (Sant Jordi) with medieval Palma in the background.
Visitor comments
"The Diocesan Museum has some very good religious art from centuries past and is a must see for art lovers. When we went, there was a very large exhibition of Gaudi. One part was about his work on the Palma de Mallorca Cathedral and the other part was about the Sagrada Familia Basilica in Barcelona. The videos had very good explanations of his work. He was really an architectural genius." - Trip Advisor
"The first floor of the museum was a collection of religious paintings, sculptures, etc. The second floor had an exhibit about Gaudi's involvement in the renovation of the cathedral. There were also a couple videos (in Spanish). The majority of the signage throughout the museum was in Spanish (only a couple signs in English). We were charged 3 euros - but there may be a discount with a cathedral museum combined ticket (we had gone to the cathedral a few days earlier)." - Trip Advisor
When to come
Opening hours are:
April to May & October - Monday to Friday from 10:00 to 17:15
June to September - Monday to Friday from 10:00 to 18:15
November to March - Monday to Friday from 10:00 to 14:15
Saturdays from 10:00 to 14:15 all year.
How to get passes
Admission tickets cost 3€ (2€ for Palma residents). Free for children under 10 years old.
Location