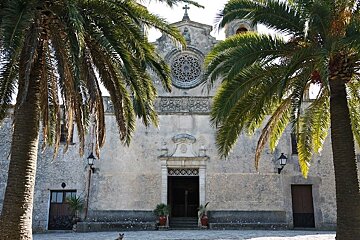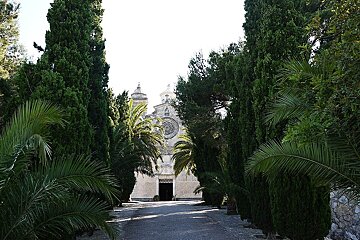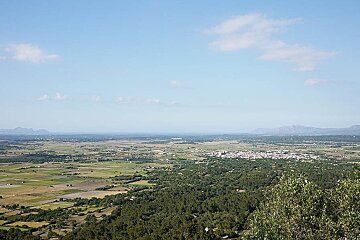 Ermita de Bonany, Petra
Church with views over the plains of Mallorca
This hilltop hermitage a few kilometres from the town of Petra is where Junipero Serra preached his last sermon in Mallorca before leaving to found the Mexican and Californian missions.
The name "Bonany" means good year. It is said that the people of Petra hiked up the hill in 1609 to pray to the Virgin for rain for their crops. Their prayers were heard and it was a "good year".
The views from the terrace, covering almost the entire plain, are superb. You can stay here in simple rooms, but unlike other monasteries it has no restaurant or bar - just a chapel, a shop selling religious trinkets and a drinks machine.
Visitor comments
"We cycled up to the monastery and the view was worth every ache and pain to make it to the top. Not far out of Petra, it's worth the effort to reach the peak and enjoy the stunning 360 degree views of Majorca. Stunning" - Trip Advisor
"A short drive up a twisty road from Petra takes you to a fantastic view point and church. The views are panoramic and well worth the trip. The architecture of the church is interesting and inside is very interesting. There is a toilet but would be even better if there was a cafe like the church at the top the hill in Arta has. Having said that there is a vending machine, but a cafe and tables to admire the view would be perfect!" - Trip Advisor
"Ermita de Bonany is an hermitage called "Good Year" in English and it is located in Puig de Bonany (Good Year Hill), near the Little town of Petra. You can come here by car or by walk (a good excursión), as you prefer. The hermitage is big and robust (as the typical religious building in Mallorca) and you can enter and see inside. For me the best part is the surroundings of the hermitage: the building is very good and the views of Petra and surroundings are fantastic, especially if you go here in a sunny day!" - Trip Advisor
Location